What Happened at the Robin Hood Conference?
Jun 21, 2021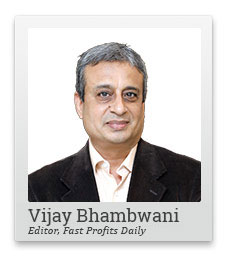 A few days ago, I talked about why the Robin Hood Conference was important for commodity traders.
Well the conference has ended, and it certainly has key takeaways for crude oil traders.
So this will be the update video that I promised to make.
I'll tell you what happened at the conference and the implications for our next crude oil trade.
Watch the video and let me know your thoughts. I love to hear from you.
Hello, friends. I hope the markets are treating you well and you're able to navigate through the traffic of the market with ease through the ups and downs.
Now this video is a fulfilment of my promise and to that extent, it's going to appeal to a very limited audience, which is hardcore into fossil fuels or hydrocarbons trading, which is crude oil and natural gas.
I promised you an update about what happened at the Robin Hood conference on the 16th of June in the US where the Saudi energy minister, Prince Abdulaziz bin Salman also spoke about oil, in addition to marquee names like Paul Tudor Jones, Victor Niederhofer, Cathie Wood, etc.
Must See: Next 10 Yrs Belong to this Sector
Now to come back to what really happened out there. It's a well-known, well publicised fact that Prince Abdulaziz bin Salman, who is the energy minister of Saudi Arabia, was going to talk oil prices higher, which is what he did.
But a lot of people paid attention to the fact that he said oil prices are headed higher but they may or may not have basically paid a lot of attention to what he also said about how high they should and should not go.
So I am going to present you with some facts and like I said, this video is likely to appeal to a very niche audience which is hardcore into smelling profits from the hydrocarbon space.
Now I'm quoting data from the International Energy Agency which you can very well verify from their website. Now are the output of OPEC in a calendar year 2021 and calendar year 2022 is unlikely to change much. OPEC's output in 2021 is estimated to be 34.1 million barrels per day and in 2022, it's likely to rise to 34.30 barrels per day.
Now the non OPEC to countries which form OPEC plus. Now this is a consortium of non OPEC members who have come together with OPEC because there is a vested interest of higher crude oil prices, which will result in greater revenues for these countries.
So in 2021, these non OPEC but OPEC plus countries, led by Russia, will have output of 50.37 million barrels per day. In 2022 it's likely to rise a tad to 50.55 million barrels per day. Now you are gonna have a total output of 84.85 million barrels per day from OPEC and non OPEC but OPEC plus members.
Now we aren't even talking about countries like Guiana. Countries like Turkey. Turkey's recently announced hydrocarbon reserves being found out there last year. Guiana is of course producing crude oil and started exporting assignments.
Norway is basically upping its output. Don't forget, it has huge giant oil wells. You have Yohan Sverdrup. You have Gudrun wildcat. They are also upping output and developing their oil wells.
Qatar, which has quit OPEC last year or rather the year before last. So Qatar is non OPEC and therefore its capacity is not listed here.
Ecuador, again another country which has quit OPEC. So they are out of the ambit of OPEC and therefore this output can only go higher if you were to include the non OPEC countries.
Let's not forget Iran, which is in OPEC but currently shackled by the JCPOA, the nuclear treaty with the US, which kind of has imposed sanctions on Iranian exports of crude oil, which once negotiated and removed, of course the presidential elections are done and dusted, Iran can bring back 4 million barrels of crude per day in very short time.
The Libyans are itching to raise output and raise revenues in the bargain. Let's not forget the Iraqis who have basically been adhering to OPEC, but just about, just about, adhering to and raising output, even to the discomfort of many OPEC members.
PEMEX, which is the Mexican oil company. They have been basically cocking a snook at the OPEC members, and they have been raising output left, right, and centre by force at the same time, hedging with what is now legendary in the oil business, known as the Hacienda Hedges, and they've basically been pumping their guts out.
So now coming up on your screen is a chart of the spare capacity of OPEC plus, which is OPEC and non OPEC members, which are constituting the OPEC plus in calendar year 2021 from the first calendar quarter to the last calendar quarter of 2022.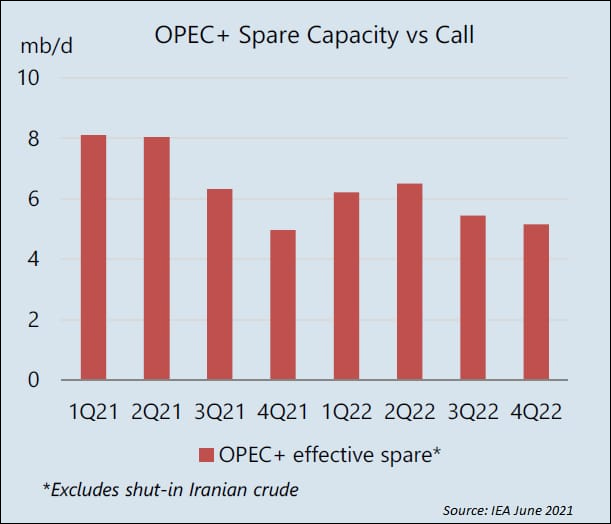 Now you're looking at eight million barrels per day of spare capacity in quarter one of calendar year 2021. That's gone. Now we are almost at the end of a second quarter 2021.
But if you go forward, you will see that at no point in time till the end of calendar year 2022 which is a good 18 months away, this spare capacity of OPEC plus is not going below 5.5 million barrels per day.
Which means that oil prices going up are going to go up rather on supply squeezes or output cuts, rather than buyers banging on the doors of the sellers and saying give us more crude oil at whatever price possible.
Let's not forget Qatar, which has already said and I've posted this on my social media accounts, Qatar has said, irrespective of whether prices rise or fall, we are going to step up our output of natural gas and whatever little crude we produce. Same with Ecuador.
So here are countries that are willing to basically step on the toes of OPEC and non OPEC competitors and raise their output for a sheer want of money.
Now let's come to what Prince Abdulaziz Bin Salman said, which I think needs clearer understanding.
He said oil prices will go up because there is a lack of fresh investment in hydrocarbon investments, which means developing, maintaining, and even raising the output of existing oil well. Fair enough. Fair enough and Iraq has gone one step further and said the price of crude oils should be $80 a barrel.
Now that's the level and I am talking of Western Texas Intermediate or WTI, not Brent, all right. So that's the level I think is possible, feasible, and tolerable by many economies across the world.
But what Prince Abdulaziz bin Salman also said anything above 80-85 dollars a barrel and the oil exporting countries, the Middle East, North Africa, MENA, oil exporting countries will suddenly start feeling the heat from shale oil producers.
You may think shale oil is down, but do remember it's down, not out. They have a lot of bank loans and they have to basically get commercially viable again to be able to get either fresh injections of money or to be able to pay back the existing liabilities that they have and hey, beyond US$ 80 a barrel shale suddenly starts to get economically viable.
So which Prince Abdulaziz bin Salman very clearly said, we cannot allow to happen. The words he used was commodities may be in a super cycle. Remember, the Robin Hood conference, commodities was being discussed after a gap of half a decade. For five years, they only talked stocks.
Now that they were talking commodities, everybody was talking about supercycle in metals, etc and Prince Abdulaziz bin Salman said commodities may be in a super cycle, but oil cannot be allowed to go into a super cycle.
He knows what I have told you many, many times is that unlike equities, where the paid up capital is limited, so when demand rises, the prices jumps up, many fold, commodities are different. You dig in to the ground and you get more output.
He knows that if prices rise too much too fast, then something happens, which is known as demand destruction.
So Prince Abdulaziz bin Salman will not sacrifice market share, will not sacrifice the use of fossil fuels in favour of renewable sources of energy or even shale oil, and he knows that it is better to have one golden egg from the hen rather than slaughter the hen once and for all in the greed of getting all the eggs at one shot.
This is my theory that I am betting on and this is why I have been saying that crude oil will not go up to triple digits or even if it does touch triple digits for the sake of a photo opportunity or a photo op, it is unlikely to stay there.
So we are still looking at plum prices to go short. I have not changed my outlook on fossil fuels. I remain of the opinion that it's a sell on rallies market. Where exactly? You should stay alert for your SMS and email alerts that you are going to receive from me as a Weekly Cash Alert or a Reserve member, subscription privileges of yours.
With this, my friends I bid goodbye to you in this video, not before reminding you do click like on this video if you agree with what you saw. Subscribe to my YouTube channel if you haven't already done so.
In the comments section, do let me know what you think of this video. Good, bad, ugly, your feedback is welcome. Also help me reach out to like-minded investors and traders by referring my video to your family and friends.
Have a very profitable day my friends. Thank you for watching my video and your patience. Take care. Bye.
Warm regards,

Vijay L Bhambwani
Editor, Fast Profits Daily
Equitymaster Agora Research Private Limited (Research Analyst
Recent Articles