FMCG Stocks can Outperform the Market
Jul 28, 2022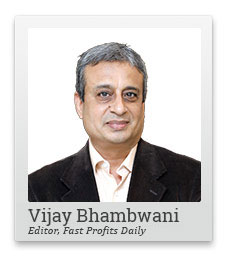 In this video, I'll show you, with the help of a chart, why FMCG stocks will act as safe havens in this market.
The view is based on my 360 degree worldview of trading.
Watch the video and let me know if you agree or disagree with my view and share your thoughts on FMCG stocks.
Hello friends. I'm Vijay Bhambwani, and in my videos, I want to help my viewers gain higher returns on investment and make out the subtle nuances of the market using a 360 degree worldview of financial markets.
In this video, I want to talk about a sector that is likely to be a safe heaven or a cave where you can hide during this tumultuous times, especially when markets are worried about high inflation and how consumer behaviour might basically change due to higher prices.
This sector and the stocks that are related to companies which are in this sector, are relatively insulated and historically, we have seen many boom and bust cycles in the market. I've been trading these markets since 1986. So this is my 36th year in the market. I have seen this sector to be a relative safe heaven. I am talking about the fast moving consumer goods or FMCG.
Potential 33x Opportunity: 3 Next-Generation Defence Stocks
You see, every bull market brings new leadership, new ideas, and leadership I'm talking about sectors. New leadership in terms of sectoral plays. Sometimes it's technology. Sometimes it's media. Sometimes it's telecom. Sometimes it's pharma, automobiles, what not. But unless mankind can find a way to do away with the need for food, shelter, and clothing, I don't see how FMCG stocks can stop rising.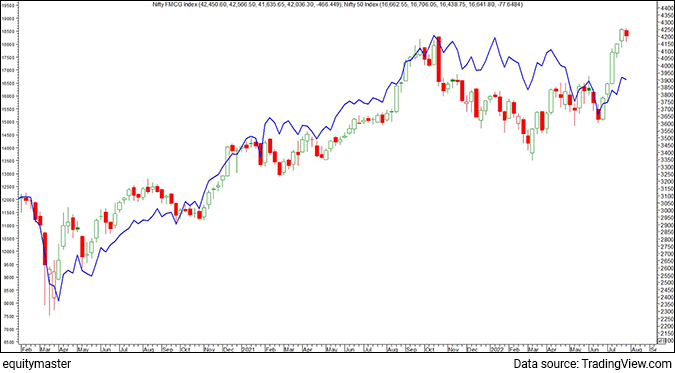 Now on your screen is a chart of the NSE FMCG Index in candlestick format. You know the green and red candles are the FMCG Index. The dark blue line is the Nifty 50.
Now notice how both tend to move in tandem. In my video last year, I told you why you should invest in the Nifty ETF because the weightage of the Nifty, composition of the Nifty is such that the stocks that gained in a particular month, which are Nifty weighted, are allocated a higher weightage in the coming month, and stocks that lose in a particular month are given a lower weightage in the following month.
Therefore, the Nifty tends to rise faster in a rising market and fall slower in a falling market compared to the broader indices.
Now, if this particular index, the FMCG index, is showing signs of higher relative strength even compared to the Nifty 50, you can imagine the relative outperformance that this index is giving you.
Now what is noteworthy in this chart is that the Nifty is yet to go beyond its October 2021 all-time highs. But this index is already above the previous swing high and into blue sky zone. Blue sky zone is when there is no overhead supply coming in a particular security, an index commodity, currency, whatever, is at an all-time high.
So anybody and everybody who's bought that particular security at any price is in the money is sitting in profits and therefore, has no compulsion to sell out of fear, and therefore there is no overhead supply coming in for that particular counter.
The fact that this index is showing signs of rising above its previous swing high into all-time high, blue sky territory, tells me that stocks that are heavily represented in the NSE FMCG index will relatively outperform the broader markets.
Does it mean that these talks will not fall at all? No, I'm not saying that. Relative outperformance is a simple concept. If stock A during a decline falls 10% and stock B falls 8%, stock B has relatively outperformed stock A because it fell 2% less.
So the heavily weighted stocks in the FMCG index, the frontline companies, will tend to fall less than the broader markets in times of declines and just like the index is showing signs of rising even faster than the Nifty, which is very heavily weighted index which kind of rewards the gaining composite stocks and demotes the losing composite stocks.
So even in spite of that skew, if the FMCG index is outperforming the Nifty, it tells you that you are basically better off investing in heavy weighted composite stocks in this index.
Like I said, food inflation is rising unless mankind find a way to do without food, shelter, and clothing, I don't see how demand compression or demand threat perception can impact this particular sector.
This is a very simple test. It's called relative strength comparative, and this is something that all fund houses, portfolio management services, HNI traders, and investors utilise to a great deal of their advantage in construction of their core portfolios.
So, over a longer period of time, you will see FMCG stocks continue to relatively outperform the broader markets. Put your money here if you haven't already allocated some into the FMCG sector. This seems like a relatively safer heaven to park your funds.
On this optimistic note, I'll bid goodbye to you, not before reminding you to click like on this video if you liked what you saw. Subscribe to my YouTube channel if you haven't already done so. Click on the bell icon to receive instant alerts about fresh videos being put up out here.
Good, bad or ugly, I always love listening to your feedback in the comments section, and please help me reach out to fellow like-minded smart investors and traders like yourselves by referring my video to your family and friends.
Thank you for your patience in being with me this video. Till we meet again in my next, this is Vijay Bhambwani signing off for now. Have a very, very profitable day ahead. Bye.
Warm regards,

Vijay L Bhambwani
Editor, Fast Profits Daily
Equitymaster Agora Research Private Limited (Research Analyst)
Recent Articles