Why I'm Bullish on Power Stocks
Sep 22, 2021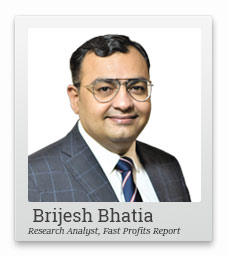 A few weeks ago, I did a video on PSU banking stocks. I was bullish on them and gave you reasons for the same.
The PSU bank index is up smartly since then.
Today, I'll cover another sector which could provide solid upside for traders: power stocks.
It's a sector that is not in favour right now but is set to ride a wave of momentum.
Watch the video to find out why...
Hello viewers. Welcome to the Fast Profits Daily. Myself, Brijesh Bhatia.
If you look at the markets, markets have seen slight dip right from 17,800 on Nifty back toward 17,400 levels.
As a trader should do look at an opportunity to buy in this dip? I feel yes, you should. If you remember in the last month, in the mid of August, we indicated that PSU banks are set for a good trading upside, we indicated somewhere around 2,300 levels. Since then we saw more than 10% the rise into the PSU bank index.
Find Out: How to Create Massive Gains from Govt's Mega 2023 Plan?
Now, as you have seen the headline, why I am bullish on power stocks over here. So let's look at the charts over here. Let's look at the first weekly chart off the BSE power index.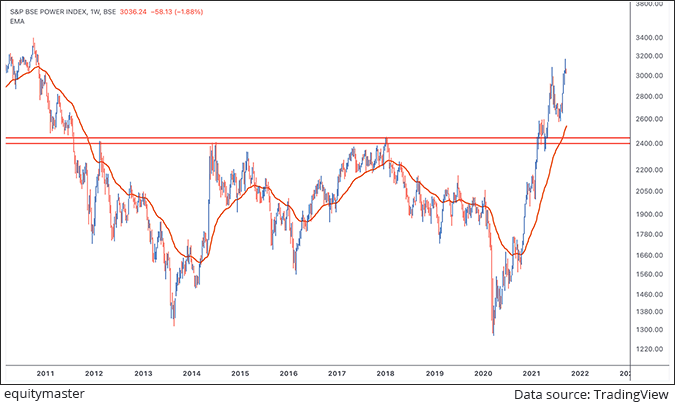 If you look at the BSE Power index right from 2011, this index was resisting between around 2,400-2,440 levels. If you look at the consolidation zone, for more than a decade, nearly a breakout was witnessed right around 2,440-2,450 and since then there was no looking back.
So if you look at the two horizontal lines, the resistance lines, when it was taken out, we have seen a quick move above 3,000 levels now on the banks. So the consolidation zone of nearly 10 years has been taken out.
Ones, these kind of long term breakout happens, these rallies are not short. So they give you a huge upside momentum.
Even if you look at the range, right from 2,400 levels to somewhere around 1,300 levels on to the downside. So it was somewhere a nearly 1,100 points range. Even if you look at a 50% upside, we are just reached 50% upside. So I think, still, there is a big room for this power index to go higher.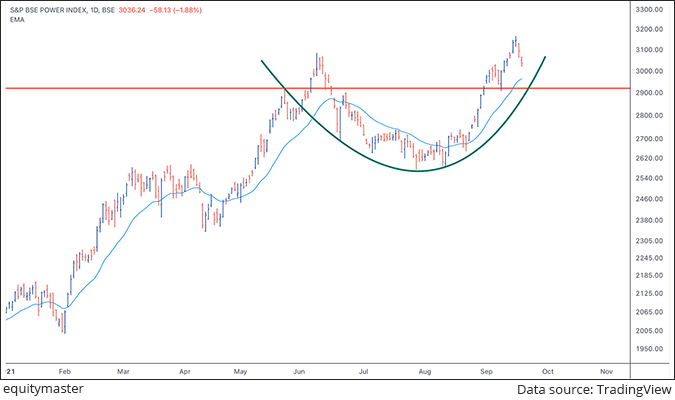 If I slightly go lower to the daily chart, if you look at the daily chart over here, we are witnessing some U-formation or bottoming information. Generally, it is known as a bottom structure onto the Nifty. So if you look at the daily chart, yes, weekly has been trending on the bullish side, it has been trending in a cup shaped formation.
I believe any dip now if you look at the support zone over there, which is somewhere around 3,000 levels, any dip towards 3,000-2,960 could be a good accumulation level for this power index. So you should keep a watch this power index. I believe still, there is a huge upside for this power index, once even the 3,000 level will play a key psychological level now. So I believe should not miss this good upside momentum from trading point of view.
Probably I think by end of 2021, this power index will continue to see upside momentum and you should not miss this rally. Probably if you look at the 1,100 points range which was in the weekly chart right from 2,400 to 1,300 level, even if I take a 1,000 points rally, if I add up to around 2,400, we could witness 3,400-3,450 on the upside on the power index.
So you should keep a watch on this power index. Again, the risk over here is if in case, markets see more downside, being slightly volatile stocks, the power stocks, we might see a slight dip.
Yet I believe that any point in the reversal on the markets or the power index, don't miss this opportunity on power index or power stocks where we could see a positive momentum. So signing off, Brijesh Bhatia.
Warm regards,

Brijesh Bhatia
Research Analyst, Fast Profit Report
Equitymaster Agora Research Private Limited (Research Analyst)
Recent Articles