My Top 2 Sectors for Samvat 2078
Nov 2, 2021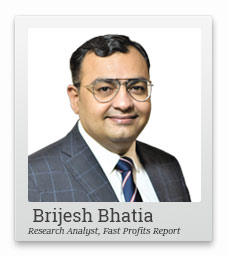 Samvat 2077 was an amazing year for investors and traders alike. The Nifty has soared to new highs along with the broader market.
But what about the new year? Will Samvat 2078 bring more joy?
Well, I think the best way to invest for Samvat 2078 is to pick the strongest sectors and hold on to them.
In this video, I'll share my top 2 picks. If you are looking for great stocks to buy, this is where you should start your search.
Watch the video and let me know your thoughts. I would love to hear from you.
Hello viewers. Welcome to the Fast Profits Daily. Myself Brijesh Bhatia.
Well Samvat 2077 was an amazing year for investors. We have seen Nifty, since the fall during the first quarter of 2020, March 2020, since then, we haven't seen markets looking back and it was the one way momentum to the highs and highs.
In Samvat 2077 if we compare the momentum the Nifty has rallied by nearly 46%. Midcaps around 84%.
If you remember, I did a video saying that the 2021 belongs to smallcaps, and if I just compare Samvat 2077 since the start and we are coming to the end, if you look at the recent highs, it has rallied nearly 100%. It has doubled and it's not the end to the outperformance of smallcaps. I believe still, we have a huge room for smallcaps to outperform.
Check Out: Why Millions of Dollars are Getting Pumped into this Sector?
Again there could be a couple of months of hiccups over here and there, but yes, still, midcaps and smallcaps have a huge room to outperform against the Nifty.
Historically, we have seen that when this outperformance starts, when smallcaps and midcaps start outperforming against the Nifty, they don't end up in a one year. The rally continues between 18 months to around 22-23 months, and still we are around 9-10 months old of performance over here.
So I still believe again, a probably Samvat 2078, we might see midcap and smallcap outperformance continuing.
This video is all about my best two sectors one should look into Samvat 2078 or probably, if you look at the year, 2022.
The first sector, I believe, will be the outperformer or can witness is strong rally is infra.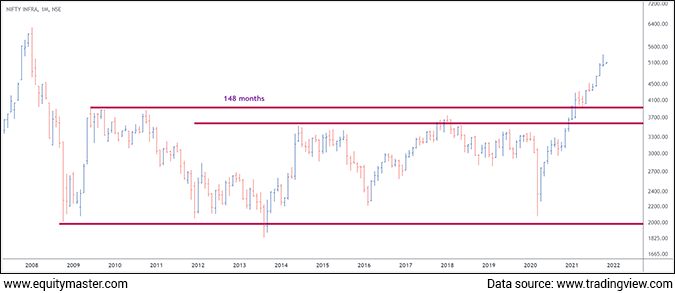 Now, if you look at the chart over here, we have seen taking a strong momentum after the breakout, but if you look at the infra over here now, it has broken out of around 148 months, which is more than 12 years of consolidation.
We saw the momentum or range bound underperformance against the other sectors. Since the 2008 fall, this sector has been underperforming against the major indices even if you look at the Nifty 500.
After breaking out of nearly 12 years of consolidation, we have seen a huge momentum coming into the recent last 3-4 months, and I believe this is just a start of this rally into the infra space.
Again, there could be a slight dip into the momentum, and I believe that could be an opportunity to enter for the investment avenues. If you remember, we have covered realty sector as well. Where we have seen such kind of breakouts of around 9-10 years of breakout into the real to space. You can go into our archives of videos and find my video on realty.
Similarly, I think infra is very, very well positioned for the uptick momentum and if I just look at the whole range, generally when the range breaks out for a longer term period, it targets around 261.8% of the whole range.
If you look at the CMP it's around 5,000-5,100 and if I just calculate the whole range and put 261.8% of the Fibonacci of that range, we are expecting the target of probably 7,300-7,400 to the infra space. So that could be the one sector should definitely look for buying opportunities in the markets.
Second, my best sector is I would continue with the bullish momentum in the power sector.
Well, I have done a video on the power sector as well but as we are entering the Samvat 2078, I think within infra, power is also one sector where the similar structure is playing out.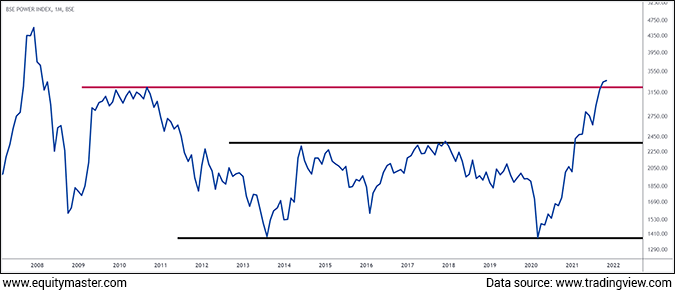 Now the index has broken out of around nine years of consolidation. Nine years is not a small number. Nine years of consolidation means a huge accumulation have happened. People have not got the percentage return where the other sectors have got and now, I think that it is time that the power will also take a leap.
If you look at the last 2-3 months, we have seen Tata Power and IEX been taking a lead and probably if you look at the power index as well, they have seen a huge rally post breakout but this is just I think a dip could be possible where you can get an opportunity to go long. But yes, this is my second best sector. I think it's trading around 3,300. It might dip to around 3,100-3,150 or 3,000 being a psychological level.
Overall I think in next one year, I am expecting this index to rally by around 25-30% which could be 4,200-4,300 target on to the power index.
So again, my two best sectors to invest into Samvat 2078 are infra and power. Do let me know into the comment section which sector you think could be an outperformer or you think should be an investment for next one year or Samvat 2078 or financial year 2022.
Do not forget to comment on your best sectors and I hope these two sectors will be outperformers in the next one year and might give you handsome returns.
Again, wishing you all a happy Diwali to you and your family and may this year bring more wealth as compared to Samvat 2077. Signing of Brijesh Bhatia. Thank you.
Warm regards,

Brijesh Bhatia
Research Analyst, Fast Profit Report
Equitymaster Agora Research Private Limited (Research Analyst)
Recent Articles