Is it a Good Time to Trade OMC Stocks?
Dec 7, 2021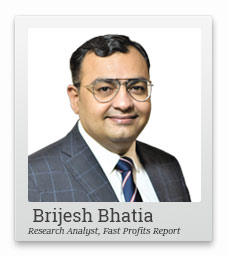 Crude oil prices have fallen recently.
This is good news for our economy. But what about stock prices? Which stocks can be expected to do well?
The logical answer would OMC stocks. But don't be so sure of that.
In this video, I'll show you how OMC stocks move against crude oil and how to trade them.
Watch the video and let me know your thoughts.
Hello viewers. Welcome to the Fast Profits Daily. Myself Brijesh Bhatia.
Well, the last week crude oil corrected right from US$80-82 mark to below US$70 mark and trading around US$67-68 mark.
Find Out: How to Find One Stock with Crorepati Potential?
On the COMEX futures it made a high of around US$85 mark and when it was trading around 80 I came up with the video, and there was talk of the town that crude might test US$100 mark, and I came out with the video that it will not touch US$100 mark and we might see it back to about US$54-55 mark. Well, it's on the way toward those levels, and it is currently trading around US$67-68 mark.
When it comes to the equity trading in corelation with the crude oil prices falling down, it's always that the OMCs gains the most. But if you look at the stock prices of OMCs comparing with the crude oil price, do they say the same?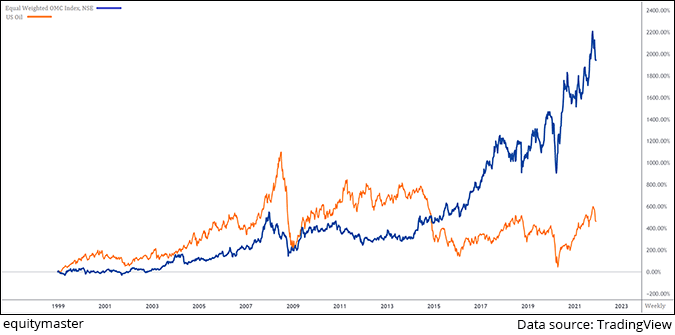 Well, let's look at the weekly chart over here. We have created an equal weighted OMC index comprising of stocks like Reliance, IOC, HPCL, BPCL, and if you look at the momentum over here, on the weekly since 1999 I've plotted this index, and if you look at the momentum of crude oil prices over here, they go hand in hand.
When the crude oil prices go higher, the OMC stock prices go higher though the quantum may differ over here, that the percentage of rise or percentage of fall may defer but if you look at it largely, they are trending in a similar manner.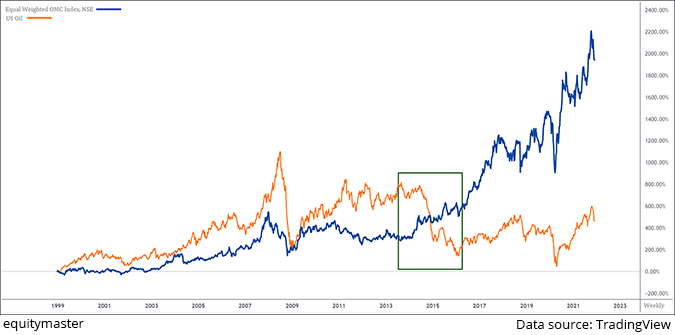 Only, there was a period between I guess October 2013 to end of 2015 or start of 2016, where they diverged. When crude oil tested the higher levels into three digit mark and started falling down and equity markets started recovering after a long basing formation of 2010-2012, and Reliance, one of the major OMC, the elephant, started to awaken. Then we have seen a momentum in that period of around 2-2.5 years. The divergence was witnessed when the crude oil prices were falling and the OMC prices, the stock prices, started trending higher.
Again, I would say the major correlation here is how the equity market performs with the crude oil prices and that's the biggest stock trend which is visible looking at this chart over here.
This is very, very important to keep in mind that though there could be the fundamental basis that the crude oil prices falling impacts or have a positive impact on the OMCs but if you look at the stock prices over here, they generally go hand in hand
In the last 20 years, apart from 2-2.5 years, we are witnessing the moves very, very similar on a longer term basis. Though, as I said, the quantum of move, the percentage of gains, the percentage of loss, vis-s-vis the crude oil prices with OMCs, might differ, but the trend generally remains same.
Now, the crude oil prices have recently seen a dip. But will the OMC follow the momentum over here?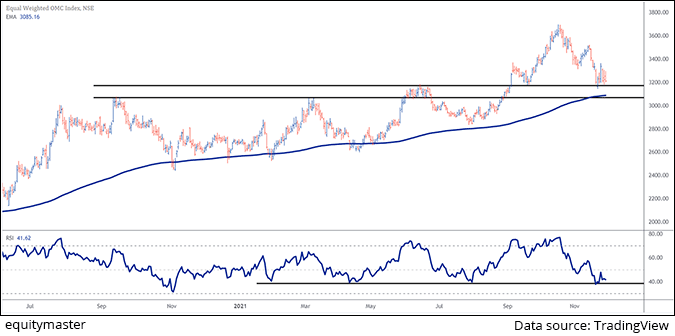 So, let's look at the OMCs, the equal weighted index chart which we created, it is trending at a crucial support level, and if you remember, crude oil was taking huge support around US$78-80 mark before falling down.
Now, if you look at the chart over here, we are trading at a crucial support level. Make or break level for me, I would say. If you look at the two horizontal lines, where the highs were made around 3,100-3,200 mark, it is acting as a support zone, the two black lines, the two horizontal lines over here.
Plus the 200 daily exponential moving average is around slightly below those, which is around some around 3,100 levels. So I believe 3,100-3,200 will be very, very crucial for OMC stocks, the index which we created, should keep a watch on this.
In case these levels are breached down, we might see a trending move what the crude has done, with the OMC stocks. But as far as 3,100-3,200 are holding on to this index, we believe that, yes, it can see higher levels.
Again now, if you look at the Nifty which has corrected from 18,600 back toward 16,800 levels and if the trend permits on the downtrend, the momentum continues, we might see selling pressure coming in from the OMCs.
But as I said, generally the crude oil prices momentum and the equity indices momentum plays a key role with the OMC stock prices as well. So you need to keep a watch on this. As I said, we have taken Reliance into the OMC and it holds a huge weightage into the Nifty as well. So it will be very, very important to look at how this 3,100-3,200 level on the OMC index plays out.
If these levels are held, I believe 3,000 levels, keeping a cushion of around 3%, if 3,000 level is broken down, we might see the momentum continuing with the bearish side, but if these levels are held and if crude comes back towards 74-75 levels, we might OMCs coming back very, very strongly. But overall, these levels need to be watched very, very closely.
So signing off and if you're looking at a trade over here, yes, you should keep a watch on these OMCs with 3,000 as a stop loss, the trend change level, with those are held and Nifty recovers, we might see OMCs coming back very, very strongly.
Signing off. Brijesh Bhatia.
Warm regards,

Brijesh Bhatia
Research Analyst, Fast Profit Report
Equitymaster Agora Research Private Limited (Research Analyst)
Recent Articles