Nifty Alpha 50 ETF: Investment on Steroids
Dec 28, 2021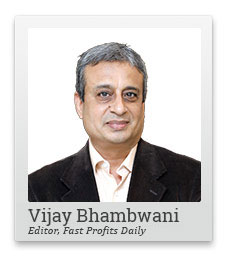 Recently, I took the time to study the Nifty Alpha 50 ETF.
I found it checks all the right boxes for an investment.
I believe this ETF can offer solid returns at lower risk compared to the rest of the market.
In this video, I'll show you why the Nifty Alpha 50 ETF is a good investment for the long term.
Let me know your thoughts in the comments. I love to hear from you.
Hello, friends. This is Vijay Bhambwani here and I'm back with you in this video to answer some pertinent questions and address a worry that some of my viewers may be having.
Is the market looking top heavy? Is the bull market looking a bit tired? And if yes, where do you invest in such a market where if you invest and the market stance falling, the fall is smaller than the broader markets and whenever the market starts to rise thereafter, the gains are bigger than the broader markets?
One Stock Crorepati: Today is Your LAST Chance to Grab this Opportunity
Now, on first of April, I had recorded a video. If you care to go down in this playlist, the title was, If the markets fall, I will do this. I followed it up with another video on 20th of April 2021. The title of the video was Top 3 Nifty ETFs to Buy Now.
So obviously, the first of April video that I recorded with the title, if the markets fall I will do this, I was talking about buying index ETFs particularly Nifty ETFs. Now, if you care to watch these videos, you will basically understand the logic as to why I have said what I have said, but in brief, I will tell you that the Nifty comprises of 50 stocks with different, different variable weightages and the weightages are telescopic.
Just like in the olden days you used to have a helical antenna in your pocket transistor radio, you would extend it and then collapse it inside the weightage of these stocks in the Nifty, fluctuate from month to month.
So if the stock is gaining in one month, the next month, the weightage in the Nifty is increased and vice versa. Which means the Nifty and the other indices are geared not to fall as much and in a rising market, to rise further.
Do watch these two videos for greater details. For now, I am going to tell you another investment opportunity in the index ETF space that I have identified for you. And I feel this opportunity offers potentially higher returns on investments than the Nifty ETF. Friends I'm talking about the Nifty Alpha 50 Index.
Now you basically have two Nifty Alpha indices. One is the Nifty Alpha 30 and the second is Nifty Alpha 50. I have looked into the composition of both these indices. And from my point of view of course, I feel that the Nifty Alpha 50 has a better composition and more prospective returns with less of volatility.
You see, as an investor, trader, I want three things in my investment. The highest possible returns, in the shortest possible time and more importantly, at a reasonably controlled a threat perception or risk level.
So between the two, the Nifty Alpha 50 and the Nifty Alpha 30, I feel the Nifty Alpha 50 comes closer to my checklist, and I'll give you a low down on what it actually comprises off.
Nifty Alpha 50 Index
First of all, as you can see on the chart on your screen, the Nifty Alpha Index has quadrupled from the low that it made at 8,673 in March of 2020 when the entire market collapsed after the covid lockdowns were announced. It went up to 34,771, that's almost quadrupling in October 2021.
What I like about the composition, like I told you, was the Information Technology or IT has a weightage of 27.18%. Power sector has a weightage of 10.27%. Healthcare has 9.69% and oil and gas has 7.13%.
The list is not exhaustive. Obviously, if you total them, they do not come up to 100%. There are other sectors. But since these sectors are very heavily weighted and they seem to offer a great deal of potential for appreciation, I feel the Nifty Alpha 50 itself should rise.
As you saw in the chart, it's not reacted half as much as the Bank Nifty or even partially, forget about half, even a fraction of what the Bank Nifty has fallen to, and not even half of the reaction that you saw in the Nifty 50. So it's insulating me from a downside whenever the markets are looking a little weaker.
Now what does it look like in terms of returns? Now, let me assure you, let me caution you rather, that past performance need not be ideal proxy for future returns. But let's see what this index has done.
Year to date, as I record this video, it's returned 62.5%. 12 month trailing, it's returned 68.98%, and over the last five years, it's returned 29.23% on a year on year basis. So you can see that the returns have been fairly robust, above average, and I would call them mouth-watering.
So the Nifty Alpha 50 index ETF, will provide you double digit returns and if the past is anything to go by 20%, 25%, 30% if all goes well. Of course this is a market. It's like a military operation. Nothing goes as per plan. There are always hiccups along the way. But hey, we traders are brain warriors. We win with our ideas and ideas and our brains tell us that we are dealing in probabilities and not certainties.
So the probability of making money from the Nifty Alpha 50 ETF is far higher than the probability of losing money or even earning mediocre returns, which is why it's called Alpha. Alpha, like I reminded you, is above average or super-fast, excessive returns.
So my friends, I'm very optimistic that you take delivery of this ETF. You're going to outperform the broader markets over a long period of time because this is a delivery based investment. It's not a trade. It's a 100% delivery instrument. No forward trading here.
I have received feedback from my friends who have invested in the Nifty ETFs and they're fairly happy about it. Remember, I made that video almost eight months ago. You're will do even better in the Nifty Alpha 50 Index in terms of returns.
On this happy note, I wish you a happy New Year in advance, and I wish to remind you to click like on this video if you liked what you saw. Do subscribe to my YouTube channel if you haven't already done so. Click on the bell icon to receive instant alerts about fresh videos being put up out here.
Good, bad or ugly, I'd love to hear from you in the feedback space and help me reach out to fellow like-minded investors and traders by referring my videos to your family and friends. Thank you for your patience and watching my video. I wish you have a very, very profitable year ahead.
This is Vijay Bhambwani signing off for now. Till we meet again in my next, take care. Bye.
Warm regards,

Vijay L Bhambwani
Editor, Fast Profits Daily
Equitymaster Agora Research Private Limited (Research Analyst)
Recent Articles