Why You Should Avoid These Covid Essential Stocks
Jan 12, 2022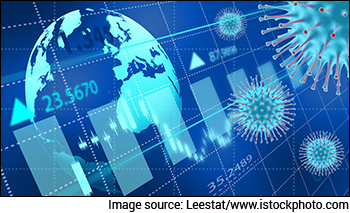 It wasn't long ago that Forbes magazine called her the world's youngest self-made female billionaire.
Another business magazine which put her on its cover called Elizabeth Holmes, 'The Next Steve Jobs'.
A Stanford University drop-out, Holmes had founded a company valued at US$9 bn for supposedly bringing about a revolution in diagnosing diseases.
Her startup, Theranos, promised to detect conditions such as cancer and diabetes quickly, with only a few drops of blood. It was expected to be a new age blend of technology and diagnostics.
Cut to January 2022. Holmes has been convicted of fraud. The firm's claims have been proven to be untrue.
Technology enabled healthcare services, like diagnostics, reached their pinnacle in the post Covid world.
If the new listings and valuations of diagnostics companies are anything to go by, they're among the most popular 'essential stocks' in the market today.
Add to that the lure of new scientific advances in fields such as gene sequencing and artificial intelligence (AI), which make new modes of care possible. There are products and services that were unthinkable few years back.
--- Advertisement ---
3 'Crorepati' Stocks to Consider Owning in 2022

Register for Richa Agarwal's Top 3 Stocks for 2022 MEGA Summit and discover the details of 3 'Crorepati' Stocks to consider owning in 2022.

When: Tuesday, January 18, 5 PM IST

Where: Online - Join with this link

Save Your Spot for the Summit Here
------------------------------
E-pharmacies fulfil prescriptions, wearable devices monitor health in real time, tele-medicine connects patients with physicians, and home tests enable self-diagnosis.
Indian households are no longer keen to be at the mercy of a clunky, costly, and highly regulated health system. Tech enabled online health services, have given people more control over how to access care.
So, it's understandable that investors, looking for Covid essential stocks, are flocking to this health tech megatrend.
But buying untested and unreliable businesses could often land investors into pitfalls like Theranos. If the company was listed, it would have been one of the biggest bankruptcies of recent times.
There are plenty of diagnostics and healthcare stocks listed in India today. But barely a few make the cut when tested for sustainability and moats.
The trend is not restricted to healthcare.
Quick service restaurants and food delivery companies have been a favourite in recent times. Zomato's blockbuster IPO, despite no sign of profitability, was proof of that.
India is a young and emerging country. So, assuming millions of Indians would consume increasing amounts of pizzas and burgers for decades, seems logical. With tons of brokers peddling the growth in the pizza and burger businesses, these stocks are bound to be popular.
--- Advertisement ---
Revealed: 2022's BIGGEST Investment Idea

Do you want to know how to potentially start making windfall gains starting this year?

Then you must definitely check out our BIGGEST investment idea for 2022.

Our team at Equitymaster has been relentlessly researching a unique segment that presents a 15x opportunity.

We have revealed our complete research on this massive 15x opportunity in a video including the details of 3 stocks our analysts have picked.

All you have to do is watch the video, get the information and potentially start making profits starting this 2022.

Click Here to Watch the Video
------------------------------
But the trend doesn't align with the shift towards nutrition consciousness. Ironically, some of the unhealthiest stocks in the markets today serve a junk diet to investors on a platter!
Companies like Burger King India are perceived to be a high growth, high PE businesses.
Now, it did lose some sheen after its strong stock market debut in late 2020. But one look at its balance sheet and return ratios will tell you why the stock is outright dangerous...and why growth in such a business could be disastrous for shareholders.
Apart from high growth in the loss-making business, the sharp rise in debt calls for concern.
So, this is yet another category of Covid essential stocks that you must stay away from.
Beauty platform Nykaa (FSN E-Commerce) saw volumes soar in the Covid lockdown months. Whether you call the products Covid essential or not, the company made the most of the pandemic weariness.
The fact that it's profitable allowed it to fetch eye popping valuations on listing. The stock is now quoting at a trailing price to earnings ratio (PE) of over 1,600 times and forward PE of more than 600 times. I'm not liberally adding zeroes here!
Its other valuation parameters like price to book value (around 150 times) and marketcap to sales ratio (40 times) are also at stratospheric levels.
The Rebirth of India: A Once-in-a-generation Wealth Making Opportunity Get Details Now
No doubt the company has reported high growth in the past two years (48% revenue CAGR between 2018-19 and 2020-21).
But it's too early to assume the trend will continue in the coming years. It's also possible that competition from a giant like Amazon India can dent its competitive advantage. As volumes increase, Nykaa must cater to non-premium brands as well, which may reduce its margins.
So, there are plenty of so-called Covid essential stocks that continue to win investor favour. While a few may deserve a place even in a long-term portfolio, many could fade away once the high growth and profitability numbers become unsustainable.
Adding these stocks to your portfolio at stratospheric valuations could be equal to poisoning it.
So, even as newer waves of Covid emerge, ensure you don't allow such fads to take a toll on your long term returns.
Warm regards,



Tanushree Banerjee
Editor, StockSelect
Equitymaster Agora Research Private Limited (Research Analyst)
Recent Articles