Discover 3 Next-Generation Defence
Stocks Potential 33x Opportunity
*1 out of these 3 stocks have already run up. Act fast or you might completely miss out on this big opportunity.
Did the SVB Collapse Just Make this Strategy Even More Attractive?
Mar 17, 2023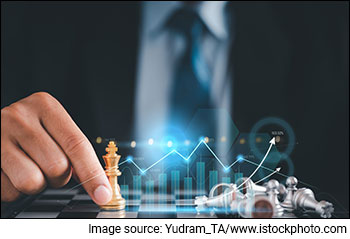 Many new investors get a shocker when they realise that investing is not what they made it out to be.
They can't believe it when stocks of companies declaring bad quarterly results go up and the ones with good quarterly results going down.
They are surprised when stocks from the so called hot and growing sectors underperform ones from cold or slow growing sectors.
I think this confusion arises because they confuse the price of a stock with its value. You see, in the stock market, price is what you pay and value is what you get.
A stock will not make money for you over the long term, based on whether its quarterly results are good or bad or whether it belongs to a hot industry or a cold industry.
In the long term, you will only make money if you buy a stock well below its intrinsic value and give enought time for the price to converge to its value. This type of investing is usually known as value investing and its practitioners, value investors.
You see, nearly every stock has a certain intrinsic value based on the profits it can generate under normal conditions.
Value investors compare the share price of the stock with this intrinsic value. If the share price is significantly lower than the intrinsic value, we get interested in the stock.
And if it's higher, we avoid the stock and patiently wait for the price to go below its value.
Now, value investors don't mind investing in a stock with poor quarterly results or belonging to a cold industry. If they believe the stock is undervalued and is trading below its intrinsic value, they are game.
In fact, they are of the view that stocks with good quarterly results or the ones from hot industries are sought by many investors and this makes them expensive vis-a-vis their intrinsic values.
--- Advertisement ---
Revealed a Potential 33x Opportunity by 2030

We just concluded our special event on defence.

It was a huge success. Thousands of Indians signed-up to attend it LIVE.

You too had signed up for this event.

But for some reason you couldn't make it to the event.

Well, don't worry.

We just released a special replay of the event.

So now you can get all the information about this potential 33x opportunity that Tanushree revealed today at the event...
*1 out of these 3 stocks have already run up. Act fast or you might completely miss out on this big opportunity.

Including details of 3 next-generation stocks to ride this mega opportunity.

Watch Now
------------------------------
Therefore the value investing motto is to deliberately look at stocks where the quarterly earnings are going to be bad for a few quarters or which belong to sectors that are not particularly hot.
Now, this value investing strategy may sound good in theory but does it work in practice?
Is there proof of a value investor using this approach to earn fabulous long term returns?
Well, yes there is a lot of proof. None bigger than perhaps Warren Buffett's stellar track record. Buffett is an out and out value investor who's followed the value investing playbook to the 'T'.
Likewise, there are perhaps thousands of investors all around the globe who've followed the value investing principles and earned market beating returns over the long term.
In fact, I did my own little value investing experiment and the results were encouraging.
To me, a stock is a value stock if it has a PE ratio of less than 15x, has a dividend yield of at least 2%, and has as little debt on the balance sheet as possible.
You can assume a PE ratio of 15x as an indicator of the intrinsic value of the company and a decent dividend yield as well as low leverage an indicator of the underlying quality of the business.
So if a top 500 stock by marketcap is available at a PE of 15x or lower and is paying out dividends and has low debt, there is a strong chance you are looking at a decent quality value stock.
I put together a group of 20 such stocks, held it for a year and then reinvested the proceeds into another 20 stocks that met these three conditions of PE, dividend yield, and low debt to equity ratio.
I did this for 10 years and then compiled the result. This simple value portfolio went up by over 5x between 2012 and 2022. This is a CAGR of 18% per annum.
Is this good?
Well, the Sensex is up 3x during the same period and has generated a CAGR of 12% during the same period.
Any strategy that gives a minimum 5% per annum advantage over the Sensex is a strategy worth pursuing in my view. The value investing strategy I tested does give you that advantage and is therefore, certainly worth giving a shot.
The evidence in favour of value investing is thus irrefutable. If you practice it diligently and are patient enough, there are market beating returns for the taking over the long term.
Now, what if I tell you I tested another strategy that was not value based but gave even better results over the same period and over the same universe of 500 stocks?
In fact, I had to repeat the process a few times just to make sure I was not making any errors. It turned out, there were no errors. The gap between this strategy and the one based on value investing, was indeed real.
How big is this gap?
Well, twice as better than the Sensex.
Yes, that's right. This strategy applied on the same universe of 500 stocks and for the same period, has multiplied investor money by 6x versus the 3x returns given by the Sensex and the 5x given by the value investing strategy.
And the way it has accomplished this is by doing all the things that value investing forbids you to do but in a more systematic manner.
You see, value investing will ask you to stay away from hot sectors or companies that are likely to post good quarterly numbers.
Value investing asks you to stay away from yesterday's winners and get close to yesterday's losers because yesterday's losers often become tomorrow's winners and vice versa.
This strategy on the other hand, asks you to invest in yesterday's winners but only of a certain kind.
These 'certain kind of winners' don't go on to become losers immediately.
In fact, they continue to be winners for some more time. This gives investors a small window to make some quick bucks. And then when the trend starts reversing, the investors can book their profits and move out.
So, here's what I did. I took the same universe of 500 stocks that I did for value investing. But this time, the portfolio did not comprise of value stocks. It comprised of those 20 stocks that had gone up the most over the last 12 months i.e. the winners over the last one year.
That's it.
All you had to do to outperform the Sensex by 2x and also the value investing strategy by a considerable margin was to invest in the last one year's winners and then hold on to those stocks for another one year and then repeat the process again.
At the end of the 10-year period your corpus would have gone up by 6x by applying this extremely simple strategy.
Now, before you regard this result as random, let me tell you that this strategy goes by the name of momentum investing. This strategy has emerged as one of the most popular ones recently. It has left investors and financial experts baffled by its effectiveness and its spectacular results.
I have seen it work with my own eyes and that too over a period of 10 years.
Yes, it may not sound as appealing as value investing and does not have the concept of intrinsic value or margin of safety attached to it.
However, it is based on the same behavioural tendency of investors that gives value investing its edge.
In the case of value investing, people tend to overreact to bad news, and this results in the stock price going below the fair value of the stock.
In momentum investing however, people underreact to good news. Therefore a stock does not go up all at once. It goes up steadily over a period of time. This allows momentum investors to jump aboard this rising tide and ride it as close to its top as possible.
Therefore, if one follows a well-defined process and buys and sells momentum stocks based on what has worked historically over a long period of time, one certainly has a strong chance of earning market beating returns over the long term.
However, the million dollar question in front of us is whether this is the right time to practice momentum investing?
After all, with big banks like the SVB and Credit Suisse collapsing like a pack of cards and fears of a global contagion looming large, is a high-risk, high-return strategy like momentum worth considering?
Well, all I can say is that two of the worst years during my backtesting of both value as well as momentum strategies had been the year 2018 and 2019.
And in these two years, the momentum strategy was down 23% point-to-point. In other words, it had suffered a decline of 23% between December 2017 and December 2019.
And how much was the value investing strategy was down by?
Well, a strategy that's supposed to be safer than momentum investing but it actually fared worse than momentum investing.
Yes, that's right. During the same two year period, between December 2017 and December 2019, the value strategy was down almost 28%.
Now, there's no reason to be optimistic about momentum investing based on just this data point. However, there's no reason to be pessimistic either in my view.
A strategy that's as much rooted in human nature and the elements of fear and greed as value investing, should certainly find a place in one's investment plan.
In fact, with momentum underperforming its value counterpart in 2022, this may just be the year that this strategy turns the table on its more famous peer and allows you to start your momentum investing journey on a positive note.
For all you know, the SVB crash and the small correction it has led to, may have made momentum investing even more lucrative.
In case this has piqued your interest in momentum investing, then I'd like to invite you to my special event on momentum investing on Monday, 20th March. Here, I'll share full details of my momentum strategy.
You will also find out how it can be a profitable addition to any other investing strategy you're using right now.
Join me at the event by reserving your seat.
I hope to see you on Monday.
Warm regards,



Rahul Shah
Editor and Research Analyst, Profit Hunter
Recent Articles