POTENTIAL MULTIBAGGER
Do You Own this Little-known Smallcap Stock? >> READ MORE
Is Foreign Investment About to Kickstart a Bull Market in Small Caps?
Mar 20, 2019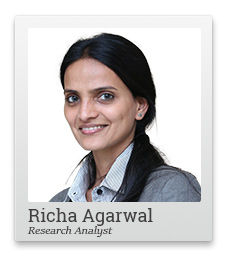 Only a month ago, the BSE Small Cap index was at about 13,100 points.
Now, it is almost at the 15,000 level.
That is a near 2,000 point leap in just a month... A gain of 13% or so for the entire index, with many individual stocks up by 25% to 30% in such a ridiculously short span of time.
The question many small cap aficionados are asking is this - Is this the start of a bull market in small caps?
But tell me, has anything really changed in the world of small cap companies?
Nope, nothing at all. Nothing has changed in the last one month to warrant this leap.
It's just business as usual, just the way it was a month back.
Why, then, are we seeing this sharp spurt in small caps?
Well, the culprits aren't hard to find - FIIs or foreign institutional investors.
Turns out, after being net sellers in January, the FIIs have suddenly had a change of heart.
FIIs bought more than Rs 130 bn worth of Indian equities in February.
The numbers for March are even better. The net buying has inched closer to the Rs 160 bn mark in the first couple of weeks alone.
To be honest, I'm not really surprised by this sudden enthusiasm. Whether the culprits are FIIs, domestic mutual funds, retail investors, or whoever else...as I have always told you...
Small caps are and always have been very moody creatures.
They are prone to sudden and large changes, and you need to know how to work their moods to be able to make big money from them...
When sentiment turns against them, they perform much worse than the overall market.
And when sentiment turns for them, investors take them to the moon, and then some. They then easily leave the rest of the market in the dust.
But I love them for this!
And if you know the trick to taking advantage of this quality of theirs, you will too.
Because it is this quality of theirs - if harnessed wisely - that lets you walk away with much higher returns than the rest of the market.
For example, at the time of the market low a month back I had shared rebound opportunities in 4 quality small caps.
Of those, two rebound stocks have moved sharply up and are now beyond the buy zone - great news for those who pounced on the opportunity at the time.
Fortunately, the other two are still actionable!
The fact is, despite the small rally over the last month or so, small caps are still quite an attractive place to make money.
That's because notwithstanding the recent rise the index is still down a large 25% or so since its high at the start of 2018.
And this overall fall in stock prices has meant that many small caps I refused to touch last year in my small cap recommendation service Hidden Treasure have now turned into strong buying opportunities.
Hidden Treasure is currently replete with buy recommendations!
Just yesterday I shared with you a great investing opportunity in an NBFC stock - courtesy all the concerns floating around NBFCs. Most of these concerns do not hold true for this firm, for it has one of the best capital adequacy, asset quality and asset liability managements in the industry. The company is at an inflection point in its journey - moving from mainly a corporate lender to becoming one of the biggest in a niche retail segment with very attractive spreads. Best of all is the current management with a strong track record and reputation in the industry.
And this is just one of the stocks that figures in my top stocks to Buy list...
If markets keep rising like this, they may not remain there for long.
I strongly suggest you jump on these bargain small cap opportunities before this train leaves the station.
Regards,



Richa Agarwal
Editor and Research Analyst, Hidden Treasure
PS: Now now now! Richa has been telling you the time to buy is now for weeks... the time is now about to pass. Do not sit on your hands - join Richa and get this super-potential NBFC stock now.
Recent Articles