Increase Your Investing Profits: Lessons from Las Vegas
Mar 31, 2022
Editor's note: Equitymaster.com will be re-launched soon. We are grateful for your support, patience, and understanding in this difficult time.
In the meantime, all our content is available via e-mail and on our Telegram channel and YouTube channel.
---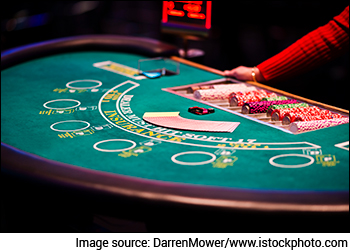 Everything in life comes with a price. The key to being successful is figuring out the right price.
No wonder, 'Bhaav Bhagwan Hain', is the most common phrase we hear in the stock market when logic fails.
In stock market, wealth is created by people who can figure out the right price of any asset before the rest of the market.
This, in my view, is the most difficult part of investing.
Let's say you identify the best company but buy it at a wrong price. Compare this to someone who buys an average company for a bargain price. The chances are his mediocre company outperforms yours.
Before I answer the obvious question about how to find the right price let me tell you about a piece written by Morgan Housel on financial behavior.
It's one of the most important characteristics required to find the right price.
The best example of smart financial behavior can be found in the most unlikely place: The Casino.
The discussion is about professional blackjack players and not the general crowd who come to gamble relying on luck and not on probabilities.
Housel believes, investors can learn from blackjack players who practice card counting to gain an edge over the casino.
The game teaches players the importance of margin of error. This in the stock market, is nothing but the margin of safety or the risk-reward ratio.
The basics of Blackjack card counting are very simple.
No one can know with certainty what card the dealer will draw next. But by tracking which cards have already been played, you can estimate which cards remain in the deck. This can tell you the odds of a particular card being drawn by the dealer.
You bet more when the odds of getting a card you want are in your favor and bet less when the odds are against you.
The card counting system works because it tilts the odds slightly from the house to the player. The mechanics of how this is done doesn't matter here. What matters is that a blackjack card counter knows they are playing a game of odds, not certainties.
They know there is a good chance of being right, but simultaneously acknowledge there's a decent chance they could be wrong.
It might sound strange, but their strategy relies entirely on humility,- They acknowledge that don't know, and cannot know, exactly what's going to happen next...and play their hands accordingly.
The downside is if they bet too heavily, even when the odds seem to be in your favor, you might lose everything in case you go wrong.
This example highlights the 'Margin of Safety' at play in the stock market. It helps you identify the right price for a stock.
Benjamin Graham when asked about margin of safety in one line, said this... "The purpose of margin of safety is to render the forecast unnecessary".
After all the stock markets is governed by probabilities and not certainties.
Now, let's relate this to Indian stock market.
Here are some categories of stocks based on valuations...
High valuation stocks (based on P/E or P/B)
Stocks at or near 5-year average valuations
Stocks 20% or more below 5-year average PE
Here I'm referring to general valuations for sectors. There will, of course, be outliers in every sector.
I understand the obsession people have for 'safe' stocks like HDFC Bank, Asian Paints, Nestle, etc.
You can consider these stocks when their valuations are at or below their 5-year average. Or when their sector is going through a tough time.
But the margin of safety in high valuation stocks, trading near lifetime highs, is not in your favor.
The Nifty is just 8-10% away from its all-time highs. These safe companies become dangerous at these valuations.
If you emulate the risk management strategy of blackjack players, the key takeaway would be to focus on the downside.
It won't be stock selection. It won't be sector selection. It will be all about the price at which you buy.
Now I'm referring to decent business here and not penny stocks or companies with structural issues.
You can consider the following potential investments...
Companies in sectors which are going through difficult times i.e. Headwind
Companies in sectors which are at the start of a cycle i.e. Tailwind
Let me leave you with some food for thought on risk and reward.
Headwind
Certain companies are trading at 2010-2011 valuations or even below that in the auto and auto ancillary space with rock solid balance sheets.
In fact, the reserves of some of these companies is equal to the entire addressable market of these new age loss making platform companies!
The margin of safety is high.
In long term investing, this is how you put the odds in your favor. This is how a blackjack player bets against the casino.
Tailwind: When it rains, it pours
The commodity sector benefits the most from rising inflation.
Commodity price boom + debt reduction + operating leverage + reasonable valuations = High margin of safety
Some leading steel companies are trading below their 2008 peak valuations. But what is interesting the marked improvement in their balance sheets compared to 2008.
The boom in prices last year has led to almost every commodity player undertake debt reduction by at least 20-40%.
Commodity stocks are clearly in a sweet spot at the moment.
But when picking specific stocks, please exercise due diligence. Also, be patient if you are looking for multibagger returns.
Warm regards,



Aditya Vora
Research Analyst, Hidden Treasure
PS: Equitymaster.com is currently not accessible due to technical reasons. We regret the inconvenience caused. Meanwhile, please access our content on LiveMint.com. You can also track us on YouTube and Telegram.
Recent Articles