Find Out
How to Find One Stock with Crorepati Potential? >> READ MORE
How to Make Your Fortune in Stocks with 0.5% of the Market
May 19, 2022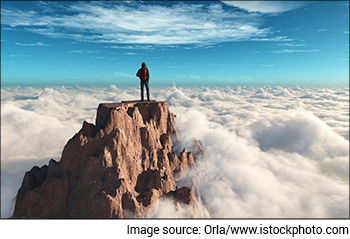 'Start with the A's.' - Warren Buffett
How would you take this advice to find the names of the best stocks in the market?
Would you shrug it off?
There are 2,400-odd frequently traded stocks in the Indian market. Barely 800 have failed to offer triple digit returns in the past year.
This means even by a random selection, 2 out of every 3 stocks would have doubled your money in past 12 months.
So, the advice to begin researching stocks starting with the A's would hardly hold water.
But then, this advice came from the legendary Warren Buffett, around two decades back.
In an interview in 1993, Buffett was asked how small investors should start selecting stocks.
And he recommended no shortcuts.
--- Advertisement ---
A One Stock Gift in 1990 Turns into Rs 130 Crores

In 2017, Ravi made headlines by calling a leading business news channel with a surprising announcement - his grandfather had left him 20,000 shares of only one stock.


And on the day of his call - these shares were worth Rs 130 crore.

Can you guess which is this company?

It's MRF.

Ravi's story is one of the amazing stories of becoming Crorepati from a single stock.

But the question is, how to find that one stock with crorepati potential?

To find the answer to this million-dollar question, join our 'One Stock Crorepati' MEGA summit on 30th June, where we will reveal details of what we call a potential 'crorepati' stock...

Click here for full details...
------------------------------
When the interviewer protested citing there were 27,000 listed US equities, Buffett's advice was to go in the alphabetical order.
The legend believed no investor can be truly successful without sifting through thousands of companies.
Now, if you think of it...only a handful of stocks that were listed two decades back offered the real big returns.
Stocks like HDFC Bank and Titan that compounded at 25 to 30% per annum were one among thousands even back then.
So, the research to find them had to be thorough and deep.
Starting with A's is like trying to do the unthinkable today.
Of course, technology can come to your rescue if you need to pick the best stocks. Instead of reading piles of annual reports, you have their financials on your fingertips.
But would that alone help?
Like I wrote to you before, 99.5% of listed stocks fail to qualify on a critical metric.
--- Advertisement ---
"$2.5 Trillion Crypto Market Boom..."

A booming $2.5 trillion market...

Set to multiply by 100 times over the next decade...

With legendary investors like Warren Buffet, Elon Musk, and Peter Thiel pouring in billions of dollars all over...

Would You Really Want to Miss It?
------------------------------
This means only 0.5% of listed stocks today are credible enough to be the big winners of the next few decades.
Even with all the hi-tech tools, screeners, and spread sheets at your disposal, you can go horribly wrong in picking the next HDFC Bank or Titan.
The last financial year can, at best, be treated as an anomaly.
If you assume that blindly picking stocks would give you returns from 2 out every 3 stocks in the future, your disappointment could be huge.
Moreover, in the event of a March 2020 like market crash, all your gains in questionable stocks, could get wiped out.
So...
If you don't want to start with the A's in reading up company annual reports...
If you do not have the time or inclination to sift through the financials of thousands of stocks...
EXPOSED: The Shocking Truth Behind Today's Hottest Investment Opportunity
If you don't know how to act next time there is a March 2020 like market crash...
...I have good news for you.
I have literally prepared a blueprint to select the top 0.5% listed stocks that can help create a fortune in coming decades.
I call them Forever Stocks.
I'll write to you about you these stocks more going ahead. Watch this space...
Warm regards,



Tanushree Banerjee
Editor, StockSelect
Equitymaster Agora Research Private Limited (Research Analyst)
Recent Articles