A Backdoor Way to Invest in Booming Industries
Jun 22, 2021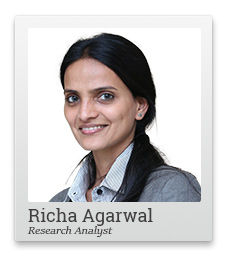 The origins of this event go back around two centuries.
Not only was it a big turning point in American history, but it also led to some great lessons in investing.
Long before California gained its reputation as Silicon Valley, it became famous for the gold rush.
It all started in 1848, when Mr Marshall, while building a lumber mill, came across something shiny.
He reported it to the mill owner Mr Sutter. On private testing, the shiny metal was found to be gold.
Mr Sutter tried his best to keep this a secret until he could acquire the mineral rights of this land.
But the rumours could not be contained for long.
Within a few months, the news spread like a wildfire.
California was now the mecca for hundreds of thousands of merchants and gold seekers who flocked to the place.
--- Advertisement ---
Like a Gold Mine for Investors?

Our co-head of research, Tanushree Banerjee, believes this is like a gold mine for investors.

Here's more...

Let's look at some of the most successful companies in the world today...

– Volkswagen Group, which owns Audi, Bentley, and
– Lamborgini
– Toyota
– Apple
– Samsung
– BMW
– Siemens
– General Electric
– Dell
– Boeing

What is common between them?

Well, the answer to this question is the key to finding multibagger stocks.

Tanushree revealed it all during our special event, The Great Indian Wealth Project.

If you missed this event for some reason, then you can watch the special replay of this event.

Click Here to Watch the Replay...
------------------------------
These were times before aviation. A journey to far-away lands could take months, if not years. Diseases were common on these trips.
The journey was arduous, but that did not deter wealth seekers.
The early gold seekers made a lot of money. However, no one so much as Mr Samuel Brannan.
And no, he wasn't busy mining during the gold rush. He came up with a unique approach to profit from this trend.
He set up stores in and around the gold fields. He then purchased all the supplies required for mining gold, and re-sold them at significant profits.
The easily accessible gold started becoming rare within a few years. However, the greed for gold ensured that Mr Samuel's business flourished.
There was another man who went on to become famous and wealthy during this gold rush, without seeking to acquire gold.
He started producing a new type of durable pants to sell to the gold miners. The product was convenient and robust. Soon, it became a big hit.
That gentleman was Levi Strauss. The name should ring a bell.
Not many people who made money during the gold rush are famous names today.
But Mr Strauss was an exception.
Watch Now: Get Details of Richa's 3 Dark Horse Stocks
He chose an indirect way to make the most of the opportunity and created generational wealth.
Most investors want to invest in well-known brands, companies, and trends.
This popularity often lands such companies and their stocks in the overvalued zone. The result is underwhelming returns.
The real money making opportunity in the popular themes and plays often lies elsewhere.
It's with companies that are a part of the value chain, enablers of the trend or theme.
But these companies are often overlooked as they get overshadowed by the direct plays.
In stock markets, some such examples include Accelya Solutions. The company is a niche IT service provider to aviation industry.
Now aviation over the years has become a big trend in India (barring the pandemic and lockdowns).
Multiple flight operators and budget flights have entered the industry. Flying is no more a luxury but a mass phenomenon.
Still, direct plays on the aviation industry haven't been big wealth creators. In fact, some of them have become bankrupt.
Yet, proxy play such as like Accelya Solutions has offered over 20% compound annual growth rate (CAGR) for over a decade.
This trend is apparent across industries. In real estate, the long-term returns from the direct plays are underwhelming.
However, proxy plays like Kajaria Ceramics and Cera Sanitaryware have offered great wealth to shareholders.
The smallcap space is rife with such unidentified players that are critical to the execution of big trends, or for survival of well-known companies and brands. These small stocks are still not getting their due in the current rebound rally.
The latest proxy play we picked for Hidden Treasure subscribers is the largest company of Indian origin in a niche chemical industry.
Despite its small size, its client list is impressive - Godrej Consumer, GSK, HUL, Britannia, Amul - among others.
The company's strong focus on R&D, intellectual property, and sticky and long-standing relationships with clients has given it a commanding position.
The chemicals it manufactures are critical to the product and brands of famous food, beverage, and FMCG companies. In fact, most of the companies in this niche industry have been in business for a century, given their criticality.
In these highly disruptive times, it's comforting to know that certain businesses and companies will remain relevant forever.
What makes me positive about its future is that it has the potential to grow revenues two to three times, with minimal capex. Food, FMCG, and Pharma, are some of the safest sectors to bet on in a pandemic. The best part is you can play this growth story without paying a high valuation.
Hidden Treasure subscribers can read the recommendation report here.
For more such updates on investing opportunities in smallcap space, stay tuned...
Warm regards,



Richa Agarwal
Editor and Research Analyst, Hidden Treasure
PS: I'm starting a telegram group, called Smallcap Fortunes and would love you to join me. My aim is to filter market noise and keep you abreast of interesting developments in the economy, industries, stock market, and companies. This could help you participate in the long-term wealth building opportunity in small caps. Click here to join.
Recent Articles