Investment in securities market are subject to market risks. Read all the related documents carefully before investing
An Emerging Opportunity for Investors
India's Lithium Megatrend
A Lesser Known Smallcap that Could Ride the Clean Energy Revolution
Jul 21, 2023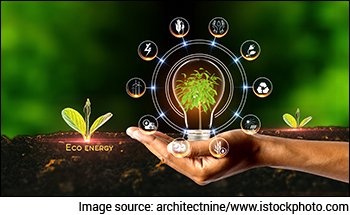 A few days ago, you heard my colleague Rahul Shah's views on Olectra Greentech. The stock has got the entire market watching in awe for its 237% gains in five months.
Its peer JBM Auto is up 189% in the same time period.
What's the connection, you may ask?
Well, it's raining electric bus orders. And both these entities are receiving many of those.
But that's not all.
Another stock, Suzlon Ltd, has more than doubled a similar time frame. While it's not into making electric vehicles, it has a close connection. It's a well-known name in the renewable energy sector for harnessing power from wind energy.
The craze around the clean energy and electric vehicle themes has led to massive runups in these stocks. With a big policy push from the government and massive inflows in to green energy funds, there could be more steam left.
However, I would not touch them with a 10-foot pole. Reason?
--- Advertisement ---
Investment in securities market are subject to market risks. Read all the related documents carefully before investing

Access details of this investing opportunity fast

EV is an emerging opportunity of this decade.

And most investors think the best way to ride this opportunity is through stocks of EV making companies.

Well, our research suggests that's not a recommended strategy.

Click Here to Know More
(Information available only till 11:59pm tonight)
Details of our SEBI Research Analyst registration are mentioned on our website - www.equitymaster.com
---------------------------------------------
The underwhelming return ratios in these businesses and skyrocketing valuations that don't make sense to me.
Take a look...
Riding Ahead of Fundamentals?
| | Return on Equity (ROE %) | Price to Earnings (PE) |
| --- | --- | --- |
| Olectra Greentech | 8.1 | 163 |
| JBM Auto | 12.9 | 133 |
| Suzlon Energy | NA due to negative reserves | 51 |
Source: Ace Equity, Equitymaster
And I have not forgotten the history. Once a darling of the stock markets in 2007, the subsequent years witnessed Suzlon's fall to become a penny stock.
The capital intensive business, lack of funding, scrapped incentives, and a balance sheet that was never in good shape to handle such setbacks - all contributed to the decline.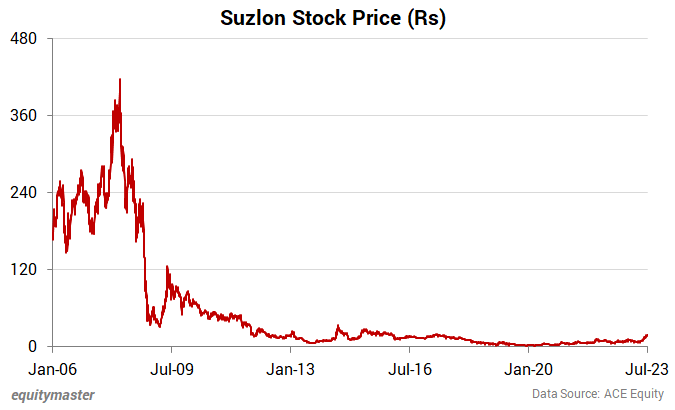 Olectra may not have debt issues for now. But do note that it has a stretched working capital cycle. And most of the target segment, the state transport units, are not profitable.
Now I'm not predicting a doom here. I believe the green energy revolution has serious policy push and more legs this time.
It's just that one has to find safer ways to play it, both from a business and valuation perspective.
--- This is Third Party Advertisement ---
Mutual Fund investments are subject to market risks, read all scheme related documents carefully.

[MEGA] Webinar Invitation -

Navigating markets in 2024 - Fund Managers' Year End Perspective.

Date: Dec 6th Time: 6pm Venue: Your Computer

What's Next for equity, debt & gold asset classes?

Join Chirag Mehta, CIO and Fund Managers of Quantum AMC as they discuss asset class outlook & what one should expect from the markets in the new-year.

Register Free for this Exclusive Webinar
----------------------------------------
So, for instance, if the rise of clean energy and solar energy is the trend you are optimistic about, an alternate could be GHCL.
The company is the second largest producer of soda ash in the country and largest manufacturer of soda ash at a single location in the country. The soda ash produced from this plant accounts for 26% of annual domestic demand.
With its planned capex, the company is likely to be the largest in India in soda ash with 30% market share in five to six years.
With captive mining facilities in Gujarat for raw materials for soda ash, lignite and limestone, GHCL has a clear advantage from backward integration.
So how is GHCL linked to green energy revolution?
Soda ash is a chemical that primarily goes into making detergents, glass, and lithium batteries.
The rise in demand in emerging end-use segments of solar glass and lithium batteries will be a key positive for the company.
The company's fortunes are not entirely dependent on the renewable energy megatrend. It stands to benefit from rise of green energy. It's also an optionality play with downside protection.
Equitymaster Conference 2024: View Your Invitation
Unlike the front runners in the clean energy revolution, where return ratios leave a lot to be desired, the company has return ratios over 40%. It's also a zero net debt company.
The cherry on the cake is GHCL's valuations. The stock is trading at a PE of less than 5 times. What's more, the stock has a dividend yield of 3.4%.
This is not a stock recommendation but you could include the stock of GHCL in your renewable energy watchlist.
My point here is that if you want to profit in the clean energy megatrend, you must put in the effort to look beyond the front runners. After all, creating long-term wealth in the stock market is not easy.
For more such opportunities and updates, stay tuned...
Warm regards,



Richa Agarwal
Editor and Research Analyst, Hidden Treasure
Recent Articles