Revealed


Richa Agarwal's
Top 3 Stocks for 2023
Why I'm Not Recommending Titan Despite its 1,200% Profit Growth
Aug 10, 2022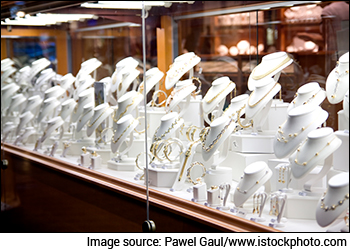 The NITI Aayog estimates that India has around half a million jewellers. Most of them do not purely trade in gold but also in gems and diamonds.
Only 32 jewellers are listed on the stock exchanges. Their aggregate marketcap is a little over Rs 1.2 tn.
Titan Company accounts for more than two thirds of it.
The jewellery business has accounted for over 80% of Titan's revenues for over a decade. It has helped the fading watch retailer reinvent its business.
In 2013, gold exchange contributed merely a sixth of Tanishq's overall gold sourcing. The industry was reeling under pressure. But the trust and transparency which Tanishq enjoys came to its rescue.
Titan installed what is called 'Karatmeter' in its Tanishq stores. This was at a time when there was growing anxiety about the purity of gold being offered by family jewellers.
The instrument used X-rays to measure the purity of gold in three minutes. This exposed the unfair practices of family jewellers. It also gave Tanishq a big edge versus other branded gold jewellery companies.
--- Advertisement ---
"My Top 3 Stock Picks for 2023"

Good News for you!

I have zeroed in on my top 3 stocks for 2023.

On September 30th at 5pm, I'm revealing the details only to a selected few readers of Equitymaster at my upcoming MEGA summit.

If you'd be interested, use this link to save your spot asap.

Save Your Spot
------------------------------
By 2020, more than a third of Titan's sourcing of gold was from gold exchange. The management hopes to take it to 50% by 2025.
A high share of old gold, a steep rise in post Covid gold demand, and the firmness in gold prices, all helped Titan stand tall in past few quarters.
So much so, that in the latest quarter, the company profits increased a staggering 1,200%.
Titan's profit growth is commendable indeed.
But neither the source of profits nor the macro tailwinds helping the jewellery business are here to stay.
Lower rental costs, digital sales, diversifying into wearables like eyewear, sarees etc did not help Titan enough. And it's a matter of time before the profits peak out.
This brings me to the indicator I often use to judge the chances of steep market corrections.
It shows the profit margins of companies in the BSE 500 index over past 20 years.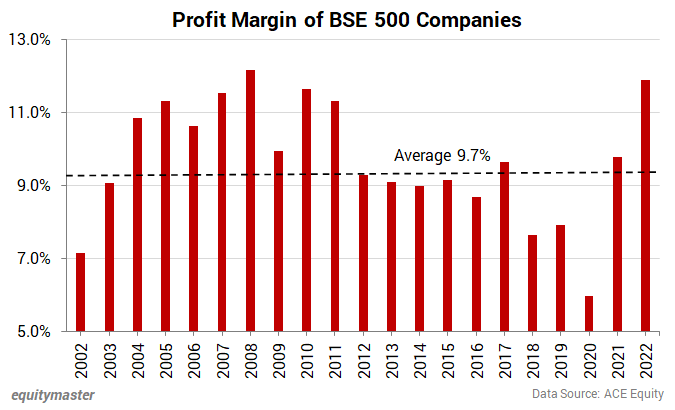 The indicator shows the profitability of the India's top 500 companies is at decade highs.
Whenever this indicator has come to such high levels in the past, there has always been a reversal to the mean.
Thus, Titan's steep profits this quarter and the sector's trend warrant caution. This is not to say that a few quarters of low profits should move a stock out of your watchlist.
My reason to not recommend Titan is also based on the stock's unappetising valuations at current levels.
But I'm also keeping a close watch on the company's profitability. The stock could turn very attractive if the markets get disappointed by its growth numbers in near future.
And that will present the perfect opportunity that long term investors desire.
Warm regards,



Tanushree Banerjee
Editor, StockSelect
Equitymaster Agora Research Private Limited (Research Analyst)
Recent Articles