Michael Burry says 'Silliness is Back'. Should You be Worried?
Aug 15, 2022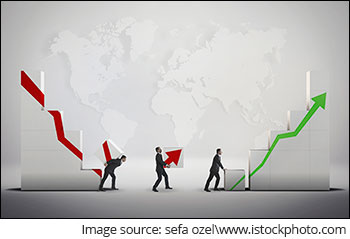 'The recovery has taken most of us by complete surprise', a close friend who's also a keen market observer, confided in me recently.
'I had kept a lot of funds on the sidelines, ready to be deployed in case of a sharp decline. But we did not even enter a bear market and are now staring at another new all-time high perhaps', he added further.
I think that's the story of most of us. We thought we were being smart in waiting for markets to fall further but have now ended up with eggs on our faces.
The market has already rallied 16% from its June 2022 lows and is threatening to go up even more.
However, Michael Burry, one of my favourite investors, is not convinced the current rally is on a strong footing.
--- Advertisement ---
New India's Comeback Story

The Big India Revival

A Story That Impacts Every Indian Everywhere, Yet Unknown To Most Indians

It could potentially make you returns like 1,004%, 1821%, 2740% and 3309% in a few years

Every Indian Must Know About This Once In A Generation Opportunity

Full Details Here
------------------------------
Infact, he has labelled it downright silly.
Here's him.
The silliness is back. After 1929, after 1968, after 2000, after 2008, the strain of silliness that transformed bulls into bubbles completely and utterly disappeared. But that familiar COVID-era Silliness is not dead yet. Like 2001 before Enron, before 9/11, before WorldCom.
In other words, the irrational exuberance that led to crazy valuations and speculative excesses, has made a comeback and could gain more ground in the coming days.
Worth highlighting that Burry has been a big bear for some time now. And things did unfold as per his predictions during the first half of 2022 as indices tumbled and bottom fell out of stocks, especially the ones from hot sectors like tech and green energy.
Well, it has been all uphill since then as markets have staged a smart recovery.
However, if Burry is to be believed, the current rally is not supported by fundamentals and may soon fizzle out as the economic pain becomes more evident.
Of course, Burry is referring to the US stock market. Therefore, what he is saying may not be applicable here to Indian stocks.
But to infer that the Indian stock market is completely immune to what's happening in the US could also be wrong.
--- Advertisement ---
Revealed a Potential 33x Opportunity by 2030

We just concluded our special event on defence.

It was a huge success. Thousands of people attended it LIVE.

You too had signed up for this event.

But for some reason you couldn't make it to the event.

Well, don't worry.

We just released a special replay of the event.

So now you can get all the information about this potential 33x opportunity that Tanushree revealed today at the event...

Including details of 3 next-generation stocks to ride this mega opportunity.

Watch Now
------------------------------
After all, the Indian stocks have behaved pretty similar to their US counterparts over the last few months. Their fall and the subsequent rise recently was quite in sync with their US peers.
Therefore, will it be fair to say that even the behaviour of Indian stocks over the past few weeks has been outright silly? Are they also on a weak footing like the US stocks as claimed by Michael Burry?
Well, I dont think so. You see, unlike the US, we don't face any risk of a recession. The US economy has already seen a couple of quarters of negative GDP growth. However, there are no such concerns for India. The Indian economy has continued to chug along at a decent pace and it will continue to do so in the near future also.
Thus, rest assured that the stock prices of Indian companies will keep getting support from the underlying earnings growth.
Secondly, the broader stock market valuations don't seem to be too out of whack. As I write this, the Sensex is trading at a trailing twelve-month PE multiple of 22.9x. Although this is higher than its long -term average of 21x-22x, it is nowhere in the bubble territory.
Of course, there are pockets of overvaluation and speculative excesses in the Indian stock market as well and investors could do well to steer clear of them. However, there are also several pockets where valuations are reasonable and investors wanting to take a long term exposure can certainly consider them.
As far as my own investing philosophy is concerned, I believe that the real wealth creation opportunity lies in identifying fundamentally sound microcaps and top penny stocks trading at attractive valuations.
And the best time to invest in them is right after a market crash when everyone else is running away from them.
The market correction that we've had during the first half of the current year did present one such opportunity. And I did manage to make use of this opportunity by recommending close to 15-16 stocks to my subscribers during this time period.
Please note that my approach centres around asking subscribers to take more exposure to stocks after a market fall and asking them to reduce exposure after the market has gone up a great deal. You'd be surprised to know how most investors end up doing the opposite i.e. they get interested in stocks only after the markets have gone up a great deal and lose interest after they have fallen significantly from the top.
But this is not how real wealth is made in microcaps and penny stocks over the long run. To do well in these categories of stocks, you must be contrarian in nature and do the right thing from a long-term perspective.
Therefore, don't be surprised if we ask you to be cautious and reduce exposure to stocks as markets keep going higher.
I have tried to design my stock picking system in such a way that we try to profit from 'silliness' instead of participating in it. And if you do manage to execute it successfully, it is half the battle won in my view.
Therefore, this Independence Day, achieve freedom from mediocrity and poor investment returns by implementing a strategy that not only keeps you from following the herd but also allows you to do the more rational thing from a long-term perspective.
Warm regards,



Rahul Shah
Editor and Research Analyst, Profit Hunter
PS: Talking of mediocrity, here's a video that I did on stocks that are dangerous to have in your portfolio. In other words, they are toxic to your portfolio and could lead to mediocre long term returns.
Recent Articles