Our Best-Ever Recommendation at Equitymaster: A 100-bagger & Counting
Aug 24, 2020
Editor's note: Anyone who is trading the markets these days knows where the action is: Smallcaps. The stocks in the broader market are rising rapidly...but be careful! These stocks can come crashing down at the slightest sign of trouble. You need the right kind of guidance from an experienced analyst to pick the best small-cap stocks in the market...and in this piece I have the perfect recommendation for you.
---
In the number of years that my co-head of research, Tanushree, and I have spent at Equitymaster, we have seen a lot of research analysts come and go.
While most were competent, even pretty good at what they did, there are some we each liked more than others. Now, which ones were which has always been a bone of contention between us.
There is one exception to this rule. Both of us are near unanimous on one of our best hires so far.
I clearly remember the first time Tanushree and I interviewed Richa Agarwal. While she was good with her replies and spoke confidently, it was her tenacity that stood out for us.
Across a lot of her replies, she gave the impression that once she puts her mind to something, she can go to great lengths to achieve it.
--- Advertisement ---
Replay Available: The EV Gold Rush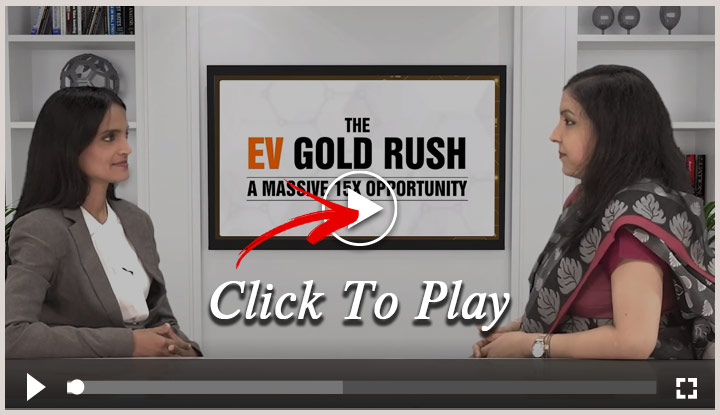 Get the details of 3 EV stocks to potentially make life-changing gains in the long term
------------------------------
The speed with which she transitioned into her new role of an Oil & Gas analyst and the way she acquainted herself with the key dynamics of the sector was further proof of this quality of hers. In no time, she became the in-house oil and gas expert.
There's another quality of hers that I find worth highlighting. In fact, more of a quirk than a quality...
She absolutely abhors reading books on investing. I've often prodded her to read a certain investment book only to find it back on my table the next day.
Her standard response - I couldn't go beyond a few pages and dozed off.
But don't mistake her dislike for investment books as a sign of disinterest towards investing.
For her, investing isn't rocket science. If you've studied the company well enough and have a good handle on its valuations, there's little else you need.
She might as well spend her leisure time devouring fiction rather than bore herself to death reading investment books.
Nothing gives her a greater high than knowing her companies inside out and knowing them better than any other analyst out there. And a surefire way to do this, she believes, is to go where the real action is and look straight into the management's eyes.
I don't remember a single company where she made a recommendation without visiting the company premises or the management.
Numbers tell only half the story as per her. They tell you only about the past. Whereas investing is all about the future.
For your recommendations to stand out, for them to earn way more returns than the market, you should jolly well know what the management is up to. And there's no better way to do this than hear it straight from the horse's mouth.
The conviction with which the top management speaks - its body language, the passionate glint in the eye or the absence of it - are all pointers towards whether the management can fulfill its promise, and whether it is battle ready.
Absent such signs, she is more than happy to give the company a miss no matter how glorious its past.
Is this the right approach to have?
Her subscribers are certainly not complaining.
PLEASE RESPOND: Interested in Learning Cryptos?
In charge of Hidden Treasure, our most popular paid newsletter, the publication has only gone from strength to strength under her watch.
There aren't many services around that boasts of outperforming the benchmark indices by a factor of 3x.
With so much success under her belt, I think she's got the process of investing in the right small cap stock led by the right management team pat down.
I have not a doubt she will continue to produce such stellar returns going forward as well. Maybe even improve upon them.
This is why I was excited when she informed me of her discovery of a crorepati stock.
This exciting small-cap stock with multibagger potential is her highest conviction recommendation.
Richa will reveal details of this stock in an exclusive web summit in three days...on Thursday, 27 August, at 5 pm.
I highly recommend you block your calendar for Richa's One Stock Crorepati Web Summit.
We're expecting an audience of over 10,000. Don't miss it!
To book your seat for this summit right away, please click here.
Good Investing,



Rahul Shah
Editor, Profit Hunter
Equitymaster Agora Research Private Limited (Research Analyst)
PS: On 27th August, our small cap editor, Richa Agarwal, will reveal her best recommendation - her crorepati stock. Join Richa at the One Stock Crorepati Web Summit to get access to the only stock you need in the long-term to become a crorepati. Get your free tickets here.
Recent Articles