POTENTIAL MULTIBAGGER
Do You Own this Little-known Smallcap Stock? >> READ MORE
Bhav Bhagwan Che and Two Top Trading Ideas
Aug 30, 2018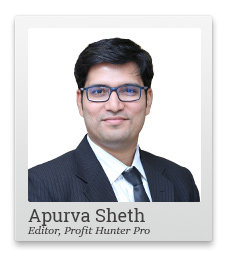 'Bhav Bhagwan Che' - is an old time Gujarati saying in the market which loosely translates into 'price is god' in English.
Now if you'd like to keep god away from worldly matters then this simply means price action is all you need to know while trading the markets.
At Profit Hunter Pro, We have seen several examples and situations when focusing on anything else apart from price would have led to either confusion, frustration or losses. You would have to be extremely lucky to suffer not more than one of these.
News is one thing which keeps you away from price action. Here we saw how our nation's two leading newspapers had very different interpretation on results of a company.
If you are someone who makes investing decisions by reading the headlines then I am sure you would be left confused. Its best you think twice before trading on news.
Apart from this we have seen people making wild claims ahead of elections as well.
Forecasters had to eat humble pie after Trump won the election. Contrary to their forecasts Dow Jones Industrial Average continues to hit new highs even months after he was elected.
Back home we have seen the same thing repeat in our markets after every state election right from Karnataka to Gujarat to Delhi.
Earlier this week, I recommended a HRITHIK stock to our Profit Hunter Pro subscribers and even shared an update on one of our recommendation - GSK Consumer Ltd.
Many of our subscribers were concerned about GSK exiting from its flagship brand Horlicks in India. A few subscribers hesitated in taking the trade.
If you are trading on news or events then it's tough to stick to your earlier decision when stocks aren't moving in your favour.
Thankfully at Profit Hunter Pro, we focus on price action and ignore everything else. This allowed us to stay with the trade which resulted in to gains of 11.76% in 20 days.
Like I have said earlier, one of the most important principles of trading is price action discounts everything.
Anything and everything that affects a company's stock prices (fundamentals, news etc.) are already priced in to the stock.
So, we need not consider these factors separately. That's what I did while reviewing GSK Consumers when it was going nowhere for two weeks.
The only thing I focused on was price action or supply and demand which suggested the stock still had potential to break out above the resistance level of 6,800.
Here's the chart of stock after it achieved our target price of 7,600 last week.
GSK Consumer was trading in a broad range of two thousand rupees between 4,800 and 6,800 over the last four years.
The stock made many failed attempts to breakout above the resistance level of 6,800 between February to March 2018.
This time around it seemed like the stock had regained strength and was ready to breakout especially because most of the FMCG stocks were in momentum.
But the stock didn't make any progress after I recommended it on 3rd of August 2018 at 6,793.55. It made a few attempts to break above 6,800 but couldn't due to regular supply at higher levels.
However, the bulls didn't give up as the supply was quickly absorbed and price didn't drop much. The stock traded in a narrow range for a few days until 20th August when I sent an update to my subscribers continue to hold on to the stock.
This was a high-volume day. Most of the shares exchanged hands early in the day in a single block on NSE. This gave an early indication that 'smart buyers' have accumulated the stock and could take it higher anytime.
And that's exactly what happened in the next two sessions. The stock broke out above 6,800 decisively with highest volumes in 4 months on 21st August and moved up 5%.
A day later it managed to move up another 7% and achieved our target price of 7,600 netting a gain of 11.76% in 20 days.
If one would have focused on news then he would be amongst the worried lot.
But as Profit Hunter Pro readers focused on price action and held on to the stock all the way up. That's the beauty of focusing on price action. Indeed! Bhav Bhagwan Che.
Now we aren't stopping there. We are using price action in HRITHIK stocks to our advantage. I have identified two trading opportunities in HRITHIK stocks and shared them with Profit Hunter Pro readers.
You too can get access to them.

Apurva Sheth (Research Analyst)
Editor, Profit Hunter Pro
PS: You can access Apurva's two recommendations which - if you get in right away - have the potential to make a significant return in just a few days to a few weeks. Just click here.
PPS: Who among us hasn't dreamed of escaping to the backwaters of Kerala - recharging our frayed nerves among the serene tea and coffee plantations? Kerala is the ideal place in the minds of many Indians. Do we want to let it just waste away? Do we want to let it go to ruin just because we didn't spare a minute to think about what we could do? Here's something you can do now - quickly and easily. Contribute to the Kerala Flood fund. Click here to donate now.
Recent Articles