---

This is third party advertisement

---

Mutual Fund investments are subject to market risks, read all scheme related documents carefully.
Join Mega webinar


Navigating Markets in 2024 -
Fund Managers Year End Perspective
Live on Dec 6th @ 6pm
This Strategy Gave 15% Returns from Market Highs
Sep 20, 2021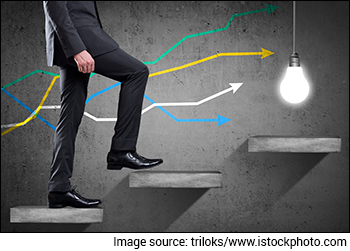 Chances are you may not have heard of a gentleman named John Raskob.
He was a financial executive with Du Pont and General Motors. Raskob's biggest claim to fame was an ill-timed article that he wrote right before the crash of 1929, one of the worst in America's history.
Raskob clearly got carried away by the tremendous boom preceding 'The Great Depression'. He argued that every American can become rich by investing just US$15 per month over a period of 20 years.
In fact, he went even further and proclaimed that by doing this, he would have converted a modest sum of US$3,600 (US$15 per month invested over 20 years) into an impressive net worth of US$80,000.
Needless to say, he was way off the mark.
If an investor would have followed Raskob's advice, he would have started his investment with the US Dow Jones at 300 and ended 20 years later with the Dow at 177.
Yes, you read that right. No typo there.
After the Great Depression, the US stock market endured one of its most horrendous periods. The index ended 40% lower over two long decades instead of being up multiple times.
--- Advertisement ---
Investment in securities market are subject to market risks. Read all the related documents carefully before investing

Our Big Prediction

India is set to take a giant leap in terms of prosperity.

If things play out as our research suggests, then this leap could potentially generate wealth at a scale we've probably never seen before.

This is one of the biggest opportunities for investors in the recent times.

The stock market rally that we're seeing right now is just a small glimpse of what's about to come.

See Details Here
Details of our SEBI Research Analyst registration are mentioned on our website - www.equitymaster.com
---------------------------------------------------
The investor's dream of retiring after 20 years with a princely sum of US$80,000 went up in smoke.
As per calculations provided by Ben Graham in his Intelligent Investor, the guy would have ended up with a sum of just US$8,500. That's a fraction of what Raskob seems to have predicted.
Well, if you notice carefully, there are two takeaways here. One negative and the other positive.
The negative one is obvious. Raskob extrapolated a prosperity of few years far into the future. He got too optimistic and totally ignored the fact that markets move in cycles.
The positive takeaway is the magic that happens when you invest in a portfolio of strong companies by way of systematic monthly investments.
Look at it this way.
Raskob's typical investor couldn't have timed entry and exit into his monthly investment plan more wrong. He started during a bull market top and ended at a bear market bottom.
Yet, he ended with a sum of US$ 8,500 and a rate of return of around 8%.
--- This is Third Party Advertisement ---
Mutual Fund investments are subject to market risks, read all scheme related documents carefully.

[MEGA] Webinar Invitation -

Navigating markets in 2024 - Fund Managers' Year End Perspective.

Date: Dec 6th Time: 6pm Venue: Your Computer

An Exclusive Asset Class Outlook Webinar With Our Experts from Quantum MF

• The Outlook For Equity, Debt & Gold?

Register Free for this Exclusive Webinar
----------------------------------------
Mind you, this 8% long term return was a pretty good number taking into account the US economic environment of the time.
For me, the message is clear. Unless a brutal bear market scares you out of your systematic monthly investments, they are one of the most effective ways to benefit from the long term stock market growth story.
In fact, this principle holds true not just in the US but in India as well.
Let us consider a systematic investment plan of Rs 1,000 every month into the Sensex between 2011 and March 2020 i.e. you start on 31 December 2010 and end on 31 March 2020.
December 2010 was a bull market top as the Sensex never closed the year higher two years prior to it and till three years later.
Likewise, March 2020 can be considered as a bear market bottom because that was the time the market crashed on account of the pandemic.
Thus, when it comes to timing, you were investing at a bull market top and exiting at a bear market bottom, the worst case scenario possible.
So, what was the performance like?
Equitymaster Conference 2024: View Your Invitation
Well, not so great to be honest. You would have earned an annual return of 6.6% on your investments. Throw in a couple of percentage points of dividends and the returns climb to around 8%. This is pretty similar to what the investor got in the US right after the Raskob piece.
However, this is India, and 8% annual returns doesn't quite cut it.
There is a silver lining though.
Had you persisted for another 15-18 months, your returns would have climbed to an impressive 14.4%. Throw in dividends and you get a pretty respectable 16%-17%.
Here's how your journey would have progressed.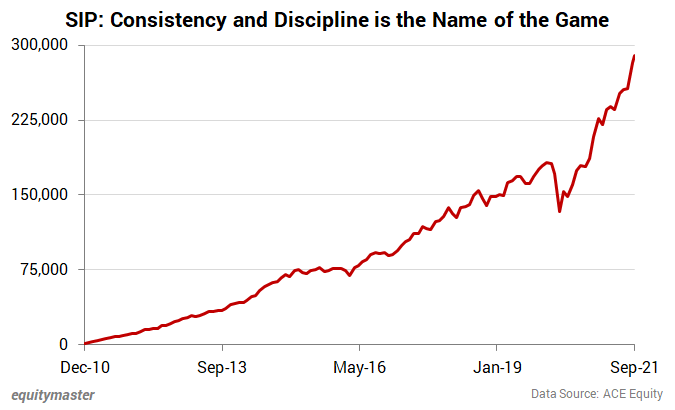 An investment of Rs 1.3 lakh spread over 129 months would have swelled to close to Rs 3 lakhs.
Thus, if you are worried of investing at the current market highs, SIP could be the way to go. Stick with it through markets ups and downs, through thick and thin and you will not get a poor return from your investments.
Warm regards,



Rahul Shah
Editor and Research Analyst, Profit Hunter
Recent Articles