Revealed


India's Top 3 Smallcap Stocks
Buy Now Pay Later Stocks: A Pin for the Next Bubble
Sep 21, 2022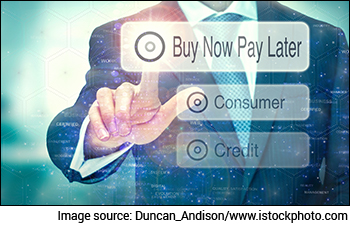 Buy Now. Pay Later.
Eat Now. Pay Later.
Book Now. Pay Later.
Travel Now. Pay Later.
These words sound like music to the current generation of credit worthy consumers.
Gone are the days when you had to prove that you are worthy of financial credit. Back then, either your assets or earnings or future earnings had to be the collateral.
Creditworthiness now comes easy. Signing up for a payment app is all it takes to get instantly credit worthy.
Here is how it works...
Buy Now, Pay Later (BNPL) is a payment option where a shopper can make a purchase without having to pay for it instantly. Rather she could pay within a stipulated interest-free period.
The company providing the facility settles the bill outright with the merchant on behalf of the buyer. The buyer gets to gradually repay in three or more instalments.
Yes, this sounds similar to a credit card facility. But remember, most users of BNPL are not even eligible to get a credit card.
--- Advertisement ---
Revealing On Wednesday at 5 PM

Details of Top 3 Potential 'Crorepati' Stocks for 2023

Use this link to join the India's Top 3 Smallcap Stocks MEGA summit on Wednesday at 5 PM.

Richa will be revealing the details of 3 companies with the makings of a 'Crorepati Stock' that are potentially set to soar high in the coming years.

If you haven't registered for the summit, please use the link below to save your spot right away.

FREE Sign Up Here
------------------------------
We thought the subprime loan bubble of 2008 was the worst of credit excesses that financial markets had to witness. But we are proven wrong.
Earlier there were just a handful of reckless banks that went overboard to lend. Now, any and every entity, with or without an experience in credit, offers instant loans.
I'm sure, you have seen Amazon, Flipkart, Zomato, MakeMyTrip, etc offering you EMI payments for groceries, clothes, food, flights, and trips. Their tie-ups with the payment companies allows such ecommerce ventures to reach out to the last mile of customers.
Unfortunately, the facility breeds the habit of delayed payment and non-repayment. Many of the borrowers are subprime. Most go overboard with their spending habits with all the easy credit.
The trend of BNPL took off during the pandemic, when cash strapped customers used the facility to buy necessities first and luxuries later.
While statistics for BNPL are still unavailable in India, those from developed markets like the US and Japan, are already alarming.
This should, in the ideal case, even make the regulators nervous.
But the trend of BNPL is so lucrative and fast growing that even large entities, remotely connected to offering credit, are taking to it.
The latest to join the bandwagon is IRCTC, which is a listed entity, with customer profile of millions, going back few decades. Yet, the company believes that BNPL could be a gamechanger.
Now, it's not uncommon for companies to go overboard with their growth ambitions. Most often, resorting to large volumes of credit, is the easy option.
In the past, companies like Amtek Auto have managed to completely decimate themselves with such actions. When I wrote about the curious case of Amtek Auto in 2015, I reminded readers how the spurt in the stock price was nothing but a dead cat bounce.
Amtek was among the 12 debt-laden companies that had applied for bankruptcy in 2017.After the banks took massive haircuts in the bankruptcy process, the company was sold and delisted in 2021.
Of course, the worst affected were minority shareholders who saw their wealth erode by 98% over a decade.
It's scary to say that thanks to the BNPL trend, in 2022, there are several Amtek Autos in the making.
Instances of misbehaviour by loan recovery agents are staple news these days. It's only a matter of time before more companies begin feeling the pinch.
For banks and financial firms that are otherwise cautious about credit quality, the systemic risk from BNPL threatens to slow down their credit growth once again.
Meanwhile, investors need to exercise caution.
Like Warren Buffett once said...
A pin lies in wait for every bubble. And when the two eventually meet, a new wave of investors learns some very old lessons.
I cannot time the bubble. But the pin this time is certainly BNPL.
Warm regards,



Tanushree Banerjee
Editor, StockSelect
Equitymaster Agora Research Private Limited (Research Analyst)
PS: Several stocks can have massive upside as India's Revival gathers steam. But there are also stocks that deserve to be thrown out right away. The BNPL stocks are certainly amongst them.
Even as you look for stocks to profit from, you must also identify the ones that could be poison for your portfolio.
The Equitymaster Screener could help you identify companies that have risk of excess leverage, poor cash flows and falling return ratios.
Recent Articles