Find Out
How to Find One Stock with Crorepati Potential? >> READ MORE
How to Solve the Chicken and Egg Problem in EV Stocks
Oct 28, 2021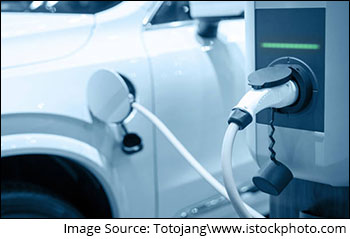 The chicken or the egg dilemma is commonly stated as this question: Which came first, the chicken or the egg?
The dilemma stems from the observation that all chickens hatch from eggs and all chicken eggs are laid by chickens.
'Chicken and egg' is a metaphor used to describing situations where it's not clear which of two events is the cause and which is the effect.
It's used to express the difficulty of explaining the sequence of actions because each seems to depend on the other being done first.
Now the above definition makes me feel like Chatur from the movie 3 idiots, ranting out the bookish definition without any practical context.
You see, we at Equitymaster intend to be the Ranchos and not the Chaturs of investing.
There has been a lot of debate around Electric Vehicles (EV) and their limited adaptability due to no charging infrastructure.
--- Advertisement ---
A One Stock Gift in 1990 Turns into Rs 130 Crores

In 2017, Ravi made headlines by calling a leading business news channel with a surprising announcement - his grandfather had left him 20,000 shares of only one stock.


And on the day of his call - these shares were worth Rs 130 crore.

Can you guess which is this company?

It's MRF.

Ravi's story is one of the amazing stories of becoming Crorepati from a single stock.

But the question is, how to find that one stock with crorepati potential?

To find the answer to this million-dollar question, join our 'One Stock Crorepati' MEGA summit on 30th June, where we will reveal details of what we call a potential 'crorepati' stock...

Click here for full details...
------------------------------
The chicken and egg context to EVs is as follows.
Argument 1: People don't buy EVs in India as there is no charging infrastructure.
Argument 2: There is no charging infrastructure as there are barely any EVs.
My view on this is based on how OLA/ Uber created the shared mobility industry.
It's always catastrophic to be ahead of the curve in business.
Forget internet enabled smartphones, 20 years ago owning a mobile phone was a luxury.
The reason why OLA/Uber thrived was the penetration of smart phones supported by 3G/4G services at economical costs.
Imagine what a colossal flop OLA/Uber would have been if launched 20 years ago.
The convenience factor which I think plays the most important part in choosing an OLA/Uber versus traditional cabs, was taken care by internet enabled smartphones.
How it started
The cab aggregators to impose a habit in consumers lives, doled out free schemes and massive discounts for at least 2-3 years.
I remember earning so many cashbacks by referring the service to my friends, that I travelled to and from office free for about half a month.
The thought process was very clear: Make the customers addicted to comfort at similar or at times even lower prices than traditional Kaali Peelis.
--- Advertisement ---
"$2.5 Trillion Crypto Market Boom..."

A booming $2.5 trillion market...

Set to multiply by 100 times over the next decade...

With legendary investors like Warren Buffet, Elon Musk, and Peter Thiel pouring in billions of dollars all over...

Would You Really Want to Miss It?
------------------------------
The end game
Once customers got addicted to the comfort of an airconditioned 'on call' vehicle, they slowly and gradually reduced the freebies.
That's how an entire industry was created on two factors - Technology and Need.
The important point is as smart phone penetration increased so did the demand for Ola/Uber.
Let us see how this fits in to the EV context.
Smart phones are what charging infrastructure is in an EV ecosystem.
Electric vehicles are the OLA/Ubers of today.
Low cost 3G/4G is the declining battery costs in an electric vehicle.
For EVs to be successful all these factors have to converge together at the same time.
You cannot build electric charging infrastructure when the costs of EVs are expected to be 2-3x of gasoline cars.
At the same time electric vehicles cannot run without a charging infrastructure.
Now that's a chicken and egg story!
What if I told you, instead of guessing the future of Electric vehicles in India, we found companies which make parts for vehicles?
What if also told you, these companies are oblivious to the fact whether there are EVs or no EVs on our roads?
I am talking about the auto ancillary space.
Companies in the auto and auto ancillary space come under the classic playbook of buying wonderful companies at wonderful prices.
EXPOSED: The Shocking Truth Behind Today's Hottest Investment Opportunity
Apart from valuations, here are the reasons why I am gung-ho about this space.
What is common among the following ancillary parts in a vehicle?
Head lights, tyres, windshield, wiring harness.
The answer...
Irrespective of what you're driving - a Tesla or a Maruti - these parts will always be needed.
In fact, the usability of these parts will increase in electric vehicles.
However, if you were a company supplying engine parts or the fuel supply mechanism, there are chances you would be outdated in the next decade when electric vehicle penetration increases.
I was on a conference call with a vehicle lighting company.
The management foresees their content per vehicle to increase in electric vehicles. This will definitely lead to better margins and profitability.
It's anticipated that wiring harness content in an electric vehicle is twice than that in a gasoline vehicle.
Another reason to look into auto ancillary players is that they are less vulnerable to the cyclicality that affects auto makers.
As majority of auto ancillary players supply to different sub segments and have a diversified customer base, their businesses are generally less cyclical.
To give you an example, while commercial vehicles were hit badly due to lockdowns, the tractor industry was thriving on a good monsoon.
Warm regards,



Aditya Vora
Financial Writer
PS: If you missed our mega EV summit, the video is available for a short time. Watch it here.
Recent Articles