4 Reasons why India's Tesla Could be far More Profitable
Oct 20, 2021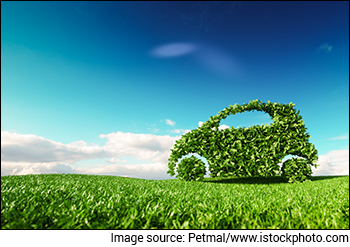 The company is among the most profitable American auto makers. Its stock is up 800% since the start of the pandemic.
And it expects to launch a mix of premium offerings in the years ahead.
With electric vehicles gaining traction globally, its revenues will scale up. With its fixed costs being absorbed, its margins will also improve.
So, Tesla is one of the most popular electric vehicle stocks for good reason.
The company did flirt with bankruptcy in its initial years.
But later, with some tweaks in the business model, Tesla put its profitability woes firmly behind it.
Legacy auto makers in the US like GM and Ford have struggled to catch up with Tesla's technology and margins, which are double their own.
Yet, Tesla remains a capex heavy business.
--- Advertisement ---
Why Bill Gates, Warren Buffett and Jeff Bezos are Pumping Millions of Dollars Here

If Bill Gates, Warren Buffett and Jeff Bezos are investing millions of dollars into something, then you know it's a BIG opportunity.

Yes, an exorbitant sum of money is being pumped into the electric vehicle ecosystem by the world's elite and smart investors.

In the next ten years alone, the segment is expected to see a whopping 15x growth.

In Equitymaster's latest secret research project, we have uncovered a hidden way to ride this massive 15x EV opportunity.

All you have to do is click the link below to know how to get your hands on our research findings:

Just click here to get full details...
------------------------------
It depends on steady supply of cheap resources for battery making. It relies on government subsidies for EV manufacturing. It must constantly launch new variants to sustain revenues.
So, it's extremely speculative to bet on Tesla's long-term profits.
For that matter, any direct play on the EV opportunity could go horribly wrong if the new launches fail.
It's like the gold rush, where a few gold miners actually find any real gold.
On the other hand, the businesses that flourish are ones either selling wares or offering services to the gold miners.
Let me put this in context with the India's EV market today.
Small Indian companies with unique business models, specific to the EV segment, are seeing exponential growth.
In fact, no matter which EV maker find success in new model launches, these niche businesses will see their profits soar.
Discover Now: One Stock for Potentially Life-changing Gains
Here's an example...
Under the vehicle subscription model, a vehicle is sold on a monthly rental basis without any upfront cost.
This business model aims to reduce up-front costs for customers. The service provider offers maintenance and insurance plans along with the vehicle.
In addition, battery-related issues are covered by the subscription partner. At the end of tenure, customers have an option to retain the vehicle after paying a pre-decided amount.
There are many more profitable business models like this. Here's another...
Batteries are one of the most expensive components of an EV. It's the main reason for the huge price between the price of an electric and internal combustion vehicle.
Under the battery subscription model, the vehicle is sold without batteries. The batteries are then sold separately on monthly subscription. This business model aims to address concerns on upfront cost differentials and the reliability of the battery.
Here's another example...
Charging as-a-service (CaaS) creates a charging network to address customers' range anxiety. The charging infrastructure provider offers an option to charge the vehicle on a subscription or pay-per use basis.
Then there's a battery swapping model. This is an extension of the battery subscription model.
Track: Stocks Recently Bought by Mutual Funds for FREE
Here, the customer has an option to swap the drained battery with a charged battery for a fixed fee. This model primarily addresses concerns on battery charging time and reliability.
Such asset light business models are far less risky compared to mainstream EV makers.
They have much higher potential to sustain high margins compared to even the largest and most profitable EV producers.
And they're likely to create a moat much wider than any mainstream EV maker due to network effects.
I believe India's Tesla would be a company that is an indirect play on the massive EV opportunity.
This is why it could be far more profitable over the longer term.
My research on the EV ecosystem threw up several such hidden opportunities which are being completely ignored.
As I write this, I am also putting the final touches to my special report on 3 EV stocks.
To know more about these profitable investing opportunities, join me at my special online event on 25 October.
Please don't invest a single rupee in EV stocks before attending the event!
Warm regards,

Tanushree Banerjee
Editor, StockSelect
Equitymaster Agora Research Private Limited (Research Analyst)
PS: Equitymaster's secret research has uncovered a little-known way to play the massive 15x Profit opportunity in EVs. Get the details here...
Recent Articles