Golden Decade of Defence


Potential 33x Opportunity by 2030
How to Profit from the China Plus One Strategy
Oct 25, 2022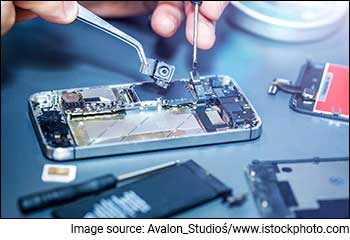 Covid-19 disruptions spared no one. Not even the largest corporates. Some companies shut down for weeks, some for months.
Yet, Apple delivered its flagship line of new products on schedule, despite battling a year of supply-chain turmoil.
That is the level of precision in supply chain, which the world's largest company by marketcap, has achieved.
So, when this very supply chain faced a real threat, Apple took some decisions that could change the map of global manufacturing over next few decades.
How does this decision affect you?
China currently accounts for over 95% of iPhones manufactured by Apple's vendors globally.
Apple needs a vibrant, uninterrupted supply chain for its growth. But the Chinese suppliers are not getting clearances due to geopolitical reasons.
--- Advertisement ---
Next 10 Yrs Belong to this Sector... Potential 33x Growth...

We rarely get to see this kind of growth these days.

It's a potential 33x opportunity by 2030.

The next 10 years belong to this one sector.

As per our research, this could be one of the fastest-growing sectors of the stock market by 2030... and possibly even beyond.

If you're an investor, then you simply cannot ignore this sector today.

Otherwise, you could be leaving a lot of money on the table.

We're going to reveal everything about this mega opportunity at our upcoming special event... including details of 3 stocks to ride this potential 33x opportunity.

Here Get All Details
------------------------------
Also, Beijing's Zero-Covid policy has thrown a spanner in the works. The Covid related lockdowns created major supply chain obstacles.
This resulted in high lead times for supplies from China. So, global electronics companies, like Apple, were forced to rethink their plans.
The focus shifted to China-Plus-One.
This is a strategy of multinational companies to diversify their presence away from China to other viable destinations.
Most western companies have invested heavily in China for nearly three decades. They were attracted by its low labour and production costs.
But over the past decade, China's cost advantage has diminished. And a growing geopolitical distrust between China and the West forced companies to look elsewhere. The overconcentration of their business interests in China made these companies vulnerable.
Until 2021, the clear winners of the China-Plus-One model were Mexico, Taiwan, and Vietnam.
India became a serious contender only after the government sweetened the deal with the PLI (production linked incentive) scheme. Significant investment incentives allowed companies to look for vendors in India.
And that brings us back to Apple's historic decision.
The reason I call it historic is because Apple is not an ordinary company.
Where Apple goes others follow. A shift in Apple's outsourcing destination could mean a wave of China-Plus-One transfers getting routed to India.
India may account for less than 5% of Apple's revenues today. But Taiwanese contract manufacturers Foxconn Technology Group and Wistron Corp have, in recent years, set up factories in India.
Their plan is to produce iPhones for India's domestic market as well as for exports. Both companies will produce the latest model, iPhone 14.
Moreover, India's demographic advantages are second only to China. It has the world's second-largest smartphone market. Device sales are increasing as more people get online for the first time.
Getting a stronger foothold in India will be time consuming for Apple. Indian smartphone market is dominated by the likes of China's Xiaomi and South Korea's Samsung Electronics.
Apple will also have to contend with competition from Indian smartphone makers like Lava, Micromax and Karbonn, among others.
If you thought Apple's case is a one off, think again. Google too has joined the fray. It plans to produce a million Pixel smartphones in India.
--- Advertisement ---
3 Stocks to Consider Buying THIS Month

The market has made a comeback of sorts from the lows of May.

Right now, investing in the most dominant players in a highly promising industry is the key to experiencing potentially monumental returns in the long term.

Here are the details of 3 such stocks from our smallcap guru, Richa Agarwal...

Act Now
------------------------------
With the Pied Pipers of global smartphone industry heading to India, it's only a matter of time before others join the fray.
So, will only the Taiwanese contract manufacturers benefit from this shift? Well, the companies need to build an entire ecosystem for the smartphone supply chain to flourish. So quite a few Indian vendors, will get a significant share of the pie.
Dixon Technologies, for instance, has entered into a licensing agreement with Google for Android. I won't be surprised to see a wave of such agreements over next few months.
This wave is what I call the inflection point of India's Revival. Made in India smartphones could offer important cues for the multibaggers in the making during India's Revival.
I believe a handful of stocks can have massive upside as India's Revival gathers steam.
Watch this space for more...
Warm regards,


Tanushree Banerjee
Editor, StockSelect
Equitymaster Agora Research Private Limited (Research Analyst)
PS: When you buy stocks following a megatrend, you must be sure of the quality of the business too.
When you look for stocks best suited to benefit from the China-Plus-One policy, screen quality stocks across market caps that are best suited to long term investing.
Watch my video on stocks that could benefit massively during India's Revival.
Recent Articles