India's Third Giant Leap
This Leap Could Potentially Generate Gains
Far Bigger than Anything We Have Seen in Our Lifetimes
Time to BUY Tyre Stocks?
Dec 1, 2022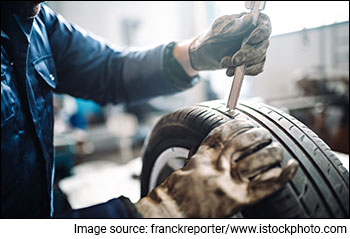 There is a saying in Hindi, "Dene wala jabhi deta, deta chappar phaad ke".
For all my friends who are not fluent with Hindi, it means when God decides to bless you, he will make sure you get more than you want.
This Hindi idiom came to my mind when I was reading about certain sectors which have off late taken off in the Indian stock market.
While the strong run up in some sectors are genuinely backed by fundamentals, for others it's more of a hope and anticipation trade.
The dilemma in contrarian investing is this...
You must be ahead of the curve
You must be willing to look like a fool while the world makes money in momentum stocks
Your conviction will be tested but rewarded
People who bought PSU stocks over the past 5 years, betting on cheap valuations underperformed for a long time. However, the up move in these stocks over the past 3-6 months has been ferocious.
--- Advertisement ---
India's Third Giant Leap

India is precisely at the same point in its growth journey that propelled nations like USA, Japan, China and South Korea to the pinnacle of economic success.

Our research suggests that India's third giant leap could potentially generate gains far bigger than anything we have seen in our lifetimes.

Our co-head of research, Rahul Shah, has already identified the first 3 stocks to ride this giant leap for you.

He is going to share his entire research... including details of these 3 stocks at his upcoming event.

See Full Details
------------------------------
You can name up any credible PSU stock or public sector bank, all of them have doubled over the past 6 months.
And if you believe these contrarians, the rally has just started.
After all, more than a decade of underperformance will take some time to average out.
However, as investors we should not get swayed by price movements alone. It's important to figure out if earnings are sustainable and if there has been an actual turnaround in terms of what the price movement is indicating.
Another sector which looks like it's coming out from a deep slumber is the tyre sector.
Is the Tyre Sector a Buy?
Before I give you a direct answer, it's pertinent to understand the tailwinds in the tyre sector.
Two of the most important ingredients for a tyre sector rally have turned positive.
Raw Material Prices
Capex
Raw Materials: The Biggest Cost is Turning Favourable
Raw material prices are on a downtrend.
Natural rubber prices on the Singapore exchange are 24% lower than the average rubber prices over March-June 2022.
In fact, Kerala natural rubber prices during the September 2023 quarter are 11% lower than the average rubber prices over the March-June 2022 period.
Tyre companies generally have a mix of 40% imports and 60% domestic consumption of natural rubber.
Apart from the main ingredient which is natural rubber, other chemicals like synthetic rubber components Styrene and Butadiene are 18-20% lower than the average prices of the past 2 years.
So, with a downtrend in raw material prices, there is a massive tailwind for margin improvement.
Capex
The only thing I dislike about the tyre sector is the massive capex which the industry undertakes from time to time.
Over the past 6 years, industry capex ballooned on account of shift from TBB (Bias tyre) to TBR (Radial tyres) in the truck and bus industry.
While the two-wheeler and passenger car industry already operate on radial tyres, the commercial vehicle industry has been transitioning to radial technology.
As a result, massive capex was undertaken by CEAT, Apollo Tyres, and MRF.
Just to give you a number on the massive capex which the tyre industry incurred, Apollo Tyres incurred a capex of Rs 23 bn over the 2016-2022 period.
That is huge by any standards and puts a pressure on the industry due to the incremental supply coming in.
However, in 2023-2024, the capex is likely to be Rs 12 bn. Going forward, will more likely be more of maintenance capex, and that too on a much larger revenue and profit base.
Even companies like CEAT which focus more on two-wheeler tyres, have guided for a lower capex as majority of their green field capex is on stream or expected in the next 1-2 years.
Seems like the massive capex phase is behind us.
What does the past teach us?
At the end of the day, the tyre industry fortunes are linked to the auto industry, be it new vehicle sales or replacement demand.
However, there is a strange co-relation between auto industry volumes and tyre stock prices.
Over the 2013-2015 period, tyre stocks witnessed a massive rally with many stocks like CEAT and JK Tyre giving 2-3x returns.
The assumption would have been that the auto industry would have registered strong volume growth?
--- Advertisement ---
URGENT: Are You Prepared for 25th Feb?

Equitymaster Conference 2023 goes live on 25th Feb...

At this 2 day virtual event, some of India's biggest investing gurus will reveal their plans and predictions to dominate the stock market over the next decade...

And you can listen to them live from the comfort of your home...

Once you see the impressive list of speakers who will be presenting this year... you'll see why you can't afford to miss this conference.

You'll find all the information at the link below...

Full Details Here
------------------------------
Well, you would be surprised to know that over the financial years ended 2013/2014/2015, volume growth for the industry was at 3%/3%/6%.
Those are very pedestrian numbers.
However, volume growth for the auto industry over the financial year ended 2017/2018/2019 reached all-time highs with 9%/14%/6%/.
The reason why tyre stocks did not rally despite auto sales volumes reaching all time highs in 2017-2019 period was higher raw material prices and heavy capex.
The problem with capex is that it supresses your cash flows in the near term and the medium term.
Why is it different this time?
The reason why tyre stocks did not rally despite strong auto sales volumes is higher raw material prices and massive capex outlay.
While revenues were going up, margin pressures continued on one side, on the other side there was cash outflow on account of capex.
However, this time...
With raw material prices especially natural rubber and crude oil prices on a downtrend coupled with most of the capex behind us, tyre stocks are expected to outperform.
What should investors do?
Tyre companies look to be a good bet to play the auto cycle which has just started. Also, with tyres being EV agnostic, there is no threat of any major technological change as is the case with IC engine component players.
Watch this space...
Warm regards,



Aditya Vora
Research Analyst, Hidden Treasure
Recent Articles