All Good Things Come to an End...
Apr 8, 2020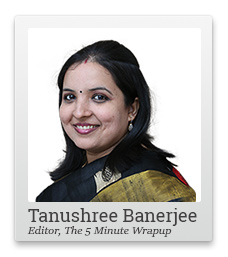 We have both good and bad news to share with you today.
Let me quickly get the bad news out of the way...
This will be the last regular edition of The 5 Minute WrapUp.
Yes, that's right. From tomorrow, we are discontinuing the Monday to Saturday schedule of this widely read e-letter.
Why are we doing this? Before I come to that...there's good news too.
First, you will still receive The 5 Minute WrapUp in your inbox. We are not shutting it down completely.
You will receive this e-letter every Saturday, which will contain the top investing ideas of the week from Equitymaster.
Second, your favourite editor, Tanushree is not going anywhere! She will still write to you...but not in The 5 Minute WrapUp.
Tanushree will write to you with her safe stock ideas and the megatrends of the Rebirth of India in the Profit Hunter.
In this e-letter, you will also hear from Rahul Shah, co-head of research at Equitymaster, Richa Agarwal, our small caps guru, Girish Shetty, our small cap analyst, and Apurva Sheth, our expert chartist.
If you don't have a free subscription to Profit Hunter, do not worry. I am going to take the liberty of opting you in right away.
So why this change?
Well, it was not a sudden decision. You see, for a long time now, we have had two great e-letters.
While the WrapUp focused on safe investing ideas, Profit Hunter had a broader scope. It covered smallcaps, technical analysis, system-based investing, penny stocks, momentum investing, deep value investing, and trading.
Why not safe stock investing too?
Our readers responded to the buffet of choices available in Profit Hunter and started engaging more with it compared to the WrapUp.
As they say, numbers don't lie. The numbers repeatedly told us the same thing. You, dear reader, prefer to read Profit Hunter.
We noticed but we didn't want to wind up this great e-letter. We have a strong emotional bond with The 5 Minute WrapUp.
It started way back in 2008 when the great bull market of the last decade had ended. It was a time when Indian investors badly needed a source of honest and credible information on investing. Back then we had a singular focus. We wanted the e-letter to be the best source of value investing content for investors in India.
We have come a long way since then. Every day over 250,000, readers receive it in their inboxes. It's India's most widely read financial e-letter. Readers understand and connect with the ideas in the WrapUp.
We still believe strongly in value investing but we have broadened our once strict definition of 'value'.
Unsurprisingly, it was our readers who pushed us in that direction and we responded in the right way.
When Tanushree launched her Rebirth of India initiative, the response was amazing. It told us that you really believed in her 'safety first' approach to investing.
And yet our readership numbers told us that you liked to read and engage with the Profit Hunter more.
So on one hand, you love Tanushree and her stock ideas but on the other hand, you would prefer to read the Profit Hunter over The 5 Minute WrapUp because that's where you get more investing and trading ideas.
Hmm...
The solution seems simple enough.
We asked Tanushree if she would write to you in the Profit Hunter. Being a team player, she readily agreed.
Rest assured she won't change anything about her style of writing, the way she picks stocks, her 'safety first' approach to investing, or anything else for that matter.
From tomorrow onwards she will write to you in the Profit Hunter. That's all.
Now I understand that many of you already have signed up for the Profit Hunter and you receive it in your email inbox folder.
And like I told you, if you aren't getting the Profit Hunter in your inbox, I am automatically opting you in so that instantly, you can start receiving exciting investing ideas five days a week, from our best editors.
And don't forget, we are not shutting down the WrapUp. You will receive it every Saturday without fail with the top ideas of the week from Equitymaster.
On a personal note, I would like to say that I am proud to have been associated with this great e-letter. I look forward to guiding our editors in Profit Hunter to bring you the best money-making ideas you can act on.
Watch out for Tanushree's mail tomorrow.
You can sign up to Profit Hunter for free here.
Warm regards,

Tanushree Banerjee
Editor, The 5 Minute WrapUp
Equitymaster Agora Research Private Limited (Research Analyst)
PS: In the rare instance that you do not want to receive the Profit Hunter, just click on this link and we will take care of it.
Recent Articles