A Safe Stock to Lockdown Now
Apr 2, 2020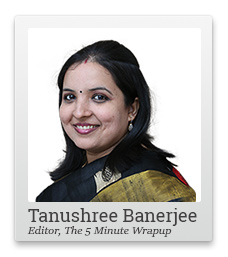 It's been a week since the Modi government announced a nationwide lockdown. A country of more than 1.2 billion people were asked to not come out of their homes. Something we've never seen before.
Fortunately, work from home was an option for salaried people like me. But I was worried how businesses would deal with a crisis like this. I have a few friends running businesses of their own.
I called up two of them to just check on how they're managing this crisis. While both were worried about the short-term loss in their businesses, one sounded grim and the other fairly relaxed.
My concerned friend had two major issues to deal with...
He had undertaken a lot of debt to run his business and had no idea how he would pay the bank loans for the next few months
He was running his business in a leased space and said he will struggle to pay the rent in the near future
He was seriously considering shutting down his business.
My other friend had no such concerns. His business is debt free and he had no rent to pay. Also, he is confident of getting back his customers once the lockdown ends.
This will be true of a majority of businesses after the Coronavirus is in the past. There will be a short-term impact on almost all businesses.
And not all will be able to survive this short-term impact.
In fact the ones that get through this difficult period will come out stronger.
These are what I call safe stocks.
--- Advertisement ---
[URGENT] Closing Alert for Richa's No. 1 Stock for 2021

Gentle reminder that access to the details of Richa Agarwal's Top Stock Pick for 2021 will be turned off at 11:59 pm tomorrow.

This stock is effectively available for pennies on the dollar today and has the potential to deliver life-changing returns over the long term.

But you need to act fast... because the stock has already started to move.

We recommend you access all the details here right away.

Once 11:59 pm hits tomorrow, all the stock details will be made private and you will lose out on potentially the opportunity of a lifetime.

So, just continue reading it here right now...
------------------------------
Business that are so strong fundamentally that the crisis will turn into an opportunity for them in the long run.
How do I find such businesses though?
In the current scenario, there are few questions that I will ask myself before looking at any business...
Does the company have low debt?
Is the company's brand and product strong enough to not be impacted by the current crisis?
Has the company seen difficult times before and come out stronger?
If the answers to all these is a yes, you've got a potential safe stock to hold on for years.
I believe I've found a safe stock.
Short Presentation: For Those Looking to Buy Stocks
A strong brand that you are likely to find in every household. A business that has competed with FMCG giants like HUL and come out on top. A business with negligible debt run by a professional and competent management.
The sharp correction in the Indian stock markets has impacted the price of this stock too. The stock is now down more than 30% from its 52-week highs.
Like I always say, the price might be down but the value of the business isn't.
In fact, the price fall has made this business even more attractive.
I recently recommended an increased exposure to this stock to my StockSelect subscribers.
With the current pessimism surrounding Indian stock markets, there will be more opportunities coming your way in the near future.
Chart of the Day
The coronavirus impact has shaken markets worldwide. Indian stock markets have felt the full impact too.
For the BSE Sensex, FY20 was the second worst year post FY2008, the year of the global financial crisis.
Naturally, there is an atmosphere of fear all round.
Is it time to sell stocks now? Will the correction get worse?
History has shown that after years like the one we had just now, the next 3 years are good for the markets.
Good Time to Start Investing Now?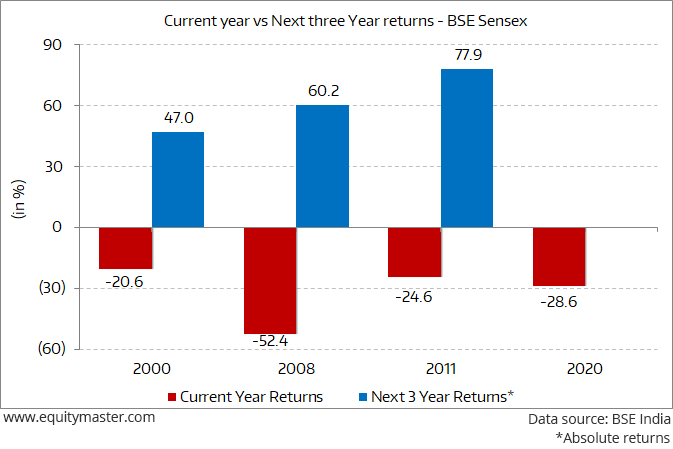 In fact, these corrections are the rare times when you find businesses with solid fundamentals at reasonable valuations.
If you can find good businesses that can survive the current crisis, you will do well in the long run.
Warm regards,

Tanushree Banerjee
Editor, The 5 Minute WrapUp
Equitymaster Agora Research Private Limited (Research Analyst)
PS: Get access to my top 7 stock recommendations here.
Recent Articles