The Worst Sector in the Market
May 11, 2021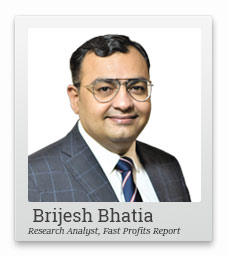 The stock market seems to be going up almost every day.
Every trader is interested in finding out the best stocks and sectors.
This is understandable but have you given enough thought to what you should avoid in this market?
In this video, I'll tell you what the worst sector in the market is and why you should avoid it.
Watch the video and let me know your thoughts.
The one sector where I think an investor should avoid for next 1 to 2 quarters.
Myself Brijesh Bhatia. Welcome to the Fast Profits Daily video series. Let's go in to the chart over here first.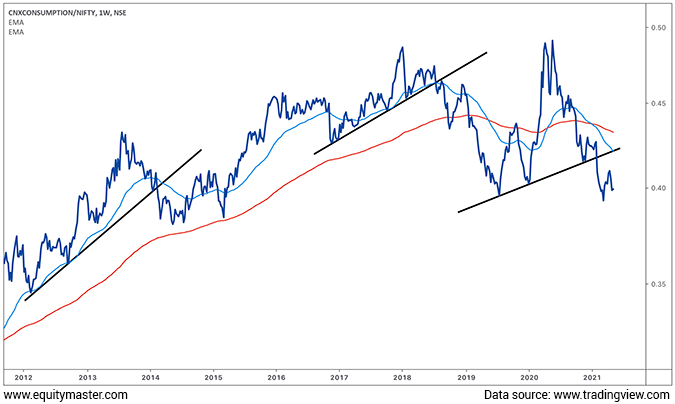 This is a weekly chart of Nifty Consumption divided by Nifty. This is a ratio chart. What it means is that when the nifty consumption outperforms against the Nifty, this will go up. When Nifty is outperforming against the consumption index, it will go down.
Get Details: These 3 Stocks are the Dark Horses of the Stock Market
Now look at the weekly chart. Since 2012, every time we have seen a breakdown of the rising trend, which is the black lines over here, we have seen an underperformance for a longer time on the consumption, and Nifty has performed in those periods very, very strongly.
If you look at 2017-18 over here, it made a high. We have seen a negative downside into the consumption in this ratio, where Nifty has strongly outperformed against the consumption.
In 2020, with the V-shaped recovery, we have seen the similar highs which has tested in 2017, making it a strong resistance zone.
Now if you look at the recent scenario over the here, it has broken down of a rising trendline, the last right-hand side black line and it's continuing it's bearish momentum.
Second, there is a death cross. So basically what is a death cross? The 50 days average, the blue line over here, the average line is giving a negative crossover of the red, which is 200. So, the medium term is giving negative crossover of the long term, which is a death cross, which we have seen on a weekly scale of this ratio chart.
If you look at the trend line break down and the death cross, it's very, very strong. Last year between September to December, it gave a negative crossover, went higher, bad again, a negative crossover but this time it's giving me a trendline break down as well.
We used the daily chart to analyse it on the same side of the ratio chart of consumption divided by Nifty.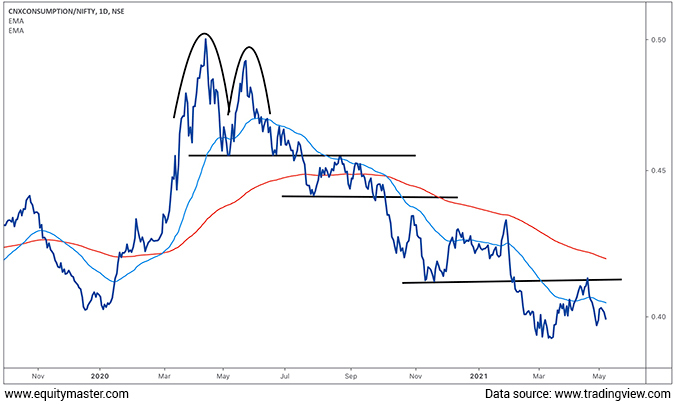 If you look again a death crosses continuing into this, which means that 50 days average has given a negative crossover of 200. We have seen a slight uptick, tested 200 days again giving a bearish momentum.
Now, if you look at the highs in 2020, it gave a double top, which we looked at the higher levels. It has given a double top breakdown. The series of breakdowns has been continuing.
If I look at the recent breakdown, there was a breakdown of previous swing lows, retested those previous swing lows, and again, the bearish journey has resumed.
So we feel that the Nifty consumption could underperform in the coming weeks or coming quarters.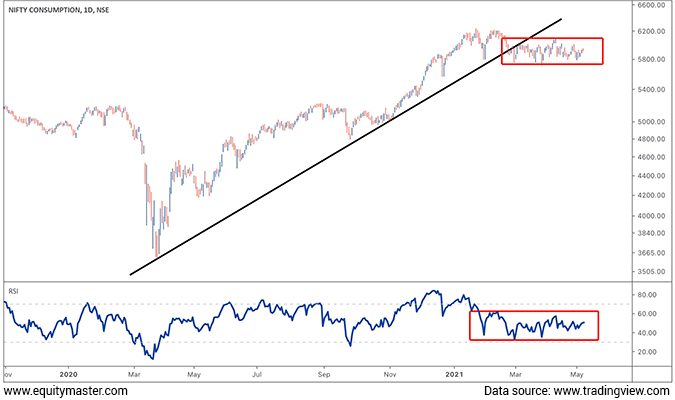 Now, if I just look at the consumption chart over here. Again, this is the daily Nifty Consumption chart over here. If you look it's been trading in a range for quite some time now. We have seen a rising trend line break down, the black line.
Even if you look at the RSI, it's been giving no indications of directional trades coming. So both the price action as well as the RSI, both are trending range bound and till 6,130-6,150 on the consumption index is not broken out, I think you should avoid this index.
We might see 5%, 7% uptick onto the stock side if Nifty sees an uptick but I believe that the outperformance over the Nifty on consumption would be not that great and you should definitely look for other stocks rather than consumption.
So I will in the next one to two quarters, this could be a slight under performer, and you should avoid these stocks.
So signing off. Before I sign off, click on the subscribe button. Click on the like button if you think these videos are helping you out and do comment how you like these videos.
Signing off. Brijesh Bhatia. Thank you.
Warm regards,

Brijesh Bhatia
Research Analyst, Fast Profit Report
Equitymaster Agora Research Private Limited (Research Analyst)
Recent Articles