Why the RBI Must Raise Interest Rates
May 19, 2022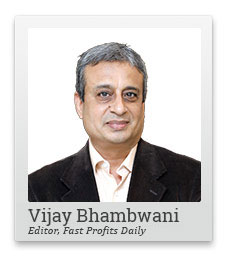 The RBI's Monetary Policy Committee or the MPC will be meeting in about a fortnight. In this meeting the RBI will decide the course of interest rates in India.
A rate hike is widely expected but there is something even more important that you should know.
In this video, I'll tell you why I strongly believe the RBI should hike rates.
Watch the video and let me know your thoughts. I love to hear from you.
Hello friends. This is Vijay Bhambwani. I hope you're enjoying my videos and you're learning how to read the subtle nuances of the market better after watching my videos.
I'm Vijay Bhambwani and I'm a trader since 1986. I have been trading these markets for 36 years and through these videos, I want to help my viewers become better traders, better investors, and nurse what I call a 360 degree world view of the financial markets.
Now today's topic is a very critical one as far as I am concerned, and so should it be for you if you are going to be a well-rounded trader.
Must Read: Revealing Our Big Prediction Tomorrow
You see, the RBI's Monetary Policy Committee meeting or the MPC is going to be meeting within a fortnight or so and they're going to determine whether the coupon rates or interest rates should be hiked.
We have already seen a 40 basis points, or 0.40% repo rate hike recently, and the markets are waiting with bated breath as to whether another rate hike is in the offing.
Now, in this video, I want to make a case for why another rate hike should come I am not saying whether they will or will not. I am making a case for why another rate hike should be implemented. I am going to share my when, where, why, how, for this hypothesis. And in the next few minutes, I'd like to share my thoughts with you about this.
You see, you've heard of this term currency wars for far too long. This term has been in circulation, for the want of a better word, since 2012. So it's been 10 years since this word has been floating around in financial markets. At different points in time, it means different things.
Now that we are basically seeing supply chain disruptions all around the world due to covid and the global economy and global trade basically shrinking, no more is it the case of what we used to see, whether there was a race to the bottom, beggar thy neighbour, or how to devalue your currency the fastest, so that you could garner more and more export orders.
Now it is about how to fortify your currency so as to stop a flight of capital. You see, there is this thing called the cash carry trade. If a country A is offering 2% interest rate and country B is offering 5% interest rate, money will flow out of country A into country B and thereby earn an incremental 3% rate of return.
Now what really happens when money flows into country B. Because foreign exchange is flowing into country B, the local domestic currency, in the case of India, it is the Indian national rupee, the Indian rupee will become stronger because more and more hard currency is flowing into India.
So now that everybody else around us is increasing interest rates to be able to attract FDI and FPI, which is foreign direct investment and foreign portfolio investment, we will basically have to match up or maybe even outperform a little bit by raising interest rates.
Do remember that higher interest rates might in the near term hurt the headline indices in the stock markets. But think about it. What is more important, the stock index, which probably impacts 4, 5, 6 or 7% of the domestic population, or the rupee which impacts the life of each and every man, woman, and child in this country?
So if they're rupee is defended, if the rupee stronger, the markets over a period of time, will also take it in its stride, fall a little in the near term, and then rise again over a period of time.
So cash carry trade is one aspect. The other aspect is capital formation. You can basically have more and more money into the banking space by doing two things.
Number one, you incentivise a saver by offering higher interest rates, which is what Sir John Templeton, the late Sir John Templeton used to say, and he is an undeniable authority on investments and mutual funds in this universe. He used to say he would prefer to invest in that economy, which basically incentivises savers rather than incentivises borrowers.
So by raising the interest rate, you're basically incentivising people to invest in bonds, fixed deposits, in fixed income instruments which generates business, and it pushes up the GDP growth rate of that country.
So the other method, how the government can basically increase money supply is to print currency. Now, printing currency would mean you devalue our debauch, the fiat currency's purchasing power and therefore trigger off inflation.
This is not something that is a sustainable way out of any economic problem. As a stopgap arrangement, as a temporary measure, as we have seen after 9/11 in 2001, after the global financial crisis in 2008, central banks in the US have for a period of time resorted to currency printing.
As a matter of fact, even after the covid the 2020 lockdowns were implemented, the US Federal Reserve has printed a lot of unbacked dollars and look at how is going for them. Not really very good.
Inflation, which was supposed to be transitory, is now acknowledged as being a little sticky and therefore printing currency is not a way out. Incentivise a saver by offering higher rates of interest so that he can put money into the bank, into the bond market.
I've made lot of videos about the RBI retail direct bond scheme. I've have spoken about the GS2035 series sovereign bond which is available on the RBI retail direct scheme. So if interest rates are higher than the inflation, there is an incentive for a fixed income saver to invest money into the fixed income avenue and thereby provide capital to where it is needed most. The manufacturer, the retailer, the wholesaler, basically keep the wheels of the economy going.
The other aspect that you need to think about is if it all interest rates are kept subdued, you might push up, the stock markets a little higher, but you're pushing a lot of people who are actually senior citizens or fixed income investors and because the inflation is up and real effective interest rates that is interest rates adjusted for inflation, remain lower, you're pushing these people into equity.
Now, maybe they understand the risk involved with the equity. Maybe they don't. And right now the Jensen's measure for making fresh investments in equities isn't really very great.
But then, because you need to generate profits, you need to generate return on investment, you're pushing people from fixed income because the real effective interest rates are zero on negative, into equity, where they might suffer even bigger drawdown, should the markets, decide to fall a little bit, which they can, because we have had very good two years from March 2000 and to January, February, March 2022.
The last aspect is the WPI number, the wholesale price index, which is alarmingly high. To be able to curb that runaway kind of an inflation, you need to step up the interest rates so as to cool off the inflation monster.
Friends, these are my three primary reasons why I feel inflation should go up in the forthcoming Monetary Policy Committee meeting. It will be a good thing in spite of the fact that the markets might just become a little soft in the interim, but over a longer period of time, it will be a short term pain but long term gain.
On this optimistic and cheerful note, I bid goodbye to you, not before reminding you to click like on this video if you liked what you saw. Subscribe to my YouTube channel if you haven't already done so. Click on the bell icon to receive instant alerts about fresh videos being put up out here.
Good, bad or ugly, I always welcome your feedback in the comments section and help me reach out to fellow like-minded investors and traders by referring my video to your family and friends.
I thank you for your patience and sticking around in this video. Till we meet again in my next, this is Vijay Bhambwani signing off for now.
Take care.
Warm regards,

Vijay L Bhambwani
Editor, Fast Profits Daily
Equitymaster Agora Research Private Limited (Research Analyst)
Recent Articles