The Basics of Short Selling
Jul 1, 2021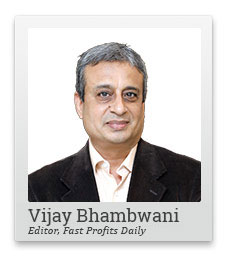 Yesterday, I told you why I am cautious on the market.
I thank you for all your feedback, comments, and suggestions.
Today, I'll address a big request from those who watched that video. They wanted a video on how to sell short whenever the markets fall.
So, I will oblige that request in this video.
Please note the stocks mentioned in this video are not short selling recommendations.
Let's dive into the video and let me know what you think.
Hello, friends. This is Vijay Bhambwani here, and I hope you've been noticing as to how the videos that I have been uploading on this playlist are actually a quite prescient. President in the sense that they warn you of a problem, even though I happen to report these videos one day before they are actually uploaded after editing and post production finishing touches.
So as I record this video today on 30th of June a few things come to mind. Number one. The markets are under pressure. In yesterday's video, I told you how the markets should be traded very, very cautiously because the trading volumes are now falling drastically and when volumes fall, you might get an entry but getting an exit becomes very difficult.
So this is something like the mythological story of Mahabharata. Where are Arjuna's son, Abhimanyu, could enter the military formation called the Chakravyuh but he did not know how to get out, which is one ultimately a lead to his untimely demise.
So when a trader is unable to get out of a trade because the bid and offer spreads widen and the volumes dry up, you know that something nasty is about to take place in the market.
Now that I have recorded that video, I have been bombarded with a lot of requests from viewers who basically want a video on how to sell short whenever the markets fall. Now, please note a couple of things before you watch this video and before especially you comment on this video.
Number one. None of these stocks that, I'm recommending in the video are short sell candidates blindly. I am not telling you that you go out there and short this counter immediately after you watch this video. These hypothetical examples. I am barely teaching you the system and the trade set up that you should ensure before you go short.
It could be any counter. It need not be an equity share for that matter. It could be an index. It could be a commodity. It could be a currency. It could be bonds. Wherever and whichever market you want to apply the principle, these principles are evergreen and apply uniformly.
Secondly, I am not telling you that the markets have peaked out. So people who start fearing that I'm keeping you away from your millions to be whenever I say I'm cautious on the markets, please hold yourself in check. I am not telling you that you go start going out short all guns blazing.
I'm merely fulfilling request of my viewers who say that they need to be taught how to short whenever the time is right to short sell. So I am basically satisfying a query from my viewers who's requests are extremely dear to me. It's very important that I keep my viewers happy, and this video is all it towards making you a complete trader who makes money in bull markets and bear.
So take a look at the two charts that I'm about to show you on your screen. Before you start to go short, there is something called eyeball testing. You look at the chart and see okay, you sit back and say, I am going to take a step backwards and see what this chart is basically trying to tell me.
Take a look at the chart of Asian Paints. What is the first thing that comes to your mind when you see this stock price chart?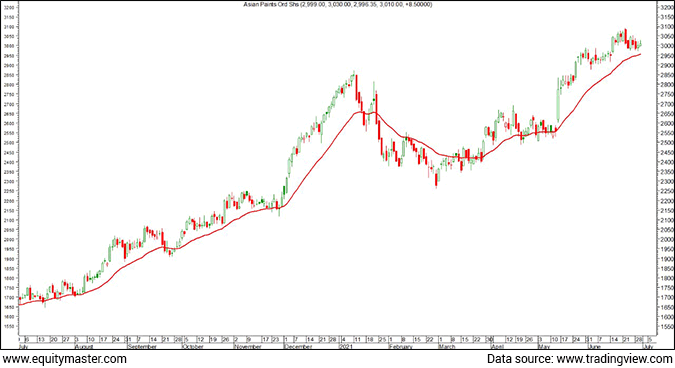 Number one. It's making higher bottoms and higher tops. The stock is actually heading higher. The structure is like the ascending side of a mountain. It looks like you're gonna have to climb a mountain, which is upwards, of course.
So this counter is not, I repeat, not, your ideal shot sell candidate. Basically, you're supposed to go with the flow rather than fight the flow. If you try to swim upstream against a downward flowing river, you're gonna kill yourself. So don't try to fight money and money flow. You'll kill yourself. So Asian Paints is not a short sell.
Take a look at another stock price chart. This happens to be Hero MotoCorp. What is the first reaction when you do an eye ball test?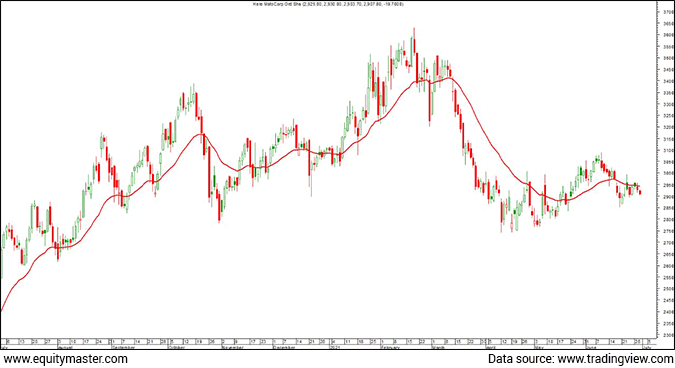 My God, this is making lower bottoms and lower tops. This stock looks like the peak has been put behind it and it's trying to settle lower. So it looks like a mountain that you climbed up, reached the peak and now it's coming lower.
Between the two of these stocks which one do you think is relatively. I'm using the world relatively here, this is not an absolute, which one of these two counters is relatively better as a short sell candidate? No prizes for guessing. I think Hero MotoCorp is displaying a huge amount of weakness.
We traders should actually behave like vultures. Now vultures are not beasts of flight or fight. They cannot fly very long and high. They cannot fight with another animal to kill it before they eat it. They basically attack the weakest, the dead or the dying animals and feast on the carcass.
You are supposed to hit a counter. By hit I mean short sell. You're supposed to hit the counter, which is either dead or dying and on its way towards its death. So between the two, if you are the vulture, you will prefer to prey on Hero MotoCorp rather than Asian Paints.
Now take a look at criteria number two. You will never, ever short sell a counter, which is trading above its exponential or simple, depending on whatever average you want to pick. In this example, I have taken the 25 day exponential moving average shown as a bold red line. Now, take a look at the chart of Asian Paints.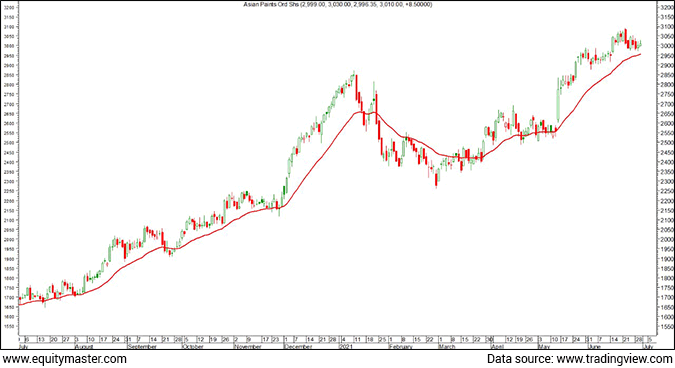 You see that the stock is basically consistently trading above its 25 day exponential moving average, which means it's 25 day average price of somebody who has bought and held onto the stock, and the average is moving higher. The price is moving higher than the average itself. Would you like to go against the flow?
Definitely not. This is the best way to commit financial suicide. The Japanese call it hara-kiri. Don't commit financial suicide by shorting a counter, which is trading above its exponential moving average, and the moving average itself is upwards. Now let's take a look at our old friend Hero.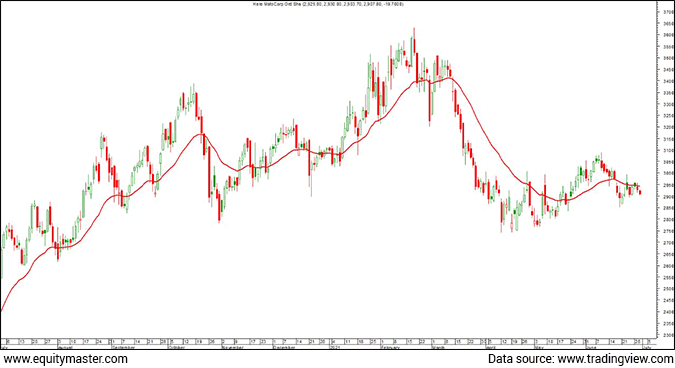 Look at the bold red line, which is the 25 day exponential moving average. Downward sloping. Any doubts? I don't think so. Where is the price compared to the exponential moving average? Down, down, down. It's trading below its exponential moving average. Is this satisfying my criteria? Yes, it is. Yes, it is.
And the third and the most important criteria. A couple of days ago, I recorded a video, the best trading hacks for intra-day traders. Thank you very much for making this such a popular video and giving me all the love and affection and positive feedback in the comments section.
Do remember the lesson that I taught you in that video and to recap that here comes the snap quote window of Hero MotoCorp as of today on 30th June on your screen right now.

If you remember, I told you, if you are to go long the LTQ must be above the ATP and both of them must be above the previous day's close.
In this example of Hero MotoCorp, see how the LTQ is at Rs 2,888.75. That's the last traded price today, even when the market is open. Look at how wide the bid and offer spreads are.
I told you when the markets become dry, when volumes dry up, the plus sign, the plus sign, the vertical spreads and the horizontal spreads. Look at how the horizontal spread, which is the bid and offer spread is 30, 40, 50 paise wide. This is not what we want. These are signs that you are getting entries but you're not able to get exits.
Mercifully, the impact cost, the difference between one buy quote below the other is still not very high. You still have five and 10 paise difference is where you are finding buyers.
But if even these start to get wider, I would say that the falls are going to become even more sharper because the bid and offer spreads, the impact cost prints are widening. Remember the plus sign. If the spread start to widen, don't get scared. Short.
The opening price of today is 2,902. The high of today is 2,908.65. The low of today is 2,886.35. Just note how the last traded quantity at 2,888.75 is barely Rs 2.49 paise above its intraday low of today.
And look at the close 2,901.95. Do remember, this is yesterday's close. So the average traded price is below the previous day's close. The last traded quote is below the average traded price, which is in turn, below the previous day's close and therefore, the online screen reading a system is also confirming a short on Hero as of today only.
Can this change hour to hour and day to day? Definitely.
So like I said, do not go out there and short Hero the minute you see this video. The scenario could have changed hour to hour minute to minute.
But broadly, this is the game plan of how to go long and how to go short.
So do remember the price structure. It must be like a mountain which has scaled it's peak and now you're falling downhill.
Number two. The price must be below its exponential moving average and exponential moving average itself must be sloping downwards.
Number three, the LTQ must be below the ATP and the LTQ and ATP both must be below the previous day's close.
Maintain the discipline. Do not try to take a short cuts and trade on this just because you have to and your compelled, you're tempted or whatever. Trade only when all the criteria have a tick mark on your on your checklist and see if all the conditions are being met.
And then always keep a stop loss.
In this manner, you will be able to put food on the table for your family in bull markets or bear. We, as traders need to make money irrespective of the kind of market that we trade in. This is the true test of a trader.
On this cheerful note, I bid goodbye to you in this video not before reminding you to click like on this video if you agreed with what you saw and liked what you saw. Subscribe to my YouTube channel if you haven't already done so. Click on the bell icon to receive instant alerts about fresh videos being put up out here. In the comments section, good, bad or ugly, I welcome all your feedback as usual.
Help your friends and family become better traders by referring this video to your family and friends. I wish you have a very by profitable day, my friends. Thank you for your patience for watching my video.
Till we meet again in my next video, it's goodbye from me. Take very good care of your health, your family, your trades, and investments. Vijay Bhambwani signing off for now. Bye.
Warm regards,

Vijay L Bhambwani
Editor, Fast Profits Daily
Equitymaster Agora Research Private Limited (Research Analyst
Recent Articles