Revealed


India's Top 3 Smallcap Stocks
This is why Your Money is not Growing at a 20%+ Rate in the Stock Market
Feb 21, 2022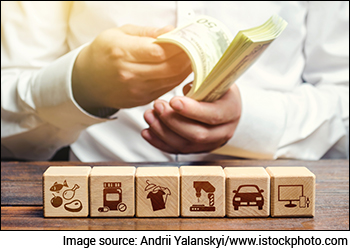 Warren Buffett, the world's most successful investor likes to say that getting rich is the process of the transfer of purchasing power.
What does that mean?
It means you transfer your current purchasing power now so that you can receive more purchasing power in the future.
For example say you are choosing between owning your own car and taking a public transport. Buffett tell you to would choose the latter. You can then invest the money you had set aside for buying a car.
By doing this, you are transferring your purchasing power so that you can buy an even bigger car few years down the line.
It's the same thing when you're taking a vacation. Drop the idea right now so that you can take an even bigger vacation in the future.
It's all about purchasing power, isn't it?
The more of your purchasing power you use right now, less you will have for later. And the less you use right now, the more you receive in the future.
So you can say being rich means having a lot of purchasing power. But honestly, just setting aside purchasing power and investing it isn't enough.
You also have to grow it at a fast rate. You need to earn a return of at least 15% to improve your purchasing power at a good clip.
--- Advertisement ---
Grab These 3 Little- known Stocks Before They Run Up!

India's leading small-cap investment guru, Richa Agarwal, has zeroed in on the 'top 3 stocks' for 2023...

These tiny companies are on an unstoppable growth trajectory, and are set to potentially deliver some of the biggest gains we have ever witnessed in modern-market history...

The opportunity to grab these stocks is open right now. So, don't miss it. Richa will be revealing all the details on 30th November, 5 PM IST, at India's Top 3 Smallcap Stocks Mega Summit.

Save Your Spot
------------------------------
To do that you need to invest well.
The options to do so are pretty limited though. Bank FDs these days are famously known to destroy purchasing power and not enhance it. The 5-6% that you earn on falls way short.
What about gold?
Well, historically, gold has known to improve purchasing power at a rate faster than the inflation. And it may continue to do so in the future as well.
But to become rich fast, you will have to really grow your purchasing power by a minimum 15%. The stock market is your best bet.
And the reasons are not hard to find.
You see, Indian companies have historically earned around 12-15% on the capital in their businesses. That means on a capital base of Rs 100, they have generated profits of Rs 12-15. And then they have reinvested the profits back into the business at a rate of 12-15%...and so on.
This virtuous cycle of profits and reinvestment has led to their share prices also going up by a similar rate over the long term.
This is why the Sensex has gone from 100 to 60,000 over 40 years... a massive 600x gain.
In CAGR terms, this translates into a return of about 16%. Hence, anyone who's invested in the stock market from a long-term perspective, has earned a return in the region of around 15%.
They have expanded their purchasing power at an impressive rate.
Well, so far so good.
But what if someone wants to earn significantly higher than even 15% over the long term?
And that too, without taking significant risks?
You see, a basket of companies that earn close to 15% on the capital employed cannot ideally generate much more than 15% returns over the long term.
The returns an investor makes is limited by the return on capital the underlying business generates over the long term.
After all, you cannot drive at 140 kmph when your car speedometer itself maxes out at 120 kmph. You cannot expect to earn 20% or more over the long term in a business that earns 15% on capital.
If you want to earn 20% or more, you have to find a business earning at least that much on the capital employed in it. It's as simple as that.
These days, there's no better place to find such kind of businesses than in the red-hot technology industry.
A lot of successful tech or IT companies have an in-build advantage when it comes to earning high returns on capital.
TCS for instance grew its sales more than 3.5x between March 2012 and March 2021 by employing only 2x more fixed assets in the same period.
SAIL on the other hand grew its sales by only 0.5x between FY12 and FY21. But it employs 3.5x more fixed assets compared to FY12.
It's no wonder the return on capital employed (ROCE) of TCS is a whopping 50% and SAIL's is just 11%.
There're no prizes for guessing which one would you prefer if you wish to increase your purchasing power by more than 20% over the long term.
Of course, an elephant like TCS may still fall short of helping you meet your goal.
After all, it has now become a very large company. Its profits may not grow as fast as a smaller, nimbler IT company.
Hence, your choice is pretty clear.
If you want to maximise your chance of improving your purchasing power at a fast pace, you need a few, small, solid tech companies in your portfolio. The ones with a huge growth runway ahead of them.
But how do you zero in on such companies? Well, this is where my colleagues in the research team, Tanushree and Richa, come into the picture.
I'm sure by now you would have heard about their most ambitious project.
They're on a mission to give your portfolio a solid booster shot by hand-picking some of the hottest tech stocks in India.
You see, our country is no longer just a simple factory. Entrepreneurs are innovating and leveraging on new technologies at an incredible scale and pace.
Financial Technology. Artificial Intelligence. Clean Energy. Electric Vehicles. Blockchain. Telecom. Robotics. Life Sciences...
These businesses are tackling big challenges and developing amasing solutions.
Each of them have immense growth potential. They can scale their businesses and achieve extremely high growth for decades to come.
But Tanushree and Richa believe that contrary to the current craze, the real opportunity is to invest in tech companies with real and visible profit potential.
In effect, they're thinking like the traditional venture capitalists that built real sustainable businesses. These businesses made their investors very rich.
To cut a long story short, after putting in a lot of work over the last few months, Tanushree and Richa have uncovered the secret to making such VC-like gains.
You will hear more from them soon.
Watch this space...
Warm regards,



Rahul Shah
Editor and Research Analyst, Profit Hunter
Recent Articles