The Next Smallcap Winners
Apr 30, 2021
Editor's note: Dear reader, small-cap stocks are hot again. Sentiment on Dalal Street has turned positive on smallcaps. Our smallcap expert, Richa Agarwal, recently wrote about the next set of big winners among these stocks. Read on to find out...
---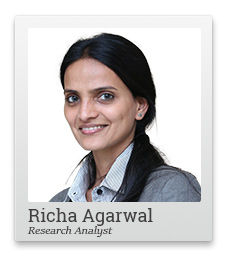 The shutters are closing early. The streets look deserted again.
Many companies have already extended work from home policies until the end of the year at least.
The second wave of lockdown is here.
And it could spread from one state to another as Covid cases mount.
I believe there will be revisions to corporate earnings and GDP growth.
The markets are already showing signs of nervousness. The Sensex fell over 1700 points yesterday, by 3.4%. The smallcap index was also down 3.4%.
But this time will be different.
If you expect a drastic correction of the kind that was seen in March 2020, you could miss the opportunity forever.
You see, unlike in March 2020, we are not dealing with an 'unknown' anymore.
--- Advertisement ---
The Smallcap Revival Summit

Join us on the evening of 20th May to learn,

• Why despite rallying over 100% since March-2020 lows... small-cap stocks are set for a massive rally over the coming months and years
• Details of our top 3 stocks to capture potentially huge gains from this upcoming small-cap rally
• And how to spot opportunities, even in the current market, with the potential to generate 200%, 400%, and even 900% long-term gains

Plus, there is a lot more that we are going to cover.

The summit is free to attend for Equitymaster readers.

But since there are limited seats, we would recommend you to register at the earliest.

Grab your spot for the Summit here. It's free.
------------------------------
A large chunk of population has already developed anti bodies. We have vaccines now.
Most importantly, the markets have become better at assessing how this wave could impact different businesses.
Covid has turned out to be a solid differentiator between resilient and weak businesses.
Quite a few businesses in hospitality and service industries are looking at the possibility of a permanent shutdown.
On the other hand, it's been a positive surprise to see many companies in the small cap space reporting profits higher than the pre lockdown quarters.
This suggests an underlying strength in their business models.
Some of these gains have come from consolidation across the industries. Weak players made way for stronger ones, with the latter increasing its market share.
The second wave of lockdowns is only going to strengthen this trend further.
In May 2020, when we focused on this opportunity for the first time, there were 5 essential stocks that stood out.
Two of these have already met the target prices.
Get Details: We are Bullish on These 3 Little-known Stocks
On one of these we booked 145% gains.
The other stock is up 195% at the time of writing.
While the rising cases is unfortunate, I think a great buying opportunity has emerged in smallcaps.
One of these companies operates in the fintech space.
The industry in which it operates enjoys a duopoly. That is, there are only 2 players for the kind of operations it deals in.
It's a rare business that did not see any curtailment in its operations during the first lockdown. The second lockdown will be no different
This makes it a perfect candidate for 'Essential' stocks to own during the second lockdown.
Riding on the dual trends on financialisation and digitisation, the business is witnessing strong tailwinds in its favour.
Within the fintech segment, the business in recent years, has incubated different verticals. In some of these, it has already emerged as market leader.
--- Advertisement ---
[EXCLUSIVE] Webinar Invitation -
"Pandemic Impact. Economic Recovery. Investment Strategy - Insights Revealed!"

Date: May 21st | Time: 6pm | Venue: Your Computer

The Covid-19 crisis in India is said to be one of the biggest crises the country has ever seen.

Amidst this turmoil, investors are also questioning the future of their financial wellbeing.

In this exclusive webinar, Chirag & Sorbh will answer big questions like:

• How will the second wave of Covid-19 impact economic recovery?
• What asset allocation could you consider for uncertain times like this?
• Is the Indian stock market immune to the Covid-19 surge?

And many more...

Click Here to Register FREE for this Exclusive Webinar
[No Payments | No Credit Card | Absolutely FREE] | [Yes! I want to attend this Webinar]
------------------------------
With a focus on monetisation, these segments could make a huge positive difference to its financial performance.
I really like the debt free and cash rich balance sheet, as well as a strong margin of safety at these valuations.
In fact, the margin of safety is so strong, perhaps the stock price is all the due diligence one might have to consider for this stock.
And did I say that the business operates on a negative working capital cycle? This means unlike most businesses, its cash does not get stuck in its working capital needs.
This stock could be a great wealth compounder in the long term.
And with a dividend yield near 3%, you can get some steady income as well.
Hidden Treasure subscribers can read more about the stock here.
For more such opportunities in the smallcap space, stay tuned...
Warm regards,



Richa Agarwal
Editor and Research Analyst, Hidden Treasure
Recent Articles