Smallcap Index up 150%! Here's Why I Believe There's More Steam Left
May 11, 2021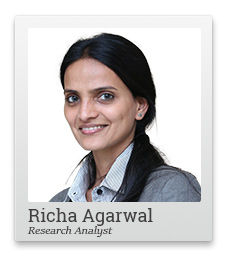 The Tata Steel stock is all the rage these days.
It's been hogging limelight in the financial media and social chat groups.
And for the right reasons too.
The stock has outperformed the Sensex over last five years. It's up 3.8 times compared to the 1.9x rise in the Sensex.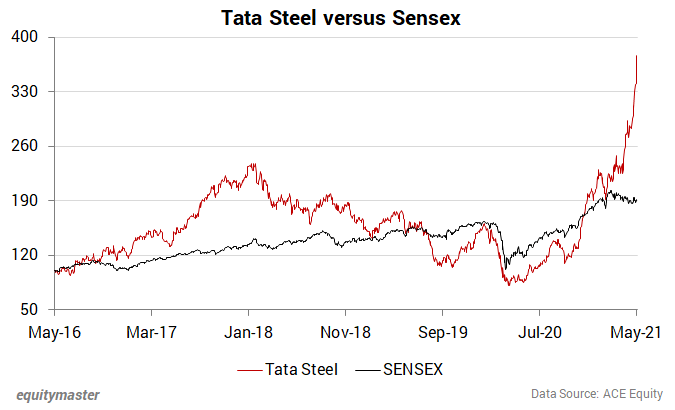 And it's not just that.
Amid the first and second Covid waves when defensive themes have been a huge favorite, the returns from this stock overshadowed the gains in sectors like pharma and FMCG.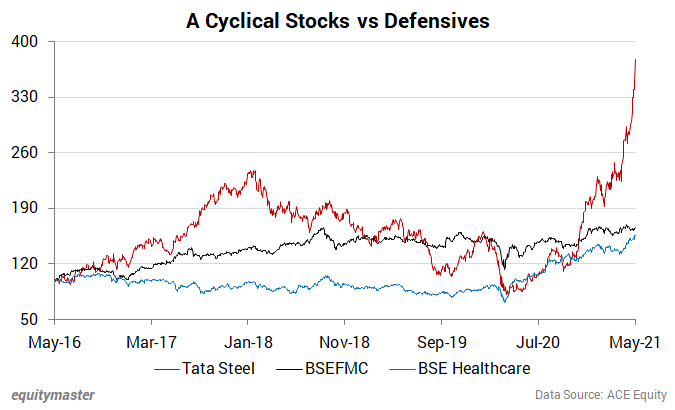 After years of underperformance, the gains have validated the beauty of cyclical investing done right.
You see, cyclicality is not just limited to specific stocks or sectors.
I've tracked smallcaps for over a decade. I've seen both havoc as well as wealth building opportunities created by cycles in this space.
We saw this cycle bottom out last year in the massive Covid crash in March 2020.
Since then, smallcaps have risen 150%.
So far so good.
--- Advertisement ---
These 3 Stocks are the Dark Horses of the Stock Market

The mainstream media mostly ignores them.

Mutual funds and hedge funds can't buy them in bulk.

Stock brokers rarely cover them.

These stocks are the dark horses of the stock market.

They only come in limelight after they have rallied by hundreds or even thousands of percent.

Our head of smallcap research, Richa Agarwal, has a knack for identifying such stocks before they begin their rally.

Over the years, she has spotted such stocks which have gone on to offer triple and even quadruple digit gains for investors. (* Past performance is no guarantee of future results)

Today, when the markets are near all-time high... and some investors are thinking of booking profits... Richa has spotted 3 such stocks which are set for a massive rally.

She will reveal the details of these 3 stocks on 28th June at her free online summit.

Click here to sign-up. It's free.
------------------------------
But how long will this party continue?
Aren't the valuations prohibitive now, with the smallcap index touching all-time highs?
Well, I do believe the run up in some stocks has been too high and too fast.
And there are stocks in this space that seem priced to perfection.
Yet, I believe it's smallcaps that offer some of the best investing opportunities for long term investors... even at these levels.
I recently drew a list of 800 odd companies in the smallcap versus mid cap and largecap space.
I deliberately kept out companies with very low liquidity, as that's not the space I think a common retail investor should play in.
I wanted to see how the earnings in companies have fared across different marketcaps, vis a vis the valuation gains.
Here's what I found...
The largecap and mid cap companies are valued at a P/E (price to earnings ratio) of 28.4 times.
In comparison, despite a 150% run up, the P/E ratio for smallcaps in this list stands at 16.3 times.
For the P/E, I have considered the earnings in the trailing 12 months.
And have excluded companies (across all marketcaps) with negative earnings to avoid mathematical distortions.
BREAKING: It's Good Time to Invest in Gold, but Just Don't Go Blindfolded
While nothing in this market is dirt cheap, the entry levels are still a lot more attractive in smallcaps.
Many smallcaps have reduced debt over last three years. They have been reporting earnings higher than pre-covid levels.
I believe the current rally is not just a cyclical phenomenon but backed by improving fundamentals and consolidation among smallcaps.
And there's more to this.
In the last cycle when smallcaps peaked (December 2017/January 2018), midcaps and large caps accounted for 88% of the total market cap.
At present, the share of midcaps and large caps is at 92%.
All this suggests a potential of further reallocation of money from mid and large caps to smallcaps.
In short, this could just be the beginning of the great run in smallcaps.
But as much as I'm excited about the select opportunities in this space, I would like to warn you about the potential pitfalls.
The recent gains can lead many investors, especially first time investors, to mistake luck for skill.
There is a flood of stock tips on social media, all influenced by momentum, with little work done on fundamentals and valuations.
Meme investing is a thing now. There are stocks and assets witnessing double digit gains (or losses) in a day based on celebrity tweets.
I hope you will clearly demarcate the money you want to gamble with from the money you wish to invest to achieve your financials goals.
I hope when it comes to the latter, you would only let a solid research and valuation framework guide your decisions rather than fear of missing out or herd behavior.
Warm regards,



Richa Agarwal
Editor and Research Analyst, Hidden Treasure
Recent Articles