Why India Won't Have a Dotcom Bubble in 2022
May 12, 2022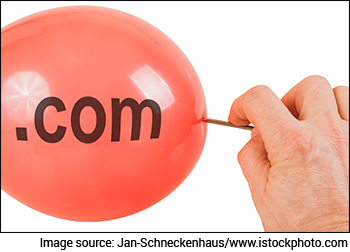 Once emperor Akbar asked the court..
Which flower is the most precious of all?
His courtiers named every popular flower from the rose to lotus to tulip to sunflower.
Finally, it was Birbal's turn. And his reply stumped everyone.
That flower is the best of all flowers, from which the whole world's clothing is made!
The anecdote is not just a reminder of group think but also confirmation bias.
Most of us see ourselves as intelligent, rational people. And when are surrounded by opinions that confirms to our biases, we refuse to consider contrarian views.
This is exactly what happens in every bull and bear market.
Every source of information, data, opinion, noise and narrative seems to suggest exactly the same thing.
At the peak of Covid 19, when markets were at historical lows, so-called market experts pronounced that the doomsday was yet to come. Those who waited for the doomsday never bought a single stock. Nor made a single percentage of gain in the subsequent surge.
--- Advertisement ---
Last Day to Access 'One Stock Crorepati' Opportunity

As you know, recently we went LIVE with our One Stock Crorepati MEGA Summit...

Around 10,000 readers like you had registered to attend this summit.

At the summit, they learned Richa Agarwal's secret blueprint of identifying potential 'crorepati' stocks.

Plus, they also discovered the details of one stock with crorepati potential...

If you missed this summit for some reason, then you can still get all the details by watching this special replay of the summit.

Watch Now (Available till 11:59pm Tonight)
------------------------------
At the peak of the market in January 2022, no one believed that even undeserving technology stocks were hyped up.
For that matter when I recommended my subscribers to book 1,000% profits on Tata Elxsi in April 2022, some called it premature.
Even though the Chinese technology stocks were being hammered, investors believed nothing could touch India.
It took the likes of Netflix to nosedive for investors to see reality. US Fed and RBI's rate hikes, followed by flight of FIIs, took stocks across sectors lower. Understandably, the newly minted tech listing were the worst to suffer.
That gave media yet another catchy headline... India's Dotcom Bubble is Here...
Zomato, Paytm, PB Fintech and Nykaa do not represent the entire technology ecosystem in India.
Yes, market correction has shaved off almost 50% of the valuations of these stocks. But they probably deserved such a rerating. And it may be wrong to call the entire sector a bubble.
Fact is that India's tech boom is yet to begin.
The larger tech behemoths like TCS, Infosys, Wipro and HCL Tech remain largely unshaken in the crash. Probably they will continue to hold their ground.
--- Advertisement ---
"$2.5 Trillion Crypto Market Boom..."

A booming $2.5 trillion market...

Set to multiply by 100 times over the next decade...

With legendary investors like Warren Buffet, Elon Musk, and Peter Thiel pouring in billions of dollars all over...

Really Want to Miss It?
------------------------------
And many mid-tier IT stocks will become even more attractive post some correction.
But what really makes the difference is the latent opportunity in Indian tech space that is set to explode.
Consider this. Software as a Service (SaaS) is to Indian tech in 2022 what Y2K was in 2000.
To know more about what SaaS exactly means...read here.
Globally, SaaS is valued at US$ 600 bn.
Indian SaaS companies currently generate about US$ 3 bn and constitute 0.5% of the global market. But they are growing twice as fast as most of their peers in the developed markets.
So, even a 4 to 5% share of the global market in the next decade, could allow them exponential growth.
As per McKinsey, the SaaS market in India would be valued at about US$ 1 trillion by 2040.
There are a few fundamental reasons to drive such rapid growth.
Join Our YouTube Channel: Get Close to Our Editors and Stay Ahead of the Curve
Number one. with deep smartphone penetration India offers a ready base of customers going into billions.
Number two, the country has a large talent pool of domain experts and engineers who can create software from anywhere. Of course, Bangalore and Chennai are the hubs of SaaS, but smaller towns are contributing no less.
Number three, India has a huge developer pool. In fact, it has the second largest developer pool (of over 3 million), who themselves are a big market for infrastructure tools. They in fact represent about 40% of the overall market of SaaS.
So, calling India's market correction a dotcom bubble burst can only make you sound fashionable.
For conservative long-term investors, I would suggest, a plan to consistently take small stakes in some of the best stocks. Such opportunities do not come by too often!
Stay tuned.
Warm regards,



Tanushree Banerjee
Editor, StockSelect
Equitymaster Agora Research Private Limited (Research Analyst)
Recent Articles