A 25 Bagger Indian Stock at the Centre of the Global Semiconductor Chip Shortage
Jul 13, 2021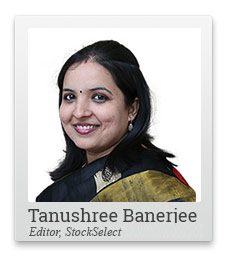 'India is no longer a chip off the old block.'
The CEO of a major technology company used these words in the context of the global semiconductor chip shortage recently.
But his pun on the word 'chip' was not just in the lighter vein.
His company is already addressing a chip shortage crisis. One that is threatening to derail assembly lines of global auto makers.
Almost every other auto and consumer electronics company in India has excused itself for slightly lower volumes this quarter. Most attributed it to the global semiconductor chip shortage.
Semiconductors are components needed for manufacturing cars, televisions, refrigerators, washing machines, personal computers, laptops, mobiles, etc.
In an automobile, some critical components like the vehicle's engine control unit, keyless entry, and anti-lock braking systems are chip dependant.
--- Advertisement ---
No crash, correction, or pandemic can STOP This...

At last, it's happening...

Right here in India...three hidden mega-trends are converging for the first time ever to trigger an economic boom of unparalleled proportions.

A boom so powerful - no crash, no correction, and no pandemic can STOP India from becoming the next economic superpower...

And those who take advantage of this mega shift could potentially generate massive wealth for themselves and their families in the long run.

We are talking about potential 1,000% gains...and perhaps even more over the long term.

But trust me, people who pass this opportunity will regret their decision in the years and decades to come...

So, if you want to save yourself from potential downsides of this mega shift...

...and instead, leverage on it for potential windfall gains...

Join us on 24th September at my special event...

Put your email in the box below and get your free ticket right away.
------------------------------
In the post-pandemic recovery, the shortage of chips has led to a wide demand-supply gap.
And this problem is not temporary.
As more products turn into connected devices through sensors and the Internet of Things (IoT), the demand for chips will rise.
The global semiconductor industry is dominated by the US, with 47% share. It's followed by Taiwan, South Korea, Japan, and Europe. Globally, Taiwan's TSMC is the most dominant chip supplier.
Ironically, the US has most of the design and research capabilities in semiconductor manufacturing.
But in recent years, most of new chip manufacturing facility came up in China.
So where is India in this industry?
India's chip manufacturing capacity has, so far, been heavily dependent on China.
Nevertheless, a few Indian companies are global leaders when it comes to chip design and research.
Thanks to the ready pool of talent in IITs and NITs, all major global semiconductor companies have their chip design houses in India.
--- Advertisement ---
INSIDER SECRET: An Astonishingly Easy Way to Pile Up Potentially 40-60% Gains in Just 1 Year

India's most well-connected trader with over 35 years of experience just confessed...

"This Lucrative Market Segment Could Leapfrog Over Nifty in The Next 12-16 Months"

... thanks to a massive and irreversible mega-trend fueling its growth!

In fact, he and his partner have already identified 2 spectacular stocks from this segment... which are ready to rake in potentially 40-60% gains in just 1 year... and make you big, fat profits!

The best part of them all...

Their Details Are Packed in This Special Report (Discover How to Claim it for Free)
------------------------------
Some estimates predict the Indian semiconductor design market will reach US$38 bn by the end of 2021.
Even as India gets less dependent on China for chip manufacturing, the chip designers are already tying up with companies in South Korea, Taiwan, and Vietnam.
Strong domain expertise of Indian tech companies and a ready pool of research talent in chip design are in heavy demand.
Globally, companies are trying to gradually move away from their China dependance. A handful of Indian chip designers are already playing a key role in this.
One technology company in India is grossly underrated despite its dominant role in semiconductor chip designing.
The company has set up management teams in Taiwan, South Korea, and Vietnam in recent months seeing the growth potential of this business.
The stock is already a 25 bagger over the past decade. It's also one of the key contenders of my Great Indian Wealth Project.
REVEALED: 3 "Super Smallcaps" You Didn't Know About
But with its disruptive capabilities, its future seems far more promising than its past.
StockSelect subscribers have been riding the wealth creating potential of this stock for a while now.
And there will by many more such opportunities in the months and years ahead.
To know more, join me online this evening at 5pm, at the Great Indian Wealth Project web summit.
I'll show you how to potentially accumulate an 8-figure fortune from this powerful megatrend.
Warm regards,



Tanushree Banerjee
Editor, StockSelect
Equitymaster Agora Research Private Limited (Research Analyst)
Recent Articles