A Zero Loss Strategy for Your Portfolio
Sep 21, 2021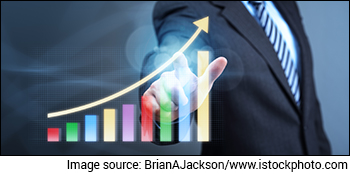 Last week, I shared with my subscribers, the monthly performance review for the open positions in Hidden Treasure.
14 stocks gained 10% or more during the month.
The biggest gainer was a logistics company, up 91% in a month.
To be sure, this was also one of the hardest hit stocks when the stock market crashed last year. But we didn't press the panic button or follow a blind stop loss limit.
Despite the challenges in the sector and the economy, we had faith in the fundamentals and management.
And our approach was rewarded.
--- Advertisement ---
Automobile Sector's Colossal Disruption Could Make You a Fortune

During any major disruption in a sector, fortunes are created.

And now, we are at the cusp of a major disruption that the automotive sector will experience.

It is the electric vehicles gold rush.

At Equitymaster, we have unearthed a hidden way to ride the 15x EV opportunity so that you could take home potentially life-changing gains in the long run.

You can get all details of the hidden way in our upcoming special online event.

YES, Register Me for FREE
------------------------------
The reason I'm sharing this with you is to highlight a very critical, but often forgotten aspect of investing - Patience.
Here's a simple analysis that highlights its virtues.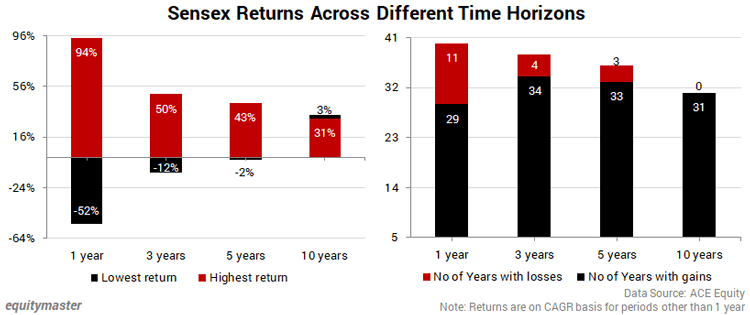 The chart above captures the gains and losses in the Sensex over different time frames, since 1981. The reference date is at the end of the year, and 17 September for this year.
If you were the kind of investor with a time frame of one year, then from 1981-2020, you would have made gains in 29 years.
If you were an investor with a 3 year time horizon, then in 38 such 3-year time zones, you would have made gains 34 times.
If you were an investor with a time horizon of 5 years, then you would have made money in 33 out of 36 such 5-year time periods.
What about an investor with a 10 year time horizon?
--- Advertisement ---
The Rebirth of India

India's leading research analyst, Tanushree Banerjee, will show our readers how an upcoming mega shift would drastically change the state of the Indian economy...

And how investing in three high-potential stocks at the heart of this rebirth...

...could potentially hand them 100%, 300%, 500%, even 1,000% or more in the long run.

Since you are one of our valued readers, we sincerely urge you to head over here for more details
------------------------------
Such an investor would have made gains in every period.
In fact, if you look at the returns profile (left chart), it gets even more interesting.
For a 1 year time horizon investor, the biggest gain was 92%, and the sharpest loss 52%.
For an investor with 3 year time horizon, the biggest gain was 50% and the worst loss 12%. These are both in compound i.e. CAGR terms.
Now the 3-year maximum gain may look low compared to 1-year gains. But remember it's compounded returns. This adds the magic of compounding to your returns.
For instance, if you invest Rs 100 for two years, with 92% gains followed by 52% losses, you will end up with only Rs 92.
On the other hand, if the same amount compounds at a much lower 15%, you will end up with Rs 132 at the end of 2 years.
For an investor with 5 year time horizon, the biggest gain is 43% and the worst loss is 2%, both in CAGR terms.
And if you belonged to the rare class of the 10 year horizon investor, your lowest return would still be positive, while your gains could have compounded at 31% CAGR.
You would have made no losses!
Investors pay too much attention to near term price movements and try to time the market.
Join Today: Equitymaster is on Telegram. Join FREE Today for Exclusive market Updates
But what happened in 2020 was a revelation.
Let's say you had access to information that a virus would cause the market to crash. Also you exited all your positions based on that short term prediction.
You would have been right...in the short term.
Yet would have lost the chance of making big money in the post Covid rally.
On the other hand, say your stock picking approach was governed by fundamentals, management quality, and a long term horizon to begin with.
Then the conviction in the businesses would have allowed you to hold on to them, despite the world falling apart. You would have faced a lot of volatility and yet would have emerged a winner.
The Takeaways
Markets are moody.
In the short term, sentiments rule.
In the long term, fundamentals rule.
You will be able to hold stocks for the long term only if your selection is based on conviction, which in turn, is based on a strong investing process.
This kind of conviction cannot be borrowed.
If you are buying stocks based on tips, media headlines, and what your friends and family are buying, you would always be looking for validation.
You're highly likely to enter and exit at the wrong time.
It also takes a great temperament and grit to hold on to stocks when markets correct.
Over exposure to a single stock, a highly concentrated portfolio, or leveraged bets are likely to work against an ideal investing temperament, that focuses on the long term.
Your approach may not make a great topic for day to day conversations. But when the day of reckoning comes, your track record will have the best story to tell.
Stay tuned for more investing insights...
By the way, I have recently recorded a video on how to make better investment decisions using the price to earnings (P/E) ratio.
Watch the video and let me know your thoughts.
Warm regards,



Richa Agarwal
Editor and Research Analyst, Hidden Treasure
Recent Articles