Bluechips Have 60% Chance Of Losing Money At Current Levels. But a Small Group Won't...
Mar 17, 2017
In the Issue

» GST implementation makes a big headway
» More upside to auto stocks after Notebandi blues?
» Market roundup
» and more...
00:00

Chart of the Day
Today's headlines tell you the benchmark NSE Nifty Index is at lifetime highs. Market euphoria is at its peak.
The Wall Street Journal carried similarly euphoric headlines in the early 1970s. It talked about how the Nifty Fifty had the best of the best stocks - Coca-Cola, McDonald's, GE, PepsiCo, Pfizer, American Express, Xerox, Dow Chemical, Johnson & Johnson, Merck, Disney, P&G, AT&T, Gillette, Lubrizol, Kodak...
So no one raised an eyebrow when the journal called these 'one direction stocks'. Everyone on Wall Street agreed: They could only go up!
Investors, big and small, loaded up on them. The PE ratio reached insane levels. At the peak, the index traded at a PE multiple of 94 times!
Then, just like all bubbles before and since...the bubble burst. In the market crash of 1973-74, these stocks got hammered. Some Nifty Fifty stocks lost up to 75% of their value. Kodak eventually went bankrupt.
Stocks in the NSE Nifty Index corner nearly 20% of the market capitalisation of all listed stocks in India. Naturally, its valuations are a good indicator of market sentiments.
Turns out, the current valuation of the index - more than 22x - is rare. Over the past two decades, the NSE Nifty has traded above 22x only nine times. And when it does, buying even the biggest blue chips has come with a huge downside for long-term investors. On five out of the nine occasions, the index lost money over a two-year period.
Returns from NSE Nifty at Over 22x PE Multiple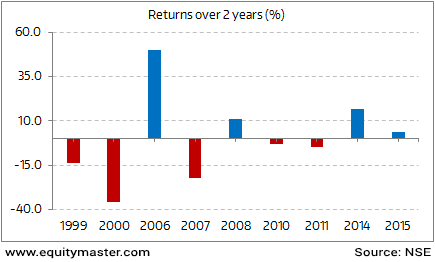 So the historical data suggests there is currently a 60% chance of losing money in bluechip stocks.
But wait. You cannot buy the best blue chips by following index trends. Rather, you need to take a contrarian view on the best bluechip businesses.
For the past fifteen years, we have told subscribers to buy blue-chip stocks with a safety-first approach. Always.
In StockSelect, we recommend blue chips when the downside risk in valuations is negligible. But there are also times when the market completely misses out on the earnings trend. The earnings upside itself makes some stocks inherently safer. At such times, it doesn't take a genius to figure out where the odds are better.
Our special report on Sensex 40,000 is not about buying dirt cheap stocks when broader markets are expensive. Rather, it is about buying businesses that won't lose money even if markets succumb to the 60% chance of correction. And eventually, the ride to Sensex 40,000 will take these stocks to the valuations they truly deserve.
To celebrate the 15th anniversary of StockSelect, we are offering new subscribers a great offer, which includes our Sensex 40,000 report. You can know all about it here.
--- Advertisement ---
Act Fast...Founder Member Offer Ends TOMORROW!

Our Founder Member Offer for Research Analyst Apurva Sheth's SCOREFAST™ trading system is set to end at 11.59PM TOMORROW...

Or even sooner if we obtain 1,000 members before then!

The slots are indeed running out very quickly, so don't wait any longer.

There's a 90-day refund policy on this offer, which means you can always get your money back if you feel this service is not for you.

However by not acting quickly, you could lose out on savings of Rs 150,050...and also the chance to potentially benefit right from the first SCOREFAST™ recommendation.

So hurry...

Click here for full details and sign up right away...
------------------------------
The much-delayed Goods and Services Tax (GST) moved a step closer to finally seeing the light of the day most probably on 1st July 2017. The move comes on the back of approval to all the five Draft Bills by the Centre and the States thus paving way for being tabled in the Parliament and State Assemblies. In addition, the GST Council has approved a proposal to cap the cess on sin goods and environmentally harmful goods at 15%.
The implementation of this much-awaited indirect tax reform is expected to bode well for organised players as it promises to bring in a level playing field with increased tax compliance and standardised rules. However, the stock markets are on the roll already factoring in swifter reforms after the huge mandate won by the ruling BJP in Uttar Pradesh. And solely banking on further rally in a heated market may not be the most sensible thing to do. Instead investors should follow a bottom-up approach in stock-picking to benefit from the GST reform finally getting implemented.
For investors betting on trading strategies, my colleague Apurva (Research Analyst), editor at Profit Hunter, has been working on and testing his latest trading strategy for nearly a year...
Over to him
I have just finalised my new SCOREFASTTM trading strategy. I spent a lot of time discussing and analysing it. From the big ideas to the nuts and bolts. And thinking about whether it met [the] criteria for success. And I'm happy to report that its done that and more.

I have built my system after studying hundreds of stocks experiencing cyclical up and down trends. In our backtests, this system has generated 50%, 61%, 109% and even higher returns in a matter of just weeks to a few months.

The name, SCOREFASTTM, is an acronym for the nine indicators I use to identify stocks on the cusp of a long-term reversal. These indicators help us identify trading opportunities that could generate big returns in a few weeks to a few months...
The good news is Apurva has just launched a new trading service based on the proprietary SCOREFASTTM system.
You can click here to know all about Peak Profit Alert.
The BSE Auto index has gained over 21% in the past twelve months. The sector clearly seems to have put the Notebandi blues behind it. But at the same time, input prices have started shooting up. Steel and rubber prices have almost doubled. Copper and aluminium are up 18-25% against a year ago. So the sector faces an uphill task to retain its operating margins in the coming quarters.
Meanwhile data from SIAM shows that the small carmakers grew their market share at the expense of the large players. As per data released by Society of Indian Automobile Manufacturer's Association (SIAM), the combined market share of the top five companies - that includes Maruti Suzuki, Hyundai, M&M, Honda and Tata Motors - has contracted by 2.4% to 82.6% in the first eleven months of FY17. Barring, Maruti and Tata Motors, all the other large players have lost their market shares during the period.
Small car companies such as Toyota, Ford, Renault, Volkswagen and Nissan have gained market taking their overall share to 15.6% during this period. Their combined share stood at 12.9% in the corresponding year-ago period. The inroads made by the smaller players has been on the back of new launches and expansion in their distribution network. If the loss in market share continues along with contraction in margins, investors need to get wary about the valuations of auto stocks.
After opening the day in the green, Indian equity markets continued to trade firm. At the time of writing, BSE Sensex was trading higher by 100 points and NSE Nifty was trading higher by 7 points. The mid cap index is trading down by 0.4% whereas the small cap index is trading marginally down.
04:50

Investing Mantra

"The Stock Market is designed to transfer money from the Active to the Patient." - Warren Buffett

This edition of The 5 Minute WrapUp is authored by Tanushree Banerjee (Research Analyst) and Madhu Gupta (Research Analyst).
Today's Premium Edition.
Exports Come to Rescue for Steel Companies
An overview of steel industry and critical analysis of steel import and export data.
Read On... | Get Access
Recent Articles