7 Stocks That Will Remain Evergreen in this Era of Technological Disruption
Jun 13, 2019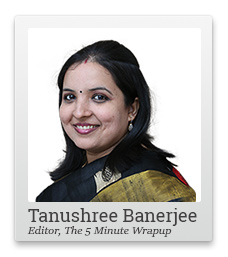 The year 1905 was historic in many ways for the United States. It was when the first gas station was constructed.
Until then, horses were the main source of travel for people in the US. What happened post 1905?
In about 20 years, horses were almost completely replaced by cars in the US.
Take the case of the iPhone launch in 2007. This what the then CEO of Microsoft, Steve Ballmer had to say about the iPhone...
'There's no chance that the iPhone is going to get any significant market share. No chance. It's a $500 subsidized item.'
Well, iPhone today has a 45% market share in the US market.
The point is, people fail to see or ignore disruption until it's too late. The ones who do survive and the others perish.
Take the case of Kodak and Fujifilm...
In the 90s Kodak was synonymous with cameras worldwide. Profits surged and Kodak sales had touched US $14 billion in 2000.
---

Advertisement

---

Yet Another Reason to Get Tanushree's 7 Stocks Report Virtually FREE…

Our Senior Analyst and Co-Head of Research, Tanushree Banerjee, recently identified 7 stocks one could consider buying right now.

Now guess what?

As Modi takes steps to make India a military superpower in his second term…

And more importantly, one that's dependent on its own inbuilt weapons rather than imports…

1 of Tanushree's 7 stocks is placed to benefit greatly from a boom in India's defense sector. And by getting into that stock now, you could potentially make SUBSTANTIAL returns in the coming years.

To get Tanushree's 7 stocks report virtually FREE and find out what this stock is, just click here…
------------------------------
Fujifilm was not far behind with US $13 billion in sales in the same year.
Fast forward to 2010...
Kodak's revenues had fallen 48% over 10 years while Fujifilm's revenues grew by 57% in the same period.
Both suffered from the digital camera disruption. Why did one survive and not the other?
Kodak failed to adapt to the on rushing wave of digital cameras. Fujifilm promptly innovated, diversified into LCDs, smartphones and remained relevant with the changing times.
Have you checked your stocks for this kind of disruption, dear reader?
Do you hold past blue chips which are likely to become the Kodak's of tomorrow?
Or do you own a Fujifilm that is likely to adapt and thrive amid the disruption?
The future indicates a technology disruption in many fields.
I believe the oncoming disruption can be a blessing in disguise. Sure, it will make many businesses irrelevant. On the other hand, the survivors will emerge stronger.
Take a close look at your stocks.
Which companies are embracing technology rather than dismissing it?
Look for businesses that pre-empt change ahead of their competitors. Such businesses will grow at a much faster rate as their competitors vanish.
Businesses that adapt to the new world will emerge as clear winners.
In the Indian context, I expect more than 50 such trends to play out over the next decade.
These trends will separate the winners from the losers and will be the driving force taking the Sensex to 1,00,000.
There will be only a few stocks that will benefit the most from the transformation I call the Rebirth of India.
In fact, I've identified 7 stocks I believe will be a part of the Sensex 1,00,000 journey.
I believe the business fundamentals of these bluechips are strong enough to withstand the oncoming disruption.
I also believe the management of these seven companies are nimble enough to adapt to any disruption.
These stocks will follow the path of Fujifilm rather than the path of Kodak in the future.
Chart of the Day
The Indian auto sector is in the middle of a storm.
Passenger sales fell 20.5% in May 2019 compared to May 2018. This follows a 17.1% year on year decline in April as well.
The decline in May is the worst seen since 2001.
Never Ending Woes For The Automobile Sector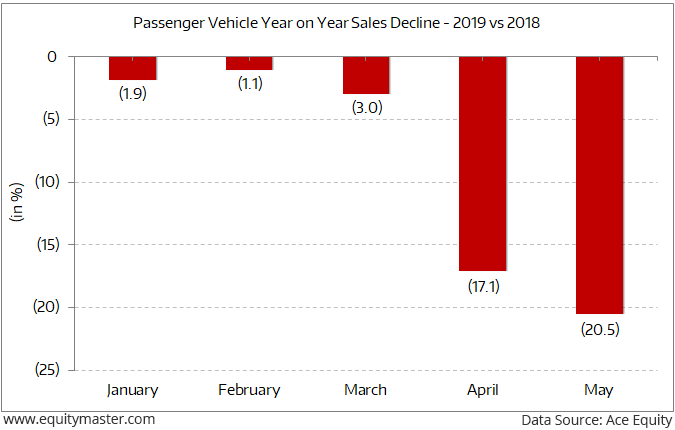 Multiple factors have affected the auto sector of late.
The liquidity crisis faced by NBFCs, regulatory changes leading to increased costs, new emission norms... they have all taken their toll.
Also, this sector is ripe for disruption with electric vehicles and ride sharing applications.
Maruti, India's largest car maker announced it would stop making diesel cars from April next year.
The coming one year will be a real test for India's auto companies.
It will also tell us if this slowdown is temporary or if there has been a structural change in the sector.
There is one thing I know for sure, dear reader. Only the ones adapting their business models to the rapidly changing environment will survive and thrive.
Warm regards,



Tanushree Banerjee
Editor and Research Analyst, The 5 Minute WrapUp
PS: Dear reader, Tanushree has identified the best 7 stocks in the market that can not only survive but also thrive in this era of technological disruption. However, these stocks won't be cheap enough to buy for much longer. You will need to buy them before their prices run up. You can read more about these 7 stocks here...
Recent Articles