Driverless Cars are Here. And This Tiny Company is in the Lead...
Jul 17, 2019
It took 75 years for the telephone to connect 50 million people.
But it took the radio just 38 years.
Television hit the mark in 13 years.
And the Internet in a cool 4 years.
And if that was awe inspiring...
Facebook hit 50m in just 2 years.
YouTube and Twitter were even faster, 10 months and 9 months respectively.
With the popularity of mobile apps, reaching 50 million users is getting faster and faster.
Highly popular game, Angry Birds, took just 35 days.
Recently, the augmented reality game Pokemon Go was able to reach a mind-blowing 50 million users in just 19 days.
Now that's real progress.
From 75 years to just 19 days.
But what's supporting such changes at an unprecedented scale?
It's the rapid rise of technological innovations. Not to mention the increasing receptiveness of people, especially millennials.
We are witnessing an upsurge in the technological complexity required to develop and deliver new products and services.
Take the automobile industry, for example.
It is undergoing a transformation to next-generation of automobiles.
These automobiles are electrified, autonomous, shared and connected.
The Future of Automotive Innovation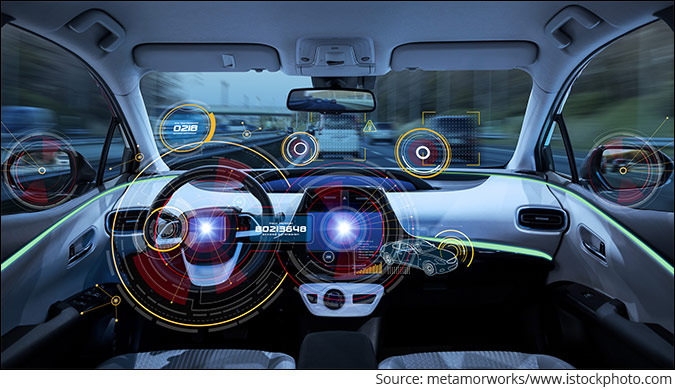 As vehicles become more integrated, complex and autonomous, the amount of software and hardware required will significantly increase.
That's just about the automobile.
Don't forget, 5G technology is coming in a big way.
This will dramatically improve internet speed. Response time will also be much faster. It will be the connective tissue for the Internet of Things (IoT), autonomous vehicles, and mobile media.
Think summoning your 'driverless' car to pick you up...from your mobile device.
Clearly, we are at the threshold of a new era...
An era where technologies such as robotics, artificial intelligence, virtual and augmented reality, and IoT will define our future.
These technologies have compelled companies to transform their businesses. This is required to meet changing consumer expectations.
It became imperative for companies to be agile and adaptive. It's essential for them to have a deep understanding of emerging technologies.
What if there was a company which helped organisations become future-ready?
That would be in a great position for massive growth.
And guess what - the good news is we've found exactly such a company.
Over the years, it has invested heavily in key digital technologies. This includes the likes of artificial intelligence, extended reality, and automation.
Let's take the automotive vertical, for example.
The company is developing its own intellectual property in the autonomous driving (driverless car) space.
Yes, right here in India.
And in fact, last year, the company has licensed it to one of the big auto OEMs.
The company is looking at automated testing opportunities, end-to-end validation for different autonomous driving car scenarios etc.
The company sees a lot of opportunity in licensing some of the modules.
For this company, the key growth driver is the pace of technological change.
If the technology is static, then that's bad news for the company.
But that's not the case.
Technology is as dynamic as it's ever been.
What's more, the stock has seen a correction of more than 40% from its highs. Finally, the company is available at attractive valuations now.
The point I am making here is simple...
Just because it's hi-tech, it does not mean it's not happening here in India.
Just because it's niche, it does not mean you cannot ride the opportunity by investing in it.
And just because the mainstream media is so preoccupied with day to day opportunities, it does not mean exciting opportunities do not exist today.
Chart of the Day
Cisco, the worldwide leader in IT and networking carried out an interesting study a few years back. The study focused on automobile buying and driving experience.
The study surveyed more than 1,500 consumers across 10 countries. It examined consumer preferences of technology used when buying and driving an automobile.
One of the important aspects of the study was driverless automobiles.
More than half of global consumers (57% to be precise) stated they would be likely to ride in a car controlled entirely by technology that does not require a human driver.
Here's an interesting chart.
Consumers Desire Driverless Cars Across the World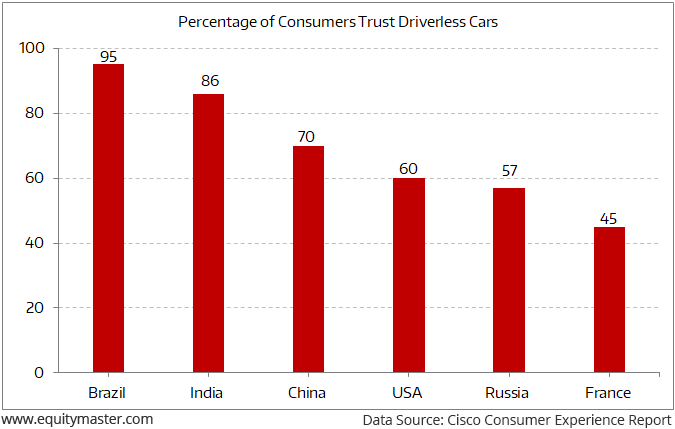 It looks like consumers really do place trust in driverless cars.
Surprisingly, consumers from emerging economies such as Brazil, India and China desired more automated cars.
Self-driving car technology is advancing every day.
For investors looking to tap into this opportunity, keep an eye on technology companies which are making this possible.
Warm regards,


Sarvajeet Bodas ,
Co-editor and Research Analyst, Smart Money Secrets
PS: Radhika Pandit and Sarvajeet Bodas, co-editors of Smart Money Secrets, are getting ready to recommend an exciting new stock. If you haven't subscribed to Smart Money Secrets yet... you can do so here.