Are Firms like Maruti & ONGC Sitting Ducks Against Disruption?
May 23, 2017
In this issue:

» Can Oil and Auto stocks hold on to their 'Bluechip' tag?
» The spectacular growth of Aadhaar enabled payments
» 2.5 million people compete for 6,000 government jobs!
You may not have heard of Tony Seba. But the man has a reputation for making outrageous yet correct predictions. The most recent one being the boom in solar power, which made when solar prices were unbelievably high, ten times today's prices.
His latest prediction could send a shiver down the spine of the automobile industry. He is predicting that fifteen years from now, 95% of people won't own a private car, killing off the auto industry. He also predicts that electric vehicles will destroy the global oil industry in the same period.
This prediction isn't that outrageous. The way things are headed, Seba's prediction could become a reality even before his fifteen-year timeline. And disruption is knocking on the doors of not just auto and oil; many industries are in jeopardy. We may well be living in the most disruptive period in history.
Does this call for a vastly different investment strategy? After all, the bluest of blue chips - companies like Maruti and ONGC - are under threat.
Here, we would like to quote from legendary investor Seth Klarman. In his tribute to Benjamin Graham, Klarman made a most cogent argument in favour of value investing:
Because our nation's founders could not foresee - and knew they could not foresee - technological, social, cultural, and economic changes that the future would bring, they wrote a flexible constitution that still guides us over two centuries later.

Similarly, Benjamin Graham and David Dodd acknowledged that they could not anticipate the business, economic, technological, and competitive changes that would sweep through the investment world over the ensuing years. But they, too, wrote a flexible treatise that provides us with the tools to function in an investment landscape that was destined-and remains destined-to undergo pro-found and unpredictable change.
Even if the disruptive forces persist and become stronger, value investing principles will endure. The principles are timeless. Value investing is an all-weather investment strategy.
Having said that, the impact on individual stocks like Maruti and ONGC should depend on which value investing camp you are a part of.
If you are a Buffett-type investor, taking ten-year view of things, you would most likely agree with Mr Seba. You could choose to stay away from these stocks.
In fact, very few businesses would pass Buffett's stringent requirement for high predictability ten years down the line.
However, if you are a blue-chip investor taking only a two to three-year view, you could be inclined to invest in these stocks provided their valuations come down to attractive levels. Sure, the odd blue chip will get disrupted and lose money during your this window. But if the stocks are strong fundamentally and priced attractively, you will have more hits than misses.
And last but not the least, if you are an asset investor investing in deep value stocks, you are more likely to invest in the sitting ducks of today rather than predict the sitting ducks of tomorrow.
But guess what...
Even today's sitting ducks can be a fertile ground for good returns if you follow sound value investing principles.
The point is this: If you're a value investor, you don't have to worry much about disruptive forces. That's because value investing is still the best bet against them.
Yes, the disruption will have impact on individual sectors and stocks. But even here, the stock picking should more be a function of your time horizon and the kind of value investor you are. While a moat investor will be wary of disruption and choose stocks accordingly, an asset investor does not have to worry about it at all.
--- Advertisement ---
Your Chance to Invest Like the Super Investors of India

Our special guide reveals the secret stock-picking strategies of some of the most reclusive and yet, successful investors of India.

We call it, The Super Investors of India.

More than 19,000 copies have already been downloaded...and that number is going up as we speak!

So, this is your once-in-a-lifetime chance to invest like a Super Investor...

Just by downloading your copy and learning the art of stock-picking from the masters.

Click Here To Download Your Free Guide (No Credit Card Required | No Long Forms | Instant Download)
------------------------------
03:50

Chart of the Day

At the centre of the government's push for Digital India is the Aadhaar ID. The unique biometric identification can drastically reduce corruption in welfare schemes and enable digital payments.

As per an article in the Economic Times, Aadhaar enabled payments have jumped more than 3.5 times in the last year!
Growth of Aadhaar Based Payments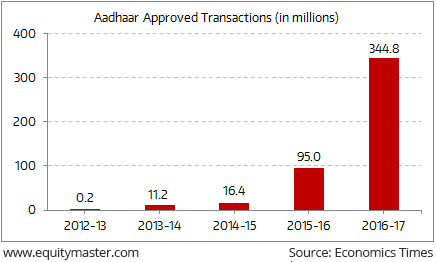 This is proof of the enormous scope of the UID initiative. More than 300 million unique beneficiaries have availed of the Aadhaar Enabled Payments System (AEPS) in less than five years.
The data reveals that more than 600 million transactions have been done already. But this is just the start.
The nodal agency UIDAI, is building capacity to process 100 million transactions daily. That works out to 3.65 billion transactions in a year. In FY17, the rate was just 1.26 million transactions per day. This puts the chart above in proper perspective.
But this growth brings with it several risks. Foremost are the infrastructure and security issues.
The recent leaks of Aadhaar based information came as a rude shock to many. But it was only to be expected. The government has outsourced the work of building the eco-system around Aadhaar to various private individuals and companies. In the process, it is no longer in control of the security of the data.
The woes surrounding the infrastructure enabling Aadhaar has been well documented. We believe the infra issues will be sorted out over time but the security problems will remain.
The biggest risk for the government in its digital India drive will be losing the trust of the common man when it comes to digital transactions, including welfare payments, due to security issues.
We have repeatedly written about the disastrous jobs situation in India. One million young people join the workforce every month. India's economy has historically not created even half a million jobs annually.
Things don't seem to have improved recently.
As per an article in Livemint, 2.5 million people competed for 6,000 government jobs in the state of West Bengal. That works out to about 0.25% chance per individual without considering the mandatory reservations and quotas.
Apparently, the state government was overawed by the sheer number of applicants. The state has been among the worst when it comes to formal sector job creation.
Even if the situation is slightly better in most other states, the situation is very bad overall. Unless the economy sustainably creates sufficient number of formal sector jobs over many years, we believe India's demographic dividend could turn in to a demographic disaster.
After opening the day flat, Indian share markets slipped in to the red and were trading below the dotted line at the time of writing. Most sectoral indices are trading on a negative note with stocks in the Healthcare sector and Real Estate sector leading the loses.
The BSE Sensex is trading down 160 points (up 0.5%) and the NSE Nifty is trading down 47 points (up 0.5%). The BSE Mid Cap index is trading down 1.7% and the BSE Small Cap index is trading down 2.1%
04:45

Today's Investing Mantra

"Unless you can watch your stock holding decline by 50% without becoming panic-stricken, you should not be in the stock market." - Warren Buffett

This edition of The 5 Minute WrapUp is authored by Rahul Shah (Research Analyst).
Today's Premium Edition.
How to Avoid the Bull Market Trap
It might be impossible to avoid the occasional opportunity loss during a bull market, but here's how to ensure you avoid the real losses across cycles.
Read On... | Get Access
Recent Articles