Investment in securities market are subject to market risks. Read all the related documents carefully before investing
LIVE NOW
Nifty 2030 Summit
Discover a Rare Opportunity for Potentially
Making Hundreds of Percent in Gains by 2030
Is this the Right Time to Buy Banking Stocks?
Jun 1, 2022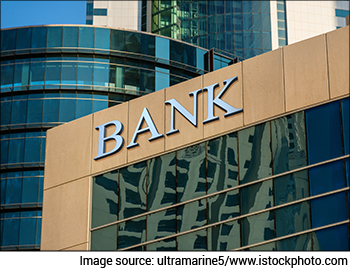 Has a Bank Ever Told You its Deposits are Riskier than Stocks?
I had put this question to readers like you in July 2018.
Over the past four years, a lot has changed in the Indian banking system.
First, the post Covid phase has stoked an economic revival. This has boosted credit demand from retail and corporate borrowers alike.
Second, the overall corporate debt levels have reduced drastically as companies chose to stay lean during the past few years.
Third, interest rates have started firming up. This means higher incomes expected from treasuries.
Fourth, gross non-performing assets (NPAs) have fallen to five-year lows. This means financial firms will have lower NPA provisions on their books.
Fifth, the tailwinds of digitisation and financial inclusion have allowed massive disruption in the banking sector, especially in terms of payments and loans.
--- Advertisement ---
Investment in securities market are subject to market risks. Read all the related documents carefully before investing

Nifty 2030 Summit is LIVE Now

Our co-head of research, Tanushree Banerjee, is revealing a big opportunity in Nifty 2030... RIGHT NOW.

Her research says, there is a chance here for potentially making huge gains by 2030.

Tanushree has already identified her top 2 Nifty contenders.

LIVE NOW. Click Here to Watch...
Details of our SEBI Research Analyst registration are mentioned on our website - www.equitymaster.com
---------------------------------------------------
Rarely does any sector see so many positives stacking up simultaneously.
So, you would be blind to ignore the upsides from banking stocks over the next couple of years.
Having said that, choosing the top banking stocks or for that matter top financial stocks, is easier said than done.
My experience with rejecting select PSU bank stocks or pointing out that IL&FS is NOT a AAA credit company, well before the companies went bust, is enough proof of that.
The upsides for cyclical business like the banking sector are readily visible. But the risks are often ignored.
Banks have restructured loans going into billions of rupees during the Covid years. So, while the books may look relatively clean now, it's a matter of time before fresh slippages begin to emerge.
Evergreening of loans is rampant during periods of falling interest rates. The true quality of loan books will be tested once the rates rise.
Importantly, the NPA levels which are currently at 5-year lows, are still a substantial 6% of the overall loan book.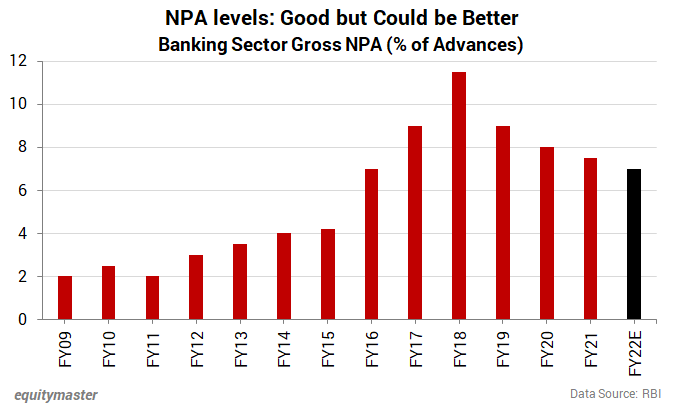 For now, higher lending rates have offered a bigger margin to banks. Lending rates have gone up but deposit rates are yet to catch up. So, for a few quarters, higher net interest margins will make the banks look healthy.
But remember, they have their capital adequacy ratios (CAR) to maintain. So, banks will also have to raise capital to fund fresh demand for loans. This means higher deposit rates will eventually erode those extra margins.
--- Advertisement ---
Investment in securities market are subject to market risks. Read all the related documents carefully before investing

Safe Stocks for the Electric Future

EV penetration in India is still at low single digits. But this market is growing exponentially.

Many logistics companies have started including electric vehicles into their fleet. Even public transport is going electric.

Once the charging infrastructure gets fully developed across the country... we may even see private car owners buying electric vehicles in droves.

The future is electric. So, it makes perfect sense to include a few stocks in your portfolio that could potentially benefit from this electric future.

Get Full Details
Details of our SEBI Research Analyst registration are mentioned on our website - www.equitymaster.com
---------------------------------------------
The biggest risk is the scale and scope of disruption in the traditional banking system by way of fintech adoption.
Scores of fintech companies have completely exploited the latent demand for small ticket credit in India. Thanks to smartphones and apps, loans are available to borrowers with very limited credit appraisal.
I did a video on this...
Trends like Buy-Now-Pay-Later (BNPL) have caught on. And how!
Banks are now exposed to competition from a new generation of fintech companies that lend without worrying of recovery.
Funded by deep pocketed venture capitalists, these fintech startups are keen to grow at any price. Without sufficient RBI intervention, the credit culture in fintechs is the complete opposite of that in banking companies.
Join us: And hear investing experts share their ideas
At the same time, technology starved banks have no means to catch up with competition. So, consolidation in the sector is a given. As the regulatory noose is tightened on NBFCs and fintechs, more banks will be seen consolidating.
For investors, this is a great time to pick only the most sustainable banking businesses.
As long you don't get carried away by the euphoria around the sector, being stock selective should do the trick.
And remember Warren Buffett's mantra for banking stocks...
In the end, banking is a very good business unless you do dumb things. You get your money extraordinarily cheap and you don't have to do dumb things.
Warm regards,



Tanushree Banerjee
Editor, StockSelect
Equitymaster Agora Research Private Limited (Research Analyst)
PS: India's leading smallcap guru, Richa Agarwal, will reveal her 5-minute blueprint to become a One Stock Crorepati. Get all the details here...
Recent Articles