Can You Make More than 100 Times Your Investment?
Jun 18, 2021
Editor's Note: Join me online on 21 June at 5pm and I'll tell you all about Forever Stocks. These are the only 20 stocks you need to own to become extremely wealthy. Book your seat here.
---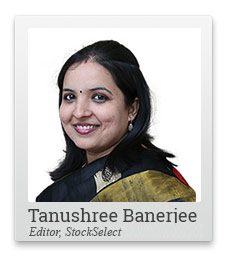 The short answer is yes.
But here's the long answer...
You see, most people find it difficult to grasp the concept of huge multibaggers.
1,000x returns. 2,000x returns. It just seems too much.
Most people will be very happy if their portfolio doubles or triples after a few years. They will be over the moon with a stock which multiples 5 times.
I understand. This kind of return is indeed sufficient to satisfy most investors.
And that's fine.
But the stock market offers you more...much more.
In fact, the stock market can offer you Generational Wealth.
What's that?
--- Advertisement ---
This is Your Last Chance...

This is your last chance to sign up for our urgent broadcast on India's Revival.

At 5 pm today, India's leading research analyst, Tanushree Banerjee, will show our readers how an upcoming mega revival would drastically change the state of the Indian economy...

And how investing in three high-potential stocks at the heart of this revival...

...could potentially hand them 100%, 300%, 500%, even 1,000% or more in the long run.

Tanushree will also cover a lot more in this critical briefing...

Since you are one of our valued readers, we sincerely urge you to save your seat now.

Click Here to Reserve Your Seat (There may not be any replays)
------------------------------
In simple words, generational wealth, is the kind of wealth with which you can comfortably retire...and then pass on to your children.
Richa wrote about a good example of this in here editorial this week. You can read it here.
In a nutshell, a man had left his grandson shares of MRF purchased way back in 1990/1991.
The value of these shares was Rs 1.3 bn. The stock was up 1,790 times.
So does this mean you need to buy and hold a stock for 3 decades to create generational wealth?
No.
Here are the actual returns of a stock which created generational wealth: Pidilite Industries.
445 times in the last 25 years.
183 times in the last 20 years.
12 times in the last 10 years.
3 times in the last 5 years.
As you can see, the returns are consistent over the long-term.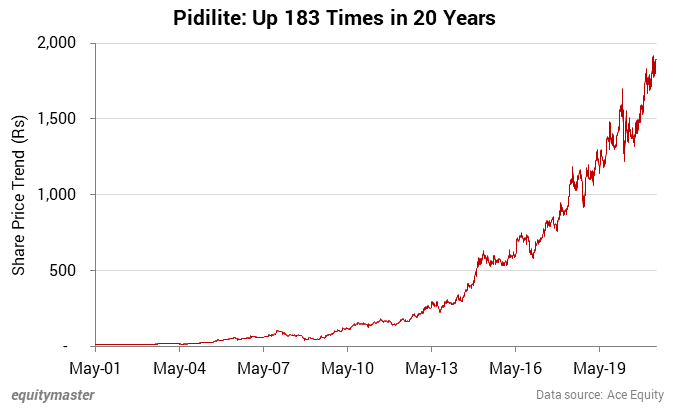 Fevicol, the company's brand, is a household name. It's easy to look back and believe it was possible to predict the rise of the stock.
But it wasn't. It's never easy.
And that brings me to the answer to the question in the title of this editorial.
To grab the opportunities of generational wealth in the stock market, you need to find these big winners before the rest of the market finds out about them.
Going LIVE Today at 5pm: Our Special Event on India's Revival
How do you do that?
Start by picking only the stocks of companies that satisfy the following criteria.
They must be fundamentally great businesses with very solid long-term prospects.
The future growth visibility should be high.
The businesses should become obsolete due to technological disruptions.
They should are run by visionary and passionate promoters.
But this is not enough.
Companies like Pidilite and MRF not only became great but also remained great. They created wealth consistently for decades.
This was possible only because the management never rested on their laurels. They never assumed the future would be similar to the past.
They made conscious efforts to maintain the strength of the business year after year.
These are the stocks which you need to look for. These are the stocks which will create generational wealth.
I call them Forever Stocks. These are stocks you can buy and hold for years and decades. These stocks will make the magic of compounding work in your favour.
So how do you identify Forever Stocks before everyone else?
Look at the one thing that separates these rare gems from all other stocks in the market. Look at how the management allocates capital.
--- Advertisement ---
Making India Future Ready - The Next 20 years

HelpYourNGO supported by Quantum MF brings to you one-of-a-kind 2-day Mega webinar.

Join Industry stalwarts Ronnie Screwvala, T V Mohandas Pai, Zia Mody, Mirai Chatterjee, Amarjeet Singh and Eloy Lindeijer as they share their views and impart wisdom to help us lead the way into the future.

Event details: Mon, 27th & Tue, 28th Sept - 5:30 pm to 7:45 pm.

Register here for this EXCLUSIVE WEBINAR: https://bit.ly/3CtAZUI
------------------------------
It's their most important task.
If they do it well, the stock will outperform consistently.
If they fail, it will only be a matter of time before the stock underperforms or crashes.
This is the secret to generational wealth. I discovered this secret after years of studying stocks across many sectors, marketcaps, and business cycles.
This isn't an easy thing to do. Causal or passive investors in the market won't be able to find Forever Stocks.
It takes effort not only to find great companies but also to determine if they will remain great.
And then there's the need to constantly track these companies.
If the focus of the management were to shift, you need to start worrying...maybe even look for another investment. I gave an example of one such company - Alok Industries - in my last editorial. You can read it here.
In that piece, I said 99.5% of stocks will fail the strict criteria of a Forever Stock. I wasn't exaggerating.
It really is that difficult to find them. They're like a needle in a haystack.
But this is precisely the mission I've been on for a long time.
It's my most important project at Equitymaster. I've been on the hunt for these gems of the market which I like to call Forever Stocks.
In my research I found that a list of 20 Forever Stocks is all you need to create generational wealth in the market.
And I would like to recommend them to you.
Join me on for a special event - Forever Stocks - on Monday, 21 June, and I'll tell you all about them.
More than 13,000 astute investors have already signed up for this event.
I hope to see you too.
Warm regards,

Tanushree Banerjee
Editor, StockSelect
Equitymaster Agora Research Private Limited (Research Analyst)
PS: Join me online on 21 June at 5pm and I'll tell you all about Forever Stocks. These are the only 20 stocks you need to own to become extremely wealthy. Book your seat here.
Recent Articles