The Real Long-Term Impact of the Coronavirus on India
Mar 18, 2020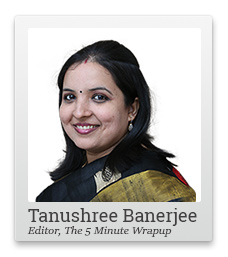 The word 'quarantine' originates from the Venetian dialect of Italian language. And it means 'forty days'. Italy was amongst the first nations to propagate the practice of patient isolation.
Unfortunately, the country that pioneered the practice of isolating victims of ancient epidemics, ignored the rule during outbreak of Covid-19. And is paying the price of ignoring the past, with massive fatalities.
I am sure, over the past few days, you have read enough about pandemics of the past. Especially, why they may have big takeaways for countries like India, fighting coronavirus.
Most of us are looking at the historical pandemic data to compare it with the current crisis. But there is little attention being paid to what happened a few years after the crises.
Yes, pandemics are known to shake up countries, populations and economies. The impact of this shakeup on global stock markets is already visible.
But the real coronavirus shakeup, which could be the most potent, is unlikely to be in the stock markets.
Rather, like in the case of some past pandemics, it could give birth to yet another Industrial Revolution.
You read that right! I am talking about Industrial Revolution 4.0.
--- Advertisement ---
India's Secret Plan to Beat China Takes Shape

China is playing dirty since the past few months.

Under the garb of military exercises, they shored up their troops at the border region in Ladakh.

What do they want? A war with India?

If that's the case, then India needs to be more ready than ever before.

India has already started deploying high-tech weapons at our borders.

It is estimated that the Indian government could spend over Rs 4 lakh crore on such defence equipment over next 5-7 years...

Pumping hundreds or even thousands of crores into a few Indian defence companies in the coming years...

As a result, select Indian defence companies could benefit in a huge way... and their stock prices could shoot up like never before...

Especially this one stock, which we call India's #1 defence stock.

It's a potential 10x opportunity in the long term.

We'll reveal all the details about this huge opportunity at our Explosive Profits Summit.

Click here to sign-up instantly here. It's free.
------------------------------
Of course, industrial revolutions of the past have always been linked to new technologies and inventions.
The first one, in 1780s, came with the invention of steam engines and mechanical production equipment.
The second, in 1870s, came with the advent of electricity, wired communication.
The third, in 1960s, came with electronics and information technology.
India gained tremendously from the third industrial revolution. It produced pioneers in information technology sector. Indian IT behemoths went on to service global companies across manufacturing, banking and retail. The country became the global center of IT services in three decades (since the 1990s).
Many have predicted that the fourth industrial revolution will be about 'cyber-physical systems'. In other words, it will combine the knowledge of human beings and machines. Intelligent technologies like artificial intelligence, machine learning, robotics, blockchains are progress in that direction.
But a big social upheaval is often the trigger for such technologies to be used en masse.
--- Advertisement ---
Listen to Some of The Biggest Investment Minds of This Country... Right from The Safety and Comfort of Your Own Home...

Interested in growing - and most importantly, protecting - your wealth in 2021 and beyond?

Then you'll love to Register For The Equitymaster Annual Conference 2021.

Where top investment gurus will reveal their most lucrative investing and wealth-protection strategies for the coming years.

And since This Conference Is Fully Virtual - you can listen to them right from the comfort and safety of your own home...

So what are you waiting for?

Register for the Conference Right Now
------------------------------
The Bubonic plague, for instance, gave rise to massive shortage of labour. The scarcity of labour led to a change in agricultural technology in early 1600s. The adaptation to the initial shock led to a durable rise in wages. Higher income levels led to more demand and eventually gave rise to the industrial revolution.
Thus, pandemics have had profound economic effects. But in the longer term, the economic effects can be positive.
Is the assumption that Coronavirus could lead to such a massive social and economic change too farfetched?
Not at all!
In fact, the outbreak of Coronavirus exposed the underbelly of the fragile global supply chains, over dependent on China.
And therefore, global manufacturers are bound to seek geographic diversification of resources and imports.
That could mean a massive change in the way businesses are run.
What does this mean for Industrial Revolution 4.0?
What would that mean for India?
Will this shakeup be benign for Rebirth of India?
For answers to these, stay tuned.
Tomorrow, I'll write to you with more about how India could benefit in the days to come.
Warm regards,

Tanushree Banerjee
Editor, The 5 Minute WrapUp
Equitymaster Agora Research Private Limited (Research Analyst)
PS: Well, even the experts now says it is time to start investing. Slowly, of course, but not to worry - we have the one stock that gives you the perfect place to start getting back into the markets. Learn about it here.
Recent Articles