If You Can Read This *REALLY* Boring Document, You Can Get Ahead of the Curve
Sep 1, 2017
In this issue:

» GDP at 3-year Low Post Notebandi and GST
» Pharma Sector Slowdown Continues
» Market roundup
» ...and more!
Dateline: Summer 2012
Location: A previous life
It was my first day of training as a chartered account, and one of my seniors at the auditing firm gave me a huge document.
It was 200 pages, and without a note of irony or tomfoolery, he expected me to go through the whole thing and make some observations.
It was the first time I encountered what is surely the most boring document in all of finance: the annual report.
Let me confess, other than the financials, nothing in the report made much sense to me at the time.
That's probably the why more than a few investors believe annual reports are a waste of time.
Five years ago, I would have agreed with them. But much has changed since then - I'm writing to you no longer as an accountant but a financial analyst (though I am still a chartered accountant) - and, boring as they are, I now see annual reports as one of the most important sources of information regarding potential investments.
Professor Sanjay Bakshi teaches his students too look at every company as an 'unfolding movie'. It's a great idea and I encourage you to do the same.
And how can do we that?
We can see the company's movie play out if we go back several years (or decades if possible) and see how the company and management have progressed through the years. It's like watching a movie. Halfway through, we might not know exactly how it will end, but we probably have a good idea.
Unfortunately, this isn't an entertaining Bollywood production; all we have to work with is the boring old annual report.
That said, the payoff can be thrilling...and lucrative.
Let me give you an example. Here's an excerpt from an annual report from 1999 (spoiler alert):
One encouraging trend in all types of customers today is that they are slowly but steadily looking at more and more quality products. This is challenging, but extremely welcome. Your Company's strength lies in the production of sophisticated materials. This change in attitude of the customers will ensure growth of those who have the capability to produce materials of the highest quality. Your Company has that capability.
These dramatic words came from the management of - at the time - a small company. The writer turned out to be right: In the years since, this industry (linked to consumer discretionary) has seen a strong consumer bias towards quality products. And this company took advantage of it.
In fact, many trends this management said would play out, did play out - as if scripted.
Today this B2B company is a market leader in its sector. It has grown faster than the market for more than a decade at a CAGR of 20%.
And just as the comments from FY99 set the stage, the management has been very proactive in finding new opportunities and has always been ahead of the curve.
But the only way you could have caught this owner-operator early was by the reading annual reports.
The good news, if you missed the boat, is the management is still very proactive and is venturing into related businesses.
At Smart Money Secrets, it is mandatory to read annual reports going back at least a decade. This gives us a 'knowl-edge', - that is, an information edge, over other market participants.
We know the owner-operators we track better than anybody, and we are always up-to-date on the value they are creating for their customers and their shareholders.
Smart Money Secrets is still a new service, but we've already recommended four stocks, and all four companies are run by owner-operators whose stories have unfolded in dramatic fashion over the years.
Like a good movie, old annual reports can transport you in time. Right now, I am virtually in the year 2000, reading the annual report of a south-based company. And I plan to travel through the last seventeen years of its history before I meet the management next week.
I invite you to come with me.
02:30

Chart of the Day

Indian GDP growth hit a three-year low of 5.7% in the June quarter. The aftereffects of Notebandi and the Goods and Service Tax (GST) were mainly responsible for the slowdown. The growth was much lower than analyst estimates of around 6.6%.

Manufacturing growth stunted to 1.2% during the quarter compared to 10.7% a year ago. The transition to the GST regime affected the sector as dealers de-stocked and manufacturers offered discounts before GST took effect.

As we have been saying, GST is a much-needed economic reform. It should eventually expand India's narrow tax base and increase government revenues.

After this decline, the upcoming few quarters will be critical. Growth is expected to normalise as businesses start aligning themselves to the post-GST regime. But only growth will determine how well the Indian economy has adapted to GST.
GDP at 3-year Low Post Notebandi and GST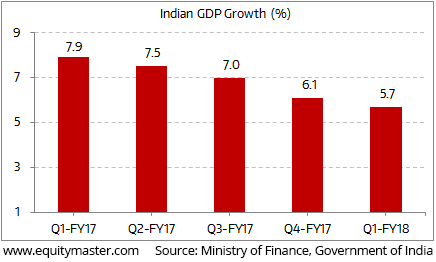 First-quarter results for major pharmaceutical companies have confirmed the sector's slowdown. The defensive sector is getting defenseless against headwinds in export and domestic markets.
Sun Pharma has reported its first quarterly loss in more than a decade. Ajanta Pharma has shown de-growth for the first time in a decade.
In the export markets, price erosion and quicker drug approvals have impacted the sector. The US Food and Drug Administration (USFDA) has expedited the pace of approvals, specifically for generics. This has led to a large number of players getting approvals, leading to increased competition.
Also, there has been a consolidation at the buyer level in the US. This has given them increased bargaining power against Indian drug manufacturers, further leading to price erosion. Earlier, post patent expiry, generics were priced 65-70% lower than the patented drug. This has decreased to 85-90%.
Apart from export markets, pharma companies also had to bear the brunt of GST-led de-stocking. As a result, most pharma companies witnessed a decline in domestic markets for the quarter. While growth is expected to normalise going forward, whether inventory levels come back to pre-GST levels remains to be seen.
The main question, then, is if this is the new normal for pharma companies. How do they tackle the threat of price erosion and channel consolidation? This structural change will change the way business is done going forward. Pharma companies are now looking at niche specialty drugs with limited competition.
Also, the earlier model of supplying drugs solely through distributors might not work well in the future. Pharma companies will need to get more hands on with the marketing channels and front-end sales personnel in the future.
This will differentiate the outperformers from the has-beens in the sector.
At the time of writing, share markets in India were trading higher. Barring information technology stocks and FMCG stocks, all sectoral indices have opened the day in green with healthcare sector and realty stocks leading the gainers.
The BSE Sensex is trading higher by 123 points while the is trading higher by 37 points. The BSE Mid Cap and BSE Small Cap index have opened the day up by 0.4% & 0.5% respectively.
04:56

Investment Mantra of the Day

"I read annual reports of the company I'm looking at, and I read the annual reports of the competitors - that is the main source of material." - Warren Buffett
Recent Articles