Hundred Bagger Returns Are Not So Elusive with This Investing Approach
Jun 3, 2017
In this issue

» The Picture is Getting Scarier on the Jobs Front
» Are You Prepared for the Upcoming Disruption in the Auto and Energy Sector?
» Weekend Market update
» And more...
A 100 bagger...the holy grail.
We all know what goes into one: strong moat, competitive management, attractive valuations, and sustainable growth. Reams have been written on the recipe. Yet, few have tasted success.
Think about it...
A 100 bagger implies a return of 9900%. In CAGR terms (compound annual growth rate), that translates to 20% growth per annum (GPA) for 25 years...26% GPA for 20 years...36% GPA for 15 years...58% GPA for 10 years...and 151% GPA for 5 years.
Of the universe of 5000-odd listed companies, less than 1% have enjoyed returns like these. Finding these stocks requires exceptional skill, insight, and foresight. And most importantly, patience. Even if you owned such a stock, chances are you'd sell before it became a 100 bagger.
With technology and competition rising, moats are getting thinner. Growth is a subjective concept, with managements changing guidance every quarter, and every analyst plugging in his or her own assumptions into the model. Market valuations too are in a frothy zone.
If anything, the pursuit of a hundred bagger is only getting more elusive. Looking for a 100 bagger in this market is like looking for a needle in a haystack.
So should you give up?
Well, I don't know about a hundred-bagger stock. But I do know another way to earn similar returns stock markets.
The key to this approach is building a portfolio of deep bargains, and sticking to a disciplined process of entering and exiting.
Following this approach, Rahul and his Microcap Millionaires team have achieved for their subscribers overall returns of 149.6% since inception (in February 2014). This is overwhelmingly better than the Sensex's returns, 48.2%, during the same period.
Thus, the total outperformance vis-a-vis the Sensex is a fabulous 101.4%. And the outperformance has shown a steady increase over time.
But here's the best part: The bet here is not on one stock, but on a basket of deep value stocks. Meaning less risk. The holding period for a single stock is maximum two years. And the team aims to invest in a number of stocks that are likely to double in this period.
If the team continues to outperform Sensex at this rate and with such returns, assuming reinvestment of the gains, it's only a matter of time before this turns out to be a 100-bagger portfolio.
02:30

Chart of the Day

The government doesn't want you to believe it, but it's true. Just have a look at today's chart of the day. Job crisis is here and it's real. Over 30% of India's youth is unemployed. That's a massive and worrying number.

Despite all the government claims it's true that demonetisation has taken a huge toll on the informal sector and just made the situation of jobless growth worse.

In these times of euphoric market investors are in no mood to take note of bad news. They are too happy seeing their stocks go up. In times like these it becomes especially important to prepare oneself and one's portfolio for any negative surprises that stem out of this scenario of joblessness in India.
Demographic Disaster in the Making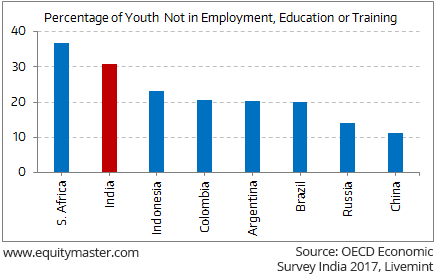 When he's not tracking super investors, Kunal tracks auto stocks. And he was excited when he got off the phone with Bajaj Auto's management this month. He had some news to share with us.
Bajaj Auto sees a big disruption coming to the domestic three-wheeler industry: the onset of electric vehicles in the next five years.
We already know the government has big plans to promote environmentally friendly vehicles. But now, the disruption appears imminent as the license permits for these vehicles come in thick and fast.
India's move towards cleaner energy sources and reduced dependence on crude got a shot in the arm after it found favour by none other than Tesla founder Elon Musk. Tesla is the one of the largest manufacturers of plug-in electric cars in the world and has hailed India's aim to shift to an all-electric car fleet by 2030.
This is a great news for environment enthusiasts. But could be highly disrupting not just for auto companies, but energy companies as well.
In fact, this is not the only change. Indian economy is witnessing a structural change with evolving megatrends- creating opportunities for some companies and threat for the others.
For The India Letter team, following the cues of megatrend tailwinds is core to its management meetings. The team consciously makes it a point to visit factories and meet management of companies in niche business, at obscure locations. It does not expect all of them to make it to recommendations! But the few that do are a potential goldmine of sorts.
Global financial markets ended the week on a positive note with a boost from Asian share markets. Asian share markets rose to their best levels in more than two years as positive data on US manufacturing and employment and buoyant European factory growth boosted investor optimism. The Japanese Nikkei 225 ended the week up by 2.5% while Hong Kong's Hang Seng was up by 1.1%. Except German indices, European share markets ended the week on a flattish note. The German Dax ended the week up by 1.8% and closed at an all-time high on the back of strong German manufacturing data. France's CAC 40 ended the week up 0.1% and London's FTSE 100 was flat.
US markets ended the week marginally higher by 0.6% despite sluggish job growth data. The data showed U.S. economy created fewer jobs than expected last month. The unemployment rate fell from 4.4% to 4.3% during the month however, it is viewed as a negative since the number of people participating in the workforce also declined.
Despite the disappointing data, market participants still largely anticipate the Federal Reserve to raise rates at its June 13-14 meeting, with traders expecting a 90.7% chance of a quarter-point hike, as per Thomson Reuters data. But you know our view. We doubt the Fed's ability to raise interest and reach the long-term 'normal' of 3%.
Back home, Indian stock markets continued their positive momentum and closed at record highs at the end of the week. Expectations of a good monsoon and the impending GST implementation kept the indices buoyant. FMCG stocks rallied during the week as they expect to benefit the most from GST implementation. Pharma stocks too staged a recovery after they took a beating last week. The BSE Healthcare index closed the week up by 2.1%. The Indian stock market ended the week higher by 0.8%.
Performance During the Week Ended 3rd June, 2017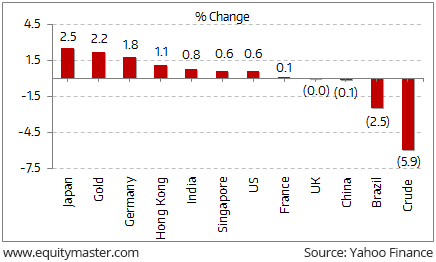 04:50

Weekend Investing Mantra

"No matter how great the talent or efforts, some things just take time. You can't produce a baby in one month by getting nine women pregnant." - Warren Buffett

This edition of The 5 Minute WrapUp is authored by Richa Agarwal (Research Analyst).
Today's Premium Edition.
Today being a Saturday, there is no Premium edition being published. But you can always read our most recent issue here...
Recent Articles