This One Trigger Could Turnaround Yes Bank's Stock Price
Oct 16, 2019
I know. I know. It's counterintuitive. It may be premature.
Some of you may even say it's crazy to think about Yes Bank's immediate revival.
I know my fellow analysts have already written-off the stock. Many funds and financial institutions have dumped it.
The stock is already down 78% this year.
As they say, 'when it rains, it pours'.
This is perfectly true of Yes Bank.
Deteriorating asset quality.
Rising non-performing assets.
Worsening capital levels.
Things aren't looking good at the moment.
As I wrote to you earlier about Lakshmi Vilas Bank, such a situation leads to a vicious cycle.
This is the reason why these stocks become falling knives.
How does this happen?
With a rise in the 'stressed portfolio' of loans, a bank needs to keep aside a higher amount of provisioning.
This directly lowers the bottom line.
Fall in profits = Fall in stock price.
But there's more...
It impacts the capital adequacy ratio (CAR) as well.
The CAR is the ratio of a bank's capital in relation to its risk-weighted assets and current liabilities. The RBI has set the minimum CAR (Tier 1) at 8% for all banks.
A ratio below this level indicates the bank does not have enough capital to expand its operations.
Yes Bank's CAR is just hovering near this critical mark.
So, there is one trigger you should watch out for - Yes Bank's ability to raise capital from the markets.
If Yes Bank manages to raise capital, you will see the following chain reaction:
The bank will be able to shore up its CAR. This will provide some cushion in the near-term.
More importantly, it will give confidence to the market about the bank's ability to raise capital. Any subsequent fundraising would become much easier.
The bank would be able to focus on growth.
The bank would also increase its provisioning coverage.
You see, it would lead to positive feedback loop. It could be the start of turnaround.
But all this depends on its ability to raise fresh capital.
Not to mention, the bank will also need to accelerate the resolution and recovery of its stressed loans.
Now, for a moment, just ignore all these problems... (I know you just cannot ignore these problems... but give it a try 😊).
Yes Bank is a decent franchise.
Why do I say that?
It's India's fourth largest private bank in terms of total assets.
The bank's liability franchise is still decent. Not to mention, its good branch network across India.
With the new management in place, the bank could improve its corporate governance and the market could reward it, even if this seems unlikely now.
That said, here's the all-important question...
In this situation, does it make sense to invest in Yes Bank...if you assume the worst is already priced in?
The short answer is No.
Why not?
Simply because there are better banking stocks available.
It doesn't make sense to speculate on a bank's ability to raise capital. Why would you do that? Even if Yes Bank secures the much-needed capital, there's still a long way to go.
You see, the other good alternatives have none of these issues.
For example, take our recent banking stock recommendation.
Radhika and I recommended this bank to our Smart Money Secrets subscribers because it showed the following characteristics.
Improving asset quality
Falling credit cost
A decline in cost-to-income ratio
A strong liability (CASA) profile
Increasing market share
Most importantly, the bank is well capitalised. (No urgent fund raising required!)
My point is when low-hanging fruit is available, why take unnecessary risk?
And due to the recent market correction, our bank recommendation is now trading below our best buy price.
In other words, a great opportunity to buy!
From the current price, the stock has an upside of 72%.
Yes, 72%. That's how much it can go up before it hits our target price.
It's also a part of our latest premium report - Stock Alert: Our Top 5 Stocks to Buy Now.
Radhika and I believe these 5 stocks have massive wealth building potential in the long-term.
If you're a subscriber to Smart Money Secrets, you can download the report here.
If you haven't subscribed to Smart Money Secrets, you can sign up here.
And remember...
Successful banks (and successful investors too) always try to control risk, first and foremost, with the understanding that growth and profits will take care of itself in the long-term.
Happy Investing!
Chart of the Day
2019 has been brutal for some banking stocks.
The market has severely punished them. This is due to issues such as worsening asset-quality, corporate governance, and inadequate capital.
Falling Knives in the Banking Sector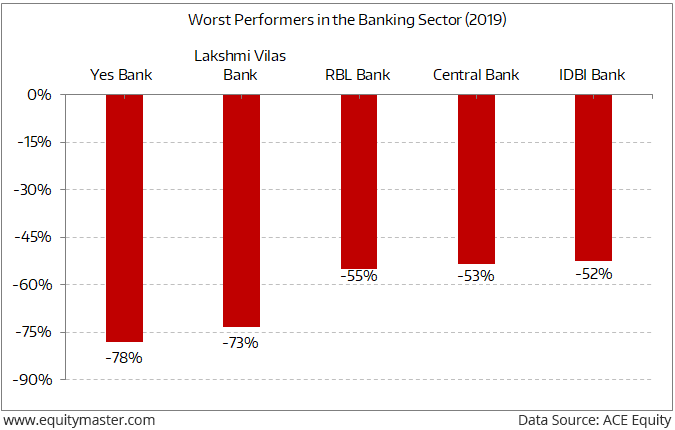 Stocks such as Yes Bank and Lakshmi Vilas Bank are down more than 70%.
Surprisingly, RBL Bank is the latest victim added to the worst performers list of 2019. You see, RBL Bank is down 64% from its recent high in May 2019.
What's the issue here?
Well, the management expects to face challenges in recovering some loans in the near term.
They have guided for elevated stress in a few corporate accounts, rising non-performing assets, and higher provisioning. This could impact the earnings of the bank.
Does this situation seem familiar to you?
Falling stock prices could be enticing. After all, we love deep discounts and good bargains.
But if you're thinking of buying these stocks it's important to remember this point - If a stock is in a falling spree, there's probably a good reason behind it.
And realising this in a falling market is the first step towards correcting one's investing process.
Warm regards,


Sarvajeet Bodas
Co-editor and Research Analyst, Smart Money Secrets
PS: Dear reader, Radhika Pandit and I, co-editors of Smart Money Secrets, have recently published our latest stock recommendation report. If you don't have access to Smart Money Secrets...you can sign up here.
Recent Articles