How I Discovered Smart Money Secrets
Apr 25, 2017
In this issue:

» Can the RBI still be considered as an Independent Authority?
» Market roundup
» ...and more!
00:00

Chart of the Day
The idea of meeting and tracking India's super investors wasn't random. We gave this very serious thought.
Following the smartest minds in finance helps with idea generation and gives an edge over other market participants.
We, Rohan and I started working on this project, we made a list of our favourite super investors. We drew down the history of successful yet relatively unknown stock pickers in India.
Now, stock exchange requires every company to disclose all shareholders with more than 1% in the company.
We used that public information to 'back track' the activity of these savvy stock pickers for the last ten years.
We wanted to know what happens when a savvy stock picker buys more than 1% stake in a company. We thought it would be a great idea to track this data closely. The problem is by the time the information becomes publicly available, the stock has already shot up because the super investor exceeded the 1% shareholding threshold before the disclosure was made public.
This led us to level-two thinking.
How can we catch them earlier, we wanted to know?
Now the basic idea here was to track the smart money early. If we can do so, we can definitely have an edge.
This led us to level-three thinking. And to the important question: What or who is the 'smart money' in stock market?
Generally, the answer is funds, smart stock pickers, FIIs, etc. But we were missing something: Promoters.
A promoter knows everything about his company. When you see, a promoter increasing his stake, it's a strong indicator since he believes in his own business. We believe, one of the strongest source of the smart money is 'Promoters increasing the stake in their own company'
So, we back tested the idea. The results were overwhelming. Just to give you a flavor...
Imagine a company with return ratios of around 9% and a debt-equity ratio above two times. Add a declining EPS growth rate...and our screeners would never throw this kind of company.
However, somewhere between these depressed numbers was something magical - increasing promoter holdings.
The question here is: Why would the owner buy more into a company with such depressed numbers?
The reason is simple...yet ignored: The owner knows more about his company and its prospects than anybody else.
Specifically, in this example, I am referring to auto ancillary company, Steel Strips Wheels Ltd.
The promoter group has been increasing its stake in the company. From 53.8% in March 2013, it grew to 54.2% in June 2013 and continued inching upwards and is at 58.7% in March 2017.
Early Signs of Promoters Increasing the Stake
| % of Shares | Mar - 2013 | Jun - 2013 | Mar - 2017 |
| --- | --- | --- | --- |
| Total of Promoter and Promoter Group | 53.82 | 54.21 | 58.77 |
Source: Ace Equity
The business fundamentals improved a lot over the same period. As of FY16, the ROEs improved to 16% and the balance sheet got leaner with debt-to-equity at 1.6 times.
The stock's performance has been stellar, multiplying six times in the last four years (a CAGR of 65%).
Stellar Stock Performance - Steel Strips Wheels Ltd.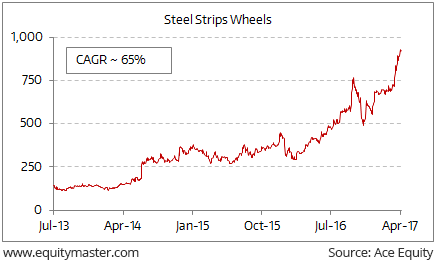 This is just one example. Rising promoter stakes often precedes an improvement in business fundamentals and stock price returns.
So, all the three approaches combined i.e. Tracking shareholdings of Super investors, catching these investors early (Bulk & Block deals) and increasing promoter holdings has helped unveil some critical smart money secrets to us.
The excitement level continues to build by the day. Stay tuned.
--- Advertisement ---
World's Most Renowned Central Banker Has This Book...(Last Few Copies Remain)

Alan Greenspan, world's most renowned central banker and an authority on global macroeconomic issues...

Already has a copy of Vivek's New Book - India's Big Government.

And if you hurry, you can get your personal hardbound copy...delivered right at your doorstep...anywhere in India...Absolutely Free! (You pay just Rs 499 to cover postage and handling charges)

Don't delay...

Only a few copies remain and this invitation will expire as soon as the last copy is claimed or at 11:59 PM, April 30th...whichever happens first.

Click here to claim your book.
------------------------------
A lot has been spoken on the pros and cons of notebandi. It's impact both short term and long term have been debated to no end. The jury though still seems to be out on the government's decision to pull out high value notes out of circulation. A whopping 86% of the then circulated currency.
The worrying thing however, has been the role that the Reserve Bank of India (RBI) has played in the whole episode. Known for their proactive disclosures of data and a clear, straightforward communication. The RBI, under governor Urjit Patel has seen infrequent and a not so detailed data provided on the impact since demonetisation.
In their recently released, monetary policy report in April 2017, India's central bank has commented on the accelerated/fast pace of remonetisation between Jan-2017 to Mar-2017. However, the actual data that the Central bank themselves have released indicate otherwise.
While the government is desperately trying to talk about only positive outcomes due to notebandi. It is worrisome that the central banker too nods in silence while providing data that indicates otherwise.
In the case of demonetisation, the RBI is clearly behaving like a subordinate department of the finance ministry. And that does not bear well for the Indian economy.
Vivek Kaul has written a detailed note on how the central bankers words and deeds do not seem to be in sync with respect to demonetisation. It causes us to ask some tough questions on the autonomy of India's central bank.
Indian equity markets opened the day on a positive note. At the time of writing, BSE Sensex was trading higher by 186 points and NSE Nifty was higher by 53 points. Both the BSE Mid cap and BSE Small cap indices are trading up by 0.96% and 0.80%, respectively.
04:55

Today's Investing Mantra

"I don't look to jump over 7-foot bars: I look around for 1-foot bars that I can step over." - Warren Buffett
Today's Premium Edition.
Big Changes Coming to Indian e-Commerce
Is the Indian e-commerce space about to witness a wave of consolidation?
Read On... | Get Access
Recent Articles