How This Megatrend Will Help Us Find the Next Multibagger
Jun 6, 2017
In this issue:

» Housing Finance Companies Are Flying Higher Due to Urbanisation Megatrend
» Is the Government Ready for GST Rollout?
» Market Update
» And more...
If you're looking for a home run - a great investment for five years or ten years or more - then the only way to beat this enormous fog that covers the future is to identify a long-term trend that will give a particular business some sort of edge. Invest in themes that will give a company a long-term franchise. - Ralph Wagner
That's what Megatrends are all about. They create tailwinds.
Consider housing finance companies (HFCs). The urbanisation Megatrend is the key catalyst for housing finance demand. In urban areas, the gap between housing supply and demand is wide.
HFCs have clearly benefitted from this Megatrend. Other factors too - a young population, a rising middle-class, the HFCs' dedicated focus - have helped these companies capture market share from private moneylenders (unorganised) and public sector banks (resource constraint faced by PSUs due to losses from bad loans). These tailwinds accelerate the opportunity and provide the fundamentals necessary for high, long-term growth.
Companies that operate in industries propelled by Megatrend tailwinds generally outperform the market. The best of these companies are rewarded with premium valuations...and ultimately deliver incredible shareholder value.
The market is dynamic. It's continuously evolving. As such, companies must adjust their strategies and business models.
Consider demonetisation. The controversial move caused a severe cash crunch and has affected many companies' growth and profitability over the last two quarters. However, as we spoke to several companies, a common response was this:
We see this as a positive development as there will be a shift from unorganised players to organised players.
Another structural change is in the offing: the goods and services tax (GST). It too could disrupt the entire value chain. When we ask managements about GST, the response usually goes something like this:
Changes such as reduction in transit time due to the elimination of multiple check-points (octroi/state borders) and the consolidation of warehouses will save logistic costs. This will help our company as we have a PAN-India presence. It will help us fend off competition from unorganised regional players who have an advantage because of lower logistics costs.
The 'unorganised-to-organised Megatrend' is evident in several industries - be it mortgage (unorganised/untapped to organised), logistics (consolidation of warehouse space), or consumption-based companies like FMCGs, jewelry, and consumer electricals (unbranded to branded).
Our focus at The India Letter is Megatrends. We aim to identify lasting Megatrends and the companies that will benefit from them the most.
Last month, we recommended a company with a pan-India presence that's set to benefit from GST. You can gain access to the stock report here.
Though India is one of the fastest-growing economies, the proportion of the unorganised segment has remained extremely high. Nevertheless, this is gradually changing, and we can expect the pace to accelerate going forward.
02:30

Chart of the Day

Talking about housing finance companies (HFCs), shares of HFCs are trading near their lifetime highs.

On a compounded annual basis over the last four years, these returns come to a staggering 114% for Can Fin Homes, 49% for GIC Housing Finance, 37% for Gruh Finance as well as Repco Finance, and 29% for LIC Housing Finance. Similarly, on a point-to-point basis, can fin has delivered an astounding return of 1991% in the last four years. Gruh Finance and Repco finance delivered more than 250% in the same time period.
Housing Finance Company Stocks Flying Higher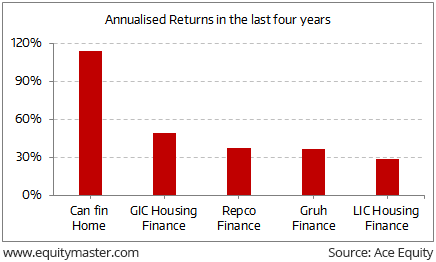 Some of the key reasons for the handsome return include softening interest rate, good asset quality, shortest turnaround time for issuing loans, diversified funding mix, and of course urbanisation megatrend.
To our pleasant surprise, two of these five stocks happen to have been recommended at different times in our service The India Letter . Not to mention, in October 2016, the Hidden Treasure team successfully closed Can fin home with stupendous weighted average CAGR of 102.1%.
Prime Minister Narendra Modi reviewed the preparations for the rollout of the Goods and Services Tax (GST) yesterday. He described the GST as a 'turning point for the economy, unprecedented in history'. Similarly, Finance Minister Arun Jaitley stated that the IT infrastructure is ready and the government is prepared for July 1 launch.
However, the main challenge still remains. With less than a month for the scheduled date of GST introduction, seven states are yet to pass their respective state GST (SGST) legislations. These states include West Bengal, Meghalaya, Punjab, Tamil Nadu, Kerala, Karnataka and Jammu & Kashmir.
As per the GST Constitutional Amendment, all states have to pass SGST bills by 15 September 2017, failing which they will lose their taxation powers. Failing to clear laws by 15 September might land these states in financial chaos. Keep an eye on this space!
If you want to understand what GST exactly is, how will it help improve India's taxation system and the practical implications of GST, I strongly recommend you download Vivek Kaul's free report, What the Mainstream Media DID NOT TELL YOU about GST.
The Indian stock markets were trading marginally lower at the time writing. At the time of writing, the BSE Sensex is trading lower 23 points (down 0.07%) and the NSE Nifty is trading down 8 points (down 0.08%). The BSE Midcap and Smallcap indices are trading lower by 0.13% and 0.04% each. Gains were largely seen in metal and IT stocks.
04:45

Today's Investment Mantra

"The stock market is a no-called-strike game. You don't have to swing at everything - you can wait for your pitch." - Warren Buffett
Today's Premium Edition.
The Pick and Shovel Way to Ride a Megatrend
A pick and shovel way to play the rise in air travel trend.
Read On... | Get Access
Recent Articles