The '26% Secret' to Buffett's First Billion
Aug 11, 2017
In this Issue

» The Mayhem in Pharma Stocks
» Are Banks Betting Too Much on Retail
» Market Update
» And more...
'How old were you when you read Buffett for the first time?'
The question from my American niece almost embarrassed me. All of seventeen, she's already read half a dozen books on the legend.
I didn't start reading Buffett until I was nearly twenty-two...
But I draw solace from the fact that one of Buffett's best 'cloners' also started relatively late.
Mohnish Pabrai, who won the 2008 auction for a lunch date with Buffett, has a commendable track record in value investing. He attributes all his success to shamefully 'cloning' Buffett's strategies...which he only started learning when he was thirty!
Pabrai's best move, I think, was picking Buffett's most potent strategy and cloning it diligently. Pabrai calls it 'the magic of 26%'. That's the rate his portfolio compounded from 1995 to 2014. And as Prabrai often explains in his speeches, it was the magic of 26% that earned Buffett his first billion.
Now, there is a bit of math in this. But stay with me; it could help you earn your first billion.
'The magic of 26%' refers to the rate at which a company should grow its earnings year after year. In other words, your job as a stock picker is to focus on finding companies that are growing their earnings at 26% per annum.
With that and without having to do anything else, you could have 10-bagger (900% returns) in just ten years. And a 100-bagger (9,900% returns) at the end of twenty years.
This is because, if you compound money at 26% per annum, it doubles in exactly three years.
But make no mistake. Finding companies that can grow earnings at 26% per year over the next decade is not easy. Out of every five companies growing at this pace now, maybe one or two will be able keep it up until the end of the decade.
That means you need to find at least five 26% compounders to get hold of the one or two that will truly compound your wealth till the end of the decade.
Keep in mind these 26% returns aren't likely to remain sacrosanct...unless the company's management is a brilliant capital allocator, the business has a strong moat to keep competition at bay, and the demand for its products or services remains inelastic.
If that sounds easy, reckon this...
Of all BSE 500 companies, only 42 have managed to grow their earnings at a CAGR of 26% or more over the past ten years. However, most of them have had very inconsistent shareholder returns (return on equity).
So I looked for stocks that have seen earnings growth of 26% or more in the past ten years and have had no less than a 15% return on equity in each of those years.
Guess how many stocks that yielded...
All of THREE.
Now before you rush to buy these stocks, let me warn you: Just because these companies have witnessed phenomenal growth and consistently superior ROEs in the past, that does not guarantee they will in the future. And you certainly can't turn a blind eye to valuations.
What does this mean?
It means you must be forward looking in your search for the magic of 26%.
It means you need to look for companies that will become the Ajanta Pharma, Godrej Consumer Products, and HDFC Bank of 2027.
But don't worry if, like me, you didn't start your value investing journey in your teens. A couple of solid 26% compounders will easily help you make your first million, if not billion, in just a decade or two!
Editor's Note: Cochin Shipyard was finally listed on the stock market today. Get the inside scoop on the ensuing drama from our Insider, Ankit Shah. Click here to get on Ankit's list.
02:30

Chart of the Day

Defensive pharma, the darling of the stock markets in 2015, is down in the dumps. Since the start of 2017, the BSE Pharma Index has fallen 20%. The combined market capitalisation of the top pharma stocks is now less than that of Reliance Industries.
Combined Market Cap of Top Pharma Lesser than that of Reliance Industries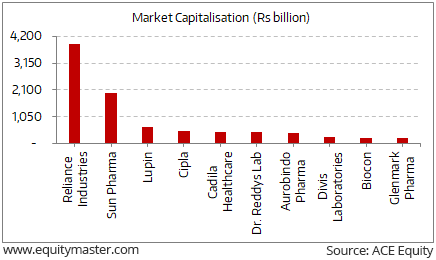 Over the last three years, the USFDA raised numerous regulatory concerns, resulting in import bans and suspension of new drug approvals from facilities of Indian pharma companies. This has hurt the sector's revenues and earnings and is behind much of the pessimism surrounding the sector.
But amid this pessimism, a smart pick-up in new drug approvals has provided some solace. There has been a 45% YoY jump in approvals for generic drugs in the first seven months of 2017 as the FDA aims to bring down healthcare costs. Even the new FDA commissioner, Scott Gottlieb, wants to expedite the entry of new generic drugs to provide affordable medicines to people in the US.
But consolidation of suppliers in the US has resulted in greater bargaining power for distributors and pharmacies, which has led to price erosion for generic drug manufacturers.
In other words, there are some negatives and some positives for domestic drug-exporting companies. But painting the entire industry with the same brush is not the right way. Despite the regulatory and pricing pressure, some drug companies may be better placed in terms of geographic diversity or superior manufacturing practices.
And with valuations turning attractive, the time may be just right to look for fundamentally sound pharma companies armed with a durable and sustainable moat.
From pharma, we move to another distressed sector - banking. Facing a slowdown in corporate credit demand, the sector has realigned its focus on the retail segment. Not only private banks but even public-sector banks bogged down by corporate bad loans have trained their guns on retail loans. The worrisome part is the steep jump in unsecured retail loans.
Now, unsecured loans, unlike secured loans, are not supported by an underlying asset that acts as a collateral. There is nothing to ease losses in case of a default. In other words, unsecured loans such as personal loans or credit cards are riskier than secured loans such as home or auto loans.
Reportedly, the share of unsecured loans in the banks' total retail book has shot up to 28%, the highest level since 2007 when the RBI started releasing this data.
Demonetisation may be partly responsible for the faster rise in credit card outstanding but it has a small share in overall unsecured loans. In a bid to caution banks against reckless retail lending, the RBI deputy governor recently noted that banks should not be pursuing retail borrowers at all costs.
Indian equity markets opened the day on a weak note. At the time of writing, BSE Sensex was trading lower by 304 points and NSE-Nifty was lower by 97 points. Both the mid cap and small cap indices are trading down 2.5% and 1.8%, respectively. Stocks from the realty and capital goods sectors are the major losers.
04:56

Investment Mantra of the Day

"If you don't feel comfortable owning something for 10 years, then don't own it for 10 minutes." - Warren Buffett

This edition of The 5 Minute WrapUp is authored by Tanushree Banerjee (Research Analyst) and Madhu Gupta (Research Analyst).
Recent Articles