Owner-Operators vs Career Managers: Why Skin in the Game Matters
Aug 28, 2017
In this issue:

» After Wind, It's Solar Projects Facing the Heat
» Decoding the Impact of the Government's Draft Pharmaceutical Policy
» And more
Growing up, quite a few of my friends aspired to become software engineers. Engineering was a well-respected, in-demand degree then, and 'software engineer'sounded glamorous. Their dream, of course, was to work at Infosys.
About the plight of software engineers today, the less I say the better. Anyway, today's WrapUp is not about the devaluation of the engineering degree in India.
But it is indeed sad to see Infosys, once the torchbearer of corporate governance, in the news for all the wrong reasons.
The tussle between founder and operators has finally led Sikka out the door. His 'drumbeat of distractions' email was revelatory. When the CEO is busy defending his motives and integrity rather than focusing on business, a company isn't likely to create much value.
In this friction between founder and executives, the minority shareholder has been an unfortunate casualty. The stock price stumbled 13% to a three-year low as US$4.85 billion of market value disappeared. All in a matter of hours.
Infosys is not a one-off case. Just a few months ago, it was Tata group in an ugly boardroom battle. Again, the small investor bore the brunt.
These events underscore the importance of factors apart from business and growth strategies for assessing the potential and risk of an investment.
Factors like management.
And this is one area where I believe some small caps score over the bluest of blue chips.
Why?
Because many small caps are owner-operated.
Here, the operator is the founder and the largest shareholder. Incentives are not linked to short-term growth targets (which often leads to poor capital allocation decisions). Instead, real long-term value creation drives business strategies. Unnecessary conflicts and distractions are avoided. And the interests of the management naturally align with those of the minority shareholders.
The cost consciousness of owner-operators is well known. Their austere office settings and aversion to debt is a sharp contrast to the flashy lifestyles and swanky surroundings of career managers.
Small-cap businesses are often run by passionate first-generation entrepreneurs who wear multiple hats to take the business ahead. Unlike many non-owner managers who stay for a stint before the next opportunity comes their way,owner-operators are in it for the long haul.
At a small-cap firm, the management can be a make or break factor. So you need to be very cautious when evaluating them. This is less important at bigger companies that run on an autopilot. And it's why management meetings are so crucial to our small-cap recommendations.
While non-owner managers are busy pitching the stock and worrying about quarterly numbers, founder-managers lay out a long-term vision and strategy for their businesses. They are often not very polished, and few come with fancy degrees from elite institutions. But then businesses don't thrive on degrees. They need infectious passion and energy from the top. They need practical intelligence that only experience in the business and industry can provide.
What we are describing is a management with 'skin in the game'. And if the idea of investing in an owner-operator with skin in the game appeals to you, we have a small-cap bet you might want to know more about.
The management is a first-generation entrepreneur with a majority stake in the company. Building it from scratch, he has managed to make his company a leader in a niche. The company - currently at a crucial point in its lifecycle - is planning to launch a new product in the domestic market. Demand for the product is strong but so far unexploited. The move is expected to drive revenue growth and improve margins.
To know more about this stock, refer to our special report - Junior Bluechips.
Editor's Note: On the table are two interesting buyback offers (Wipro and Infosys) that could offer some quick and easy gains. However, there has been some ambiguity regarding the tax implications of buybacks. Today in the Insider, Ankit clears up this ambiguity and explains how you can make the most of these arbitrage opportunities.
02:25

Chart of the Day

We've been talking a lot about how solar projects are being bid at rates that offer very thin margins. Some bids have been as low as Rs 2.44 per unit, which is 25-30% less than the average tariffs of thermal plants.
Tariff Bids between February 2015 and May2017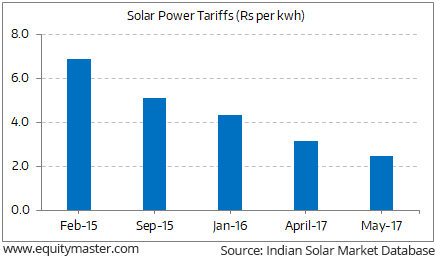 While placing these bids, the solar developers were assuming that input costs (solar panels in particular) will trend downwards drastically going forward. However, the price of solar panels has not dropped as expected.
As per an article in Livemint, China, which accounts for more than 80% of global solar panel production, has undergone a manufacturing slowdown. Further, it is the biggest market for solar panels seeking to double installations in next three years. This has created a demand-supply mismatch and a lower than expected correction in solar panel prices. Solar panel prices have dropped just 10% in the first half of this year compared to a 35% drop in 2016.
And since these bids do not involve any price escalation clause, a rise in input prices could pose a significant threat to the US$100 billion solar sector. No escalation cause means the bidders are bound to provide the power at the auctioned rates, which exposes them to foreign exchange currency risks and rising equipment replacement costs.
Experts suggest that module prices are unlikely to fall in the near term. Rather, they expect strong demand from the US and China to drive up prices.
A few of the solar projects are already running into financial troubles - one of them being Sun Edison. And remember Tata Power's Ultra Mega Power Project (UMPP) in Mundra became unviable because the contract didn't have a cost escalation clause regarding provisions for increased fuel costs. We cannot rule out a similar fate for other solar power projects.
Solar sector is not the only one facing uncertainty. The government has come out with a draft pharmaceutical policy, and it looks like it could put some pressure on the pharmaceutical players catering to the domestic market.
The policy reiterates the government's desire for prescriptions to be written for generic drugs rather than branded drugs.
Generally, the doctor prescribes a brand of medicine and the patient goes to the druggists and purchases the brand as prescribed by the doctor. For example, if you get a high fever and you go the doctor, the doctor will likely prescribe you Crocin. However, as per the new regulation, the doctor will not be allowed to mention the brand name Crocin and would instead have to prescribe the chemical name of the drug.
This means brand differentiation would not exist and high-end products would be of less value. This could prove to be disruptive to the industry.
Another big change in the current draft policy gives preference to APIs made locally rather than sourced from low-cost producers like China. If implemented, this could likely affect margins in domestic markets.
One positive from the draft policy is stricter checks and audits of drug manufacturing plants to ensure better quality. While large pharma companies already adhere to higher standards due to their international market exposure, fly-by-night operators would find it difficult to operate in such an environment. Large pharma companies with well-established manufacturing plants would thus be in a good position to gain market share.
By the way, after a long wait, Ajit Dayal is back with the latest edition of The Honest Truth in which he talks about the failing corporate governance standards at some of India's most hallowed institutions. To know his views on Indian investment and corporate world, do read this interesting article - How Boards Ruin Institutions.
At the time of writing, BSE Sensex was trading higher by 144 points while the NSE Nifty was trading higher by 47 points. Infosys share price surged 4% in the opening trade after the return of former CEO Nandan Nilekani as non-executive chairman. This gave the much-needed solace to stakeholders, who saw their morale shaken after the open tussle between the board and the founders last week.
04:55

Today's Investment Mantra

"It takes 20 years to build a reputation and five minutes to ruin it. If you think about that, you'll do things differently." - Warren Buffett

This edition of The 5 Minute WrapUp is authored by Richa Agarwal (Research Analyst).
Recent Articles