Only This Separates You from Stock Market Treasure
Mar 16, 2017
In this issue:

» Wholesale inflation up to its highest in three years
» Markets rally despite US Fed rate hikes
» Roundup of the stock markets
» ...and more!
The stock market is a crazy place.
Just one look at any stock market chart makes the single biggest feature of the market starkly clear: Its wild swings.
The constant ups and downs just never stop. Have a look at the movement of the BSE Sensex since 2000: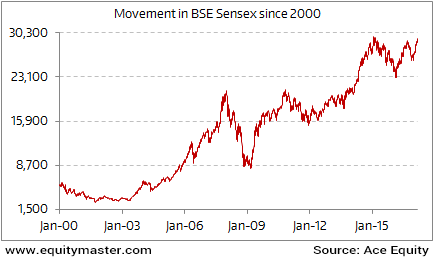 If this is the case, it would seem the road to stock market riches is fairly simple. Buy low and sell high.
But it is not easy. Not even close.
As simple as the path to this stock market treasure seems, investors who set out on this adventure soon find out that a number of dangers lurk around the corners...and could separate them from the treasure.
When looking at the market's historical chart, the low points and high points look amply clear. But that's only in retrospect. When looking forward, this same endeavour becomes incredibly difficult. How does one ever know what will be the market's 'low' and what is going to be the 'high'?
Fear not, help is near. This time from my colleague and chartist at Profit Hunter, Apurva Sheth. Most people are unaware that technical analysis can be used to trade from a medium to long-term perspective.
But Apurva understood the potential to make higher returns by identifying long-term trends using technical analysis. So he set out to build a trading system that could benefit from these long-term trends.
After intense research, he has built a system taking into consideration how hundreds of stocks keep experiencing cyclical up and down trends. In his backtests, the system generated 50%, 61%, 109% and even higher returns in a matter of just weeks or a few months.
Apurva calls it the system SCOREFASTTM. The name is an acronym for the nine indicators he uses to identify stocks on the cusp of a long-term reversal. These indicators help identify trading opportunities that could generate big returns in a few weeks to a few months...
If you want to benefit from this system, you have two options: One, learn the system yourself and apply it. Or allow Apurva to do all the work and send you SCOREFASTTM stock recommendations that could give double-digit returns in just weeks.
If you're considering the second option, I have good news for you. Apurva just launched a new trading service based on SCOREFASTTM.
It's called Peak Profit Alert, and you can know more about it here. This system is rock solid and I strongly encourage you to check it out if you're looking for a definitive road map to the ultimate stock market treasure. Buy low, sell high, and score fast with Apurva and Peak Profit Alert.
--- Advertisement ---
You Have SIX Days...

Yes, you have just Six Days left to claim our Special 15th Anniversary Offer.

This limited period offer gives 12 Additional months to StockSelect, our "Safe Stocks" recommendation service...virtually for FREE!

And much more...

But like we said, you have just one week.

At 11:59PM 21st March, this exceptional offer will go offline.

So, don't waste another second...

Click here to claim your additional 12 month access...
------------------------------
02:30

Chart of the day

The US Fed raised interest rates by 25 bps from 0.75% to 1%. This is the second hike in last three months. This move is on the back of steady economic growth, strong job gains and confidence that inflation is rising to the central bank's target.

The Fed also stuck to its outlook for two additional rate increases this year and three more in 2018. The central bank lifted rates once in 2016.

However, markets are reacting surprisingly to the fed's decision. Stock markets across the world extended gains. Below chart highlights the performance of several stock markets, gold and dollar index. The chart indicates the performance of market indices from 14 December 2016 and 15 March 2017. This is the period between two consecutive fed rate hikes.
Stock Markets and Gold Rally, Dollar Tumbles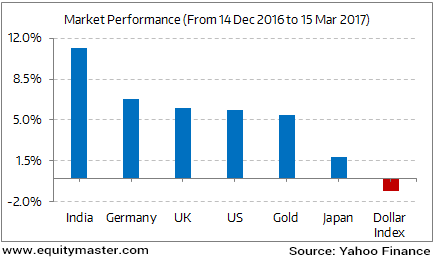 The key reason for the rally is fed reserve's forecast of rate hikes. The forecast is in line with its outlook from December 2016 i.e. three rate hikes in 2017. As per the above chart, Indian stock market outperformed the overall market and registered an impressive gain of 11%. Similarly, stock markets in the US and the UK increased by 5.8% and 6% respectively.
On the other hand, the US Dollar Index tumbled on the back of a dovish outlook from the Fed. The weaker dollar is helping commodities like gold. Gold is up 5.5% since mid-December 2016.
With the rate hike in the US, what will happen in India? Will the RBI still cut the interest rate? Recent data showed India's wholesale price index (WPI) inflation rose to its highest in more than three years. WPI rose an annual 6.55% in February, rising from previous month's 5.25% increase.
The surge was seen on the back of higher fuel, power, and food prices. Fuel and power inflation rose 21% in February from 18% last month. February month also saw a surge in retail inflation. Retail inflation, as measured by the consumer price index (CPI), rose an annual 3.65% in February. The rising inflation has dimmed the prospects of an interest rate cut by the Reserve Bank of India (RBI).
The inflation data may prompt the RBI to hold interest rates when it reviews monetary policy in April 2017.
After opening the day on a positive note, the Indian indices have registered further gains and continue to trade in the green. Sectoral indices are trading on a positive note with stocks from the automobiles, IT and Capital Goods sectors leading the gains.
The BSE Sensex is trading higher by 142 points (up 0.48%), while the NSE Nifty is trading higher by 53 points (up 0.59%) at the time of writing. The BSE Mid Cap index is trading up by 0.94% and BSE Small Cap index is trading up by 0.9%.
04:55

Investment Mantra of the Day

"Cash combined with courage in a time of crisis is priceless." - Warren Buffett

This edition of The 5 Minute WrapUp is authored by Rahul Shah (Research Analyst).
Today's Premium Edition.
Going Herbal: Will It Improve the Health of FMCG Firms?
Rising importance of herbal products to FMCG companies.
Read On... | Get Access
Recent Articles