The Small-cap King You Haven't Heard Of
Apr 18, 2017
In this issue:

» The man who believes in concentrated small-cap investing
» He picked multibaggers like Page, Eicher, and eClerx before they were popular
» And more!
There's enormous advantage in finding your calling early in life. The word has it that by the time he was in his teens, Warren Buffett had read every investing book at his local library. And he was all of 17 when he first chanced upon Graham's The Intelligent Investor.
The rest as they say is the power of compounding.
I wasn't all that lucky. I was introduced to the world of Graham and Buffet investing at a not so early stage in my life. And the more I talk and interact with two of my colleagues, Rohan and Kunal, the more I am reminded of this small injustice meted out to me.
These guys are only in their 20s. Yet, they already know so much about value investing and its most successful practitioners that I struggle to keep pace.
Regular readers of this column would be aware that both Rohan and Kunal have already started turning their passion into a full-blown project.
A project that involves getting into the minds of some of the most successful value investors and come out with the most penetrating insights on successful stock picking.
They have travelled far and wide and they have put in a lot of energy to reach out to experts who they think have extremely valuable investing ideas.
Their effort is beginning to bear fruit.
Their interesting interview with a man they rightfully call India's Peter Lynch has already been published and so has been their interaction with famous value investing guru Professor Aswath Damodaran.
Today, Kunal is going to shine the spotlight on a gentleman who has such an amazing track record he is surprised he is not already well known.
Over to Kunal.........
We like to invest in companies where we can get an edge. - Sumeet Nagar
He's not like the pseudo experts you see daily on television. This man is truly a wizard of Dalal Street.
Sumeet Nagar is the co-founder of Malabar Investments LLC. Malabar is an India-focused foreign portfolio investor (FPI). It collectively manages more than US$15 billion. Malabar specialises in value investing in small and mid-sized Indian stocks.
Nagar is a graduate of Indian Institute of Technology, Bombay. He has an MBA in Finance and Entrepreneurial Management from the Wharton School, University of Pennsylvania.
Prior to starting Malabar in 2008, Nagar was a consultant at McKinsey. He was a founding member of McKinsey's dedicated private equity group.
Malabar Investments has won numerous awards including 'Best Single Country Fund' from Asia Hedge in 2014 and 'Best Fund for Small-Cap Indian Investments Since Inception' from Hedge Fund Awards in 2015.
Sumeet Nagar is someone I like to read and listen to. He always talks clearly and sensibly. He rarely uses financial jargon.
Most importantly, he thinks long-term.
Multibaggers Are a Result of Long-Term Investing
Many of his top small-cap picks have been multibaggers.
La Opala, Page industries, eClerx Services, Symphony, Mayur Uniquoters, Hawkins, Cholamandalam, Eicher Motors, Motherson Sumi, CCL Products, and Avanti Feeds.
These stocks have created huge wealth for investors. Many of them are no longer 'small'. It pays to be patient. Let compounding do the work for you.
Today's chart below gives an idea of just how high the compounded returns were.
Defying Convention
The common theory about small caps is that they are risky. Thus, it's wise to spread the risk by diversifying widely.
But Sumeet Nagar does not diversify. He runs a concentrated portfolio. He has about fifteen core holdings. The top five are about 35-40% of the total portfolio.
I found this very interesting. It's rare to find an advocate of concentrated investing in small cap stocks.
In contrast, the portfolios of the top performing small-cap mutual funds in India are all very diversified.
But What about Risk Management?
As per Malabar's website, Nagar mitigates risk by focusing on companies that...
Are leaders in niche industries.
Have a long history of excellent financials.
Are run by highly capable managers who have the best interests of shareholders in mind.
Have a sustainable competitive advantage, i.e. a moat.
Have demonstrated pricing power.
Have a long runway to grow profitably.
Finally, he'll buy them only when these stocks trade below his conservatively estimated intrinsic values.
Then he'll hold them for a long time. He invests with a three to five-year perspective. He doesn't mind holding for longer. His portfolio turnover is very low, about 10-15%. This means the overall capital turnover is seven to ten years.
Nagar also adds to his positions if the stocks offer enough margin of safety.
In an interview with the Economic Times in October 2015, he summarised his stock picking process:
The underlying thought process is that you are buying businesses that can compound well over a long period of time. Valuation - to an extent - is not under your control, so at times it will be low, and at other times it will be high. As a matured long-term investor, you need to take advantage of that. When things get beaten down, you like these businesses, you add to them, and when it becomes too expensive, you either hold on to them or eventually trim them.
This may sound simple. But Nagar's investing philosophy is not simplistic.
An Investing Edge
He knows that managements can make or break a small firm. So he doesn't rely only on the what they say in public.
He spends a large part of his time assessing whether they have the drive and the capability to take the business to a whole new level.
He is known for conducting extensive due diligence by talking to competitors, regulators, suppliers, distributors, retailers as well as visiting factories, depots, and retail outlets.
This is his edge: Conducting very deep fundamental analysis to identify the key growth drivers of a stock.
A Contrarian View on IT and Pharma: Go Where the Fish Are
Sumeet Nagar thinks there are good long-term opportunities in IT and pharma stocks. Unlike many people on the street, we share this view.
In August 2016, he told Economic Times:
I think today is an environment where there is a lot of optimism around. So you are not going to find great bargains like that, but I think as Warren Buffett said if you want to fish, go where the fish are, not where the fishermen are. So go where investors are not looking today. Things which are unloved so perhaps things like IT and pharma and maybe there are some great opportunities there for a long-term investor.
I couldn't agree more.
Are Markets Overvalued?
Nagar believes they are.
Why?
Because earnings haven't caught up.
In the same Economic Times interview, he said:
Either the markets have to get aligned with the earnings so that they get time corrected or they get pulled down or the earnings have to move up. What we have seen over the last say two or three years is that the earnings always seem to be two quarters that is six months away but it has been slow in coming.

I do not think you will find a lot value in today's market given all the positives that are out there. There are no screaming buys out there but you would find pockets of opportunities here and there.
Indeed. Many stocks have clearly run up well above their fair values. But I believe there are still opportunities to be found.
Sumeet Nagar's bottom-up approach is one we like very much. In fact, his process closely resembles the one followed by Richa's monthly small-cap recommendation service, Hidden Treasure.
But this doesn't mean you should blindly follow Sumeet Nagar's picks...or anyone else's for that matter.
If you must copy a successful investor, you still need to follow a proper method.
Rohan Pinto and I are building one. We have been sifting through the strategies of the smartest and most successful investors in India...and I believe we can help you ride their coattails.
Watch this space...
--- Advertisement ---
30-Day Free Subscription If You Claim This Book Today...

Vivek Kaul has recently released his new Book - India's Big Government.

In my view, it's one of the most extensively researched, insightful and yet, simply-written books we have ever read on this topic.

In fact, if you are planning to read just one book this year...We would recommend this one.

And here's the best news...

If you claim your copy today, and are willing to pay just Rs 499 to cover postage and handling charges, you can get your own personal hardbound copy (Worth Rs 2,950) absolutely free.

Right at your doorstep...anywhere in India...

Plus, you will also get 30-Day Absolutely Free Subscription to Vivek's Premium e-Newsletter - The Vivek Kaul Letter.

So, don't delay...click here for full details.
------------------------------
04:20

Chart of the Day

Hidden Treasure subscribers may have noticed that Sumeet Nagar's small-cap investment philosophy closely resembles ours.

In fact, some of the biggest winners of Hidden Treasure like Page Industries and eClerx Services are part of Malabar's portfolio as well.

The returns from these stocks over the last five years have been excellent.
Huge Returns from Top Quality Small-caps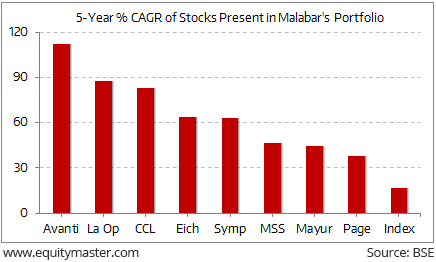 From Left to right: Avanti Feeds, La Opala RG, CCL Products, Eicher Motors,
Symphony Ltd, Motherson Sumi Systems, Mayur Uniquoters, Page Industries,
BSE Small-cap index
Richa and her Hidden Treasure team have a strong bottom-up stock picking process in place. It is this process that has enabled Hidden Treasure to beat the benchmark index by nearly three times (subscription required) since inception in February 2008.
The markets have opened on a strong note today with the Sensex higher by 270 points at the time of writing. Nifty was higher by 76 points. Both BSE Mid Cap as well as Small Cap indices were also trading strong, up by 1% each. Amongst sectors, metals, power and banking stocks were seen attracting maximum buyer interest.
04:50

Today's Investing Mantra

"You're neither right nor wrong because other people agree with you. You're right because your facts are right and your reasoning is right - that's the only thing that makes you right. And if your facts and reasoning are right, you don't have to worry about anybody else." - Warren Buffett

This edition of The 5 Minute WrapUp is authored by Rahul Shah (Research Analyst) and Kunal Thanvi (Research Analyst).
Today's Premium Edition.
Should You Worry About Geopolitical Risks?
Are the recent tensions in the Middle-East and the Korean peninsula, good enough reasons to worry about the markets?
Read On... | Get Access
Recent Articles